Feelztoys Playbrush - Adult game from Feelztoys

Product Details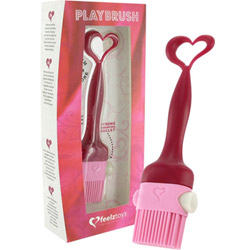 Summary:
Playwright Rose Franken said, "Anyone can be passionate, but it takes real lovers to be silly." The playbrush is a silly product. Its entire purpose, per the packaging, is to paint chocolate sauce on your lover. The bristles barely vibrate. But I fell in love with it. Why? Because it's cute. I'm hopeless really.

It took a while for me to see past the silly and cute to find out what an amazing toy this can be. Forget the chocolate sauce, and let the Playbrush's little tongues lick you instead.
Pros:
Cute
Fun to use to apply products to the skin
Simulates cunnilingus!
Cons:
Handle vibrates more than the bristles
Not 100% silicone as packaging claims
Properties

The set includes:

Weight:

0.2 lb