Forget the chocolate sauce - there's something better to lick!
Playwright Rose Franken said, "Anyone can be passionate, but it takes real lovers to be silly." The playbrush is a silly product. Its entire purpose, per the packaging, is to paint chocolate sauce on your lover. The bristles barely vibrate. But I fell in love with it. Why? Because it's cute. I'm hopeless really.

It took a while for me to see past the silly and cute to find out what an amazing toy this can be. Forget the chocolate sauce, and let the Playbrush's little tongues lick you instead.
Published:
Pros:
Cute
Fun to use to apply products to the skin
Simulates cunnilingus!
Cons:
Handle vibrates more than the bristles
Not 100% silicone as packaging claims
The side of the box reads, in eight languages,
"Vibrating brush for extremely stimulating movements. Paint your lover with chocolate and then lick it off. Uses 2xmicro batteries (4 extra batteries included)."
Let me start by saying that I will never use this to paint chocolate sauce on my lover. Body paint? Perhaps. Kissable powder? Maybe. Massage oil or lotion? Definitely. Lube? Abso
fucking
lutely! But putting food on your lover and then licking it off? I don't get it. Wouldn't it be easier to just eat a chocolate bar and then have sex? Or better yet, eat a chocolate bar whilst having sex. Certainly it would be less sticky and less likely to stain the sheets. Okay, all the chocolate sauce licking fans out there probably think I'm missing out. But seriously, what were the makers of the Playbrush thinking when the ONLY advice they put on the box was to use it for chocolate sauce? Did the fun of applying lube to your lover with vibrating bristles not occur to them? Because
damn
that feels nice.
Most importantly,
how did they not realize that the soft little tongues of this brush make an amazing oral sex simulator?
I guess I can't really blame them for that, because it took me a few days of play before I realized it myself. But more on that in a bit.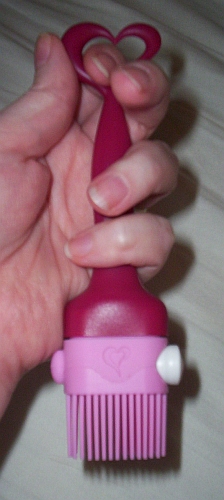 Cute!
The Playbrush is so CUTE that I couldn't stand not to get it. It's definitely a gimmick - the vibrations are barely felt in the bristles, and mostly only succeed in making the handle quiver. But it's a fun little toy for applying massage oil or lubricant (or chocolate sauce if you're really into that). And did I mention it's cute?
The packaging claims that the toy is "100% platinum silicone". This cannot possibly be true. The handle is a hard plastic that has barely any flex in it, and does not feel like silicone at all. The removable bristle section is flexible enough to be silicone, but it doesn't really act as much of a lint magnet, and it failed the
flame test
. This is when you put a match under the toy and see if it melts or catches on fire. It did catch fire, and after I put it out, there was a small melted patch. After I did the flame test, I read
this thread
, that says some TPR silicone can be very difficult to put out.
The idea of burning my house down just to do chemical testing on a toy frightened me enough that this is my first and last foray into flame testing. Please do not follow my example!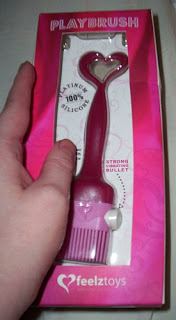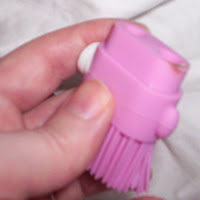 Photo 1: Note the "100% Platinum Silicone" claim on the box. Photo 2: Flame test failure.
The Playbrush is just under 6" long from the top of the handle to the bottom of the bristles. There's a heart shaped loop at the top of the handle. I could feel a little bit of a seam in a few of the curved bits on the handle, but couldn't see it. The pink bristle section is removable, and contains the removable bullet, which is turned on and off with a push button. The bullet takes G3-A batteries, but the package very handily includes 4 replacements. What happens when you want more? If you consult
this pdf chart
issued by Maxwell, you will see that G3-A batteries are equivalent to these
LR-41 batteries
sold here at Eden.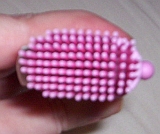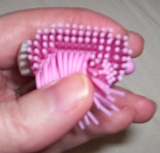 Very soft bristles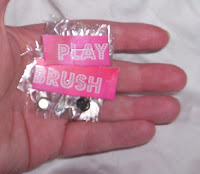 Extra batteries! I cut the word 'Playbrush' off the box and stapled it to the plastic bag for future reference.
The brush is easy to clean - simply take out the bullet and wash with soap and water or toy cleaner, taking care to wash between the bristles. You can pull off the bristle part if you need to. Since it doesn't appear to be actual silicone, I don't think this can be boiled or sterilised. The bristles don't seem to retain odors - I used it with a scented massage oil a few days ago, and there is no trace of that smell left on them.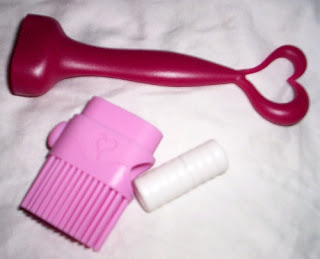 Comes apart for easy cleaning
The bullet is not very noisy and also not very powerful. It's a single speed that you click on and off. The vibrations travel up the handle just fine, but they don't go down the soft bristles very well. When brushed over a less sensitive part of the body, then it's very difficult to tell the difference between vibrations on and vibrations off. However, the bristles themselves feel really nice, with or without vibrations. When brushed along an erogenous zone with the vibrations on, the feeling is electric.
Experience
Eden sells a variety of
edible body treatments
and
massage oils
. Because the bristles do not have any real stiffness, you should pick out something that's no thicker than a lotion. The body butters or creams are simply not going to be spread well. Massage oil works nicely, as does lotion. I tried some of my favourite hand cream, which is very thick, and it kind of smeared it around, but didn't absorb it into the skin. Avoid silicone lubricants or massage oils, in case there is silicone in the bristles, as it may react and make a gummy mess.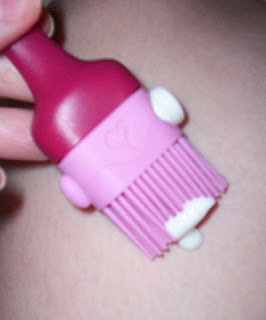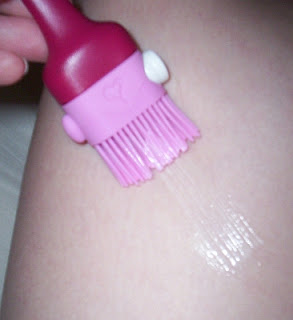 Brushing lotion into the skin.
The best way to use it is to apply lubricant directly to yourself or your lover, with the vibrator going. It may feel a little silly doing it, but it feels
amazing
on the receiving end.
When rating this toy, I started by docking a star due to the failure of the vibrations to transmit well to the bristles. Then I docked another star for the false "100% Platinum Silicone" claim. I started to think it was an overpriced gimmick and was wondering whether to rate it 2 or 3 stars. After all, you could get the same effect by taping a bullet vibe to a basting brush for a fraction of the cost.
But then I kept playing with it over the next few days, and instead of just using it to apply lube, it gradually became the main attraction. I realized that those soft little bristles, when coated with lube and vibrating, feel like dozens of little tongues. My opinion of the Playbrush went way up, and I think instead of a gimmick, this is simply a toy that has been marketed incorrectly.
This is not a toy for applying chocolate sauce, this is an oral sex simulator!
I still can't give it a full five stars, because of the weak vibrations and the false information about it being made of silicone. But I do give it four stars, and recommend it to anyone who loves to have a tongue - or thirty - quivering lightly against them.
This product was provided free of charge to the reviewer. This review is in compliance with the FTC guidelines.

Thank you for viewing
Playbrush
– adult game review page!