Sportsheets X-Rated ring toss - Adult game from Sportsheets

Product Details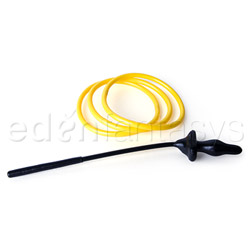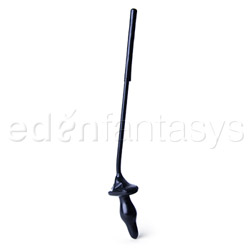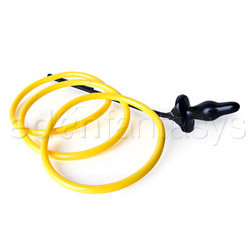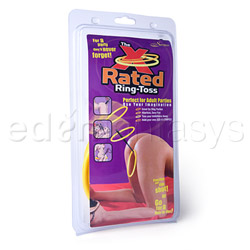 Summary:
This fits firmly between gag/party gift (something that will embarrass your friend when they open it, but which will never be used) and sexy, desired gift (something you give to a lover/partner/friend in the hopes that they will use it someday and ideally invite you to come along for the fun). It has the potential but without a larger plug and more rings, it's just one of those things you'll probably use once, just to say you got to stick something in your partner's butt and throw things at it.
Pros:
Could be fun, nice little jolt when a ring actually lands on stick.
Cons:
Very small plug, only 3 rings, end comes off.
Best use:
Purpose / Audience:

The goal is simple: Throw the rings onto the long tail of the butt plug that is stuck into someone's butt. According to the back of the package, this is the type of game that you should play with friends, ideally while betting each other blow jobs and spankings. It's the x-rated version of horseshoes/lawn darts/skee ball (only less likely to break someone's foot or take someone's eye out). This would be most fun in a close group, where people could make bets, tease each other about their bad aim and tag-team who had to wear the butt plug (There are some tactical issues with the game that would make that next to impossible, however. More on that below.).

Rules / Content:

There aren't really any rules given, just a few suggestions for how to throw, what to bet on, what to do if you get one of the circles onto the butt plug. Mostly, it's open-ended and you would need to make up your own rules.

The main trouble with the game is that there are only three rings, and they're all the same color. So you can't actually compete against someone else (unless you went out and bought more rings and/or used rings from a different toy). I suppose you could take turns and have one person throw all the rings and then take them off and have the next person go, but I think it would be a lot more fun/useful if there were two sets of rings in different colors.

Design:

There are essentially four pieces to this game -- a black butt plug and three yellow rings. The butt plug is very small (about the size of an average pinky) and is made of what feels like medium-hard plastic. The top part of the butt plug is soft (not sure why) and then the long 'stick' which is plastic and has a rubber bit on top.

Note: The rubber bit at the end of the stick fell off right away, but that might have been because the boy decided it made a better flogger than a butt plug.

The rings are simple molded plastic. Everything can be cleaned with hot water and soap.

Weight:

6.5 oz

The set includes:

three yellow rings
a butt plug

Personal comments:

While this game could have a lot of potential for play parties, humiliation scenes and just plain having fun, there are two major issues with it, in my opinion:

1. With only three rings of the same color, it wouldn't be easy to turn this into an actual party game even if you had the willing participants.

2. The butt plug itself is so small that it doesn't do much for the wearer (at least not for this wearer), even when the ring actually lands on the stick. There's a little 'ooh' moment, but it's very short-lived.