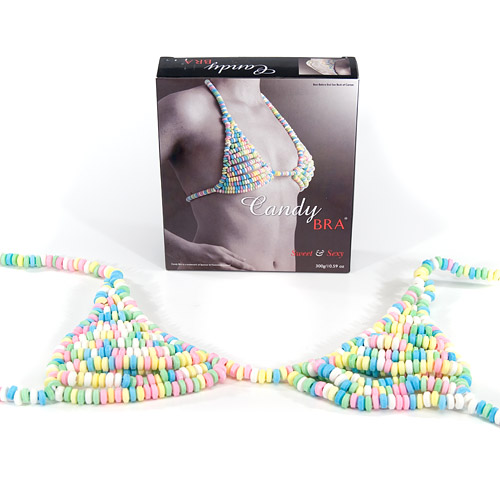 This product is out of stock.
Notify me
A closer look
Candy bra edible lingerie fol special sensations
Ordering Details
Manufacturer: Spencer & Fleetwood
Texture
Ingredients: Dextrose, Sugar, Maltodextrin, Magnesium Stearate, Citric Acid, Colours: Brilliant Blue (E133), Tartrazine (E102), Allura Red (E129), Artificial Flovours.
Packaging
Definatly a sweet ending to a romantic meal. You don't even have to be a gourmet cook like me to serve up a delicious dessert they'll remember forever.

This wildly sexy candy bra is a must-have sweet treat. I would recommend ordering the g-string as well. The effect is so much better as a set.

Edible, fun, good for those with a sweet tooth!

A great, if somewhat messy, novelty or gag gift. And sure to get the literal juices flowing (perhaps the proverbial ones, too, if you ever get around to it!).