Classic Erotica Crazy Girl oral sex gel - Stimulating gel from Classic Erotica

Crazy Girl oral sex gel videos
Product Details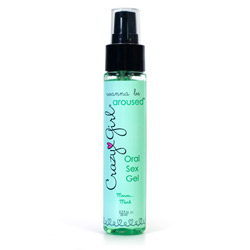 Summary:
Wanna be aroused? Crazy Girl has got you covered! Their flavored and scented Oral Sex Gel can be used during sex or solo play to heighten arousal with its tingling properties. It also makes oral sex more enjoyable for both parties. A safe gel that is easy to apply, it's also priced right!
Pros:
pH balanced, safe, tastes and smells good, good amount of added tingle/warming sensations, gel, pump
Cons:
Contains glycerin (for some).
Best use:
Crazy Girl Oral Sex Gel approaches sexual arousal gels with a fun and flirty attitude. Not only does it arouse the clitoris and surrounding area where you apply it, but it is also flavored so a partner can enjoy a minty treat when they give you oral. The gel can heighten arousal during sex or toy play as well. It's pH balanced so it won't throw you off in terms of hygiene. The gel is also safe for use with condoms and toy materials. It's water soluble, greaseless, and non-staining. It's safe for all skin types and is free of sugar, parabens, and sulfates. NOTE: It does contain glycerin, explained below.

-Glycerin: Is a sweetener that some women are sensitive to. It can cause UTIs or yeast infections. Use with caution if you know you have issues with this ingredient.
-Citric Acid: Fragrance Ingredient, pH Adjuster.
-Glycereth-26 and PEG-45M: Viscosity increasing agent.
-Honey Extract: Natural sweetener.
-Hydroxethylcellulose: Emulsion Stabilizer, Gelling agent.
-Honeysuckle Flower Extract: Fragrance, Sweetener.
-Polysorbate 20: Surfactant.
-Propylene Glycol: Skin conditioner.
-Tetrasodium EDTA: Reduces metal ion reaction.
-Diazolidinyl Urea: Antimicrobial preservative.
-Sodium Benzoate: Preservative.
Texture / Consistency / Thickness / Viscosity:

Described as gel, the Oral Sex Gel is just that. It's thick, but not as thick as ultra-sound jelly. It will come out in drops, but the drops will spread out a little. It's not runny and will stay in place where you put it until you want to spread it around. A single drop won't move much at all. A single drop can be spread out on the entire back of a hand. The gel is smooth and slick. It's possible to use as a lubricant because of its consistency. The gel never gets sticky despite containing glycerin. It will absorb into the skin if it is thinned out enough by spreading.


Base:

Water

Ingredients:

Water (Eau), Glycerin, Citric Acid, Flavor (Aroma), Glycereth-26, Honey Extract, Hydroxethylcellulose, Lonicera Caprilfolium (Honeysuckle) Flower Extract, PEG-45M, Polysorbate 20, Propylene Glycol, Sodium Saccharin, Tetrasodium EDTA, Diazolidinyl Urea, Sodium Benzoate, Yellow 5 (CI 19140), Blue 1 (CI 42090)

Taste / Aroma:

Crazy Girl Oral Sex Gel comes in three tasty flavor options: mint, cotton candy, and strawberry. This review was written after using the mint. It smells and tastes of mint, more like spearmint. The smell is moderate. It does not permeate much.

Performance:

Instructions: Place a small amount of product to vaginal area to enjoy an enhanced experience. If irritation occurs, discontinue use, intended for adult use only, keep out of reach of children.

A single drop or two is plenty to cover the vaginal area. It can be placed only on the clit or around the entire vulva. The more you use, the more intense the experience can become. It will start off as a cooling tingle that heightens arousal. The clit will become more sensitive which can build up to a more impressive and intense orgasm. Have your partner give you oral for a tasty treat! It will not cause their tongue to go numb, which is an obvious plus. This Crazy Girl Oral Sex Gel will make oral more enjoyable for both parties. If you are self conscious about the taste, whether giving or receiving, Crazy Girl has got you covered. And since such a small amount goes a long way, it doesn't get messy or icky.

The sensations will increase and turn into a lovely tingling that is more warming than cooling. The gel can be used during sex too. It can increase natural lubrication, but can also be used as a sex glide. It creates an excellent surface for that. This goes the same for toys of all materials.

The sensations, depending on the amount of application, can last about 20 minutes. If you want to have more fun, just add more!

The gel washes off easily with water.

Safety features:

L-Arginine free / Paraben free

Special features:

Cooling
Edible
Moisturizer
Tingling sensation
Warming

Packaging:

The packaging is cute and innocent. The gel comes in a slender plastic bottle. With girly cursive writing, the front says Crazy Girl - Oral Sex Gel. "Wanna Be Aroused." It's fairly discreet because it looks like a hair gel or some other hygiene item. The back has a lot of information about the product and its use. The bottle contains 2.2 fluid ounces. It has a pump top with cap that is easy to use.

Volume:

2.2 fl.oz.

Weight:

0.2 lb

Special Features:

-Flavored
-Scented
-Increases arousal
-Tingling
-Cooling
-pH balanced

Personal comments:

Here is my subjective part of the review:

I didn't have super high hopes for this product, but I actually really like it! It takes a little longer to feel than most products I've tried, about half a minute, but I really enjoy the results. The first few times I tried this, I used it solo with toys and finger masturbation. Divine! It makes me really wet, so I like to use the gel right before sex on my clit. The sensations are obvious but not overpowering. They don't make it harder to orgasm either. Stimulation gels can sometimes be overstimulating and make it hard for me to finish because they are distracting. My partner actually likes the taste more than me. That NEVER happens. It does taste good, but I detect a slight aftertaste that he does not. Either way, we both like this. I did try it on him and he couldn't feel anything. Boo! That's the only bad part. It only goes one way.