Jimmyjane Indulgences - Sensual kit from Jimmyjane

Product Details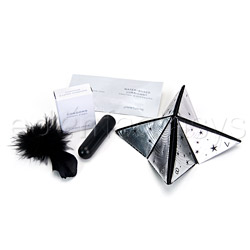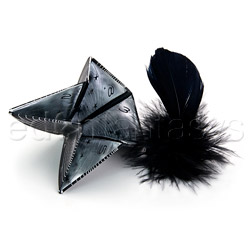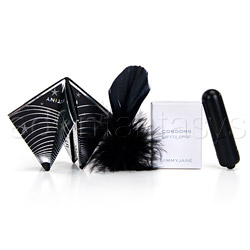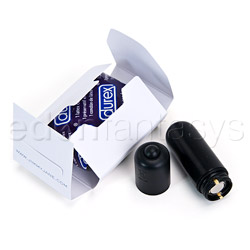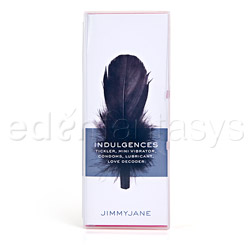 Summary:
This game is an easy way for couples to explore sensual foreplay in a fun and relaxed way. It provides not only suggestions for a variety of foreplay actions, but also all the tools you need to perform them, packaged in a convenient travel-sized box.
Pros:
Brilliant concept. Game provided fun foreplay.
Cons:
The box and vibe were faulty. Silver from the origami gets on your hands.
Best use:
Be it for a hot date or a quiet night at home, the Indulgences Sensual kit gives you plenty of inspiration for a sensual foreplay session. This would be excellent for couples who are just learning to explore one another, as well as seasoned couples who want something to break their normal bedroom routine.

People with allergy concerns should be aware that this kit includes condoms made of latex, and a lube sample that contains parabens. If these ingredients are a problem, you can simply use your own condoms or lube and still be able to enjoy the game.
Material / Texture:

Material:

Feather

/

Latex

/

Plastic

Material safety

Safety features:

Food-grade material / Hypo-allergenic / Latex free / Phthalates free

Base:

Water

Design / Shape / Size:

Color:

Black

Length:

2 1/2"

Circumference:

2 1/4"

Diameter:

5/8"

Weight:

0.2 lb

Functions / Performance / Controls:

Kit includes:

Feather tickler, Bullet, 2 latex condoms, Water based lubricant, Love decoder.

Packaging:

The Indulgences Sensual Kit comes in a clear plastic box measuring 5-1/2" long x 2" wide and 3/4" deep, and it is intended to be the permanent storage case for the set. It is small enough for travel, but we found that there were issues with the clasp that holds it shut.
Inside is a tiny white disposable cardboard box that contains a pair of Durex condoms, and a .13 oz. soft packet of water-based lube. All of the other items are arranged neatly without individual packaging.

Instructions for playing the game are printed on under the origami piece's pockets, and it takes a bit of maneuvering to be able to see them.

Experience:

Michele says:
Our experience with playing the game itself and using the kit's contents were two separate things. In general, the game really does make for some creative foreplay, and we even discovered a couple of new things we liked because of it. I can't help but think this would be a cool gift to give at a bachelorette party, because the suggestions for play are rather tame but nice. However, we must have gotten a "dud" as far as contents go.

First of all, there was barely any lip for the storage box's clasp to hold onto, so there's no way to keep it shut without wrapping a rubber band around it. The origami piece is just medium-weight paper (think standard white envelope) and it has no protective coating whatsoever, so if you get any lube on your hands during play you have to make sure you've washed and dried them well before you pick it up again. They'd have done better to have used some sort of glossy paper. Even worse, the silvery stuff that they used for the designs on it came off on our hands; not drastically, but it was noticeable on our fingers in the light. Since we have no idea what that stuff actually is, we kept feeling the need to wipe our hands off before touching anywhere intimate.
The real disappointment was the bullet vibe though; ours didn't work. We even went out and bought new batteries for it, but it was definitely a D.O.A. If we hadn't have had our own bullet vibes on hand, the game play would have been hampered significantly since some of the actions require it.


Alan says:
The concept of this product is a good one, but I agree that the quality was questionable. It was also hard to read the instructions, because they're printed up under the pockets and not all in one place.
The game gets a bit repetitive if you play it using the method of one partner choosing the action and the body part too, but if you use the alternate method it keeps things pretty interesting. The possibilities are nearly endless when using it that way, and the game can go on for as long as you want it to. One thing that really impressed me about the contents of the kit was the lube. I couldn't use it on Michele's intimates because of the parabens, but I really liked how it felt.

In spite of the problems we encountered, we agreed to give this product three stars because overall the game was enjoyable.