Summary:
Do you need something romantic to share with your partner? If so, then the Perfect Seduction kit has everything that you need to make your evening memorable. The possibilities are endless when you use the included rose petals, tea light candles, chocolate flavored lubricant, silky ties, and vibrator.
Best use:
This kit has everything you need for a weekend getaway, honeymoon, anniversary, birthday, Valentine's Day, or just your average day that you want to make special. It includes four tea light candles, thirty red rose petals, 1 fl oz of chocolate flavored lubricant, a Seduction vibrator, and two silky ties.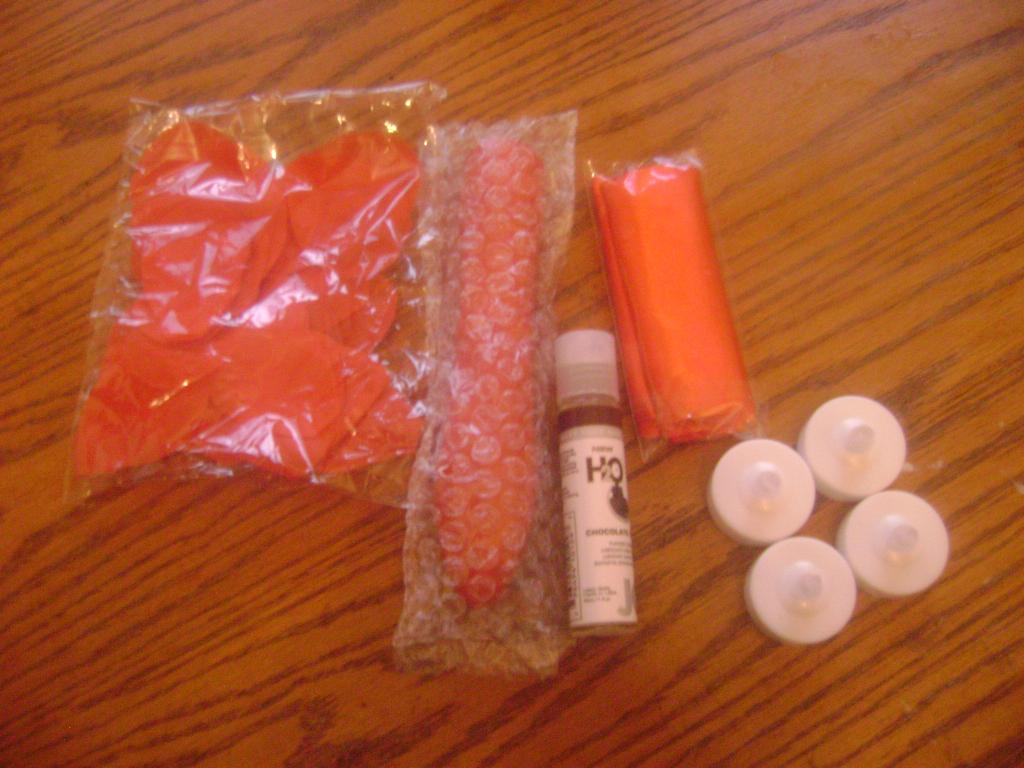 The tea light candles and rose petals can be used to set the mood and provide a romantic atmosphere for your lover. The chocolate flavored lubricant can add something different and exciting to your oral adventures. The Seduction vibrator provides stimulation internally, as well as externally to erogenous zones that enjoy stimulation. This can be used solo or with a partner, but don't use it anally. The two silky ties can be used for light restraint. The package mentions blindfolding, but the ties are see-through and do not work well for blindfolding unless you keep your eyes closed.
The chocolate flavored lubricant is latex safe and can be used with condoms. It contains glycerin and parabens for those who have glycerin and paraben sensitivities. The ingredients include:
propylparaben
,
methylparaben
,
sodium carboxy methyl cellulose
,
glycerin
, purified water, and chocolate flavor (aroma).
Texture / Consistency / Thickness / Viscosity:

The silky restraints/blindfold feel satiny and silky to the touch. They are similar to the feel of the ties that come with a decorative shower curtain. They retain the wrinkles from where they are folded in the box.



The chocolate flavored lubricant has an easy to use push cap. To use, all you need to do is gently squeeze the bottle; the harder you squeeze, the more lubricant that comes out. The lubricant is clear in color and, when applied to your skin, it runs slightly and leaves a shiny, somewhat oily residue and slightly tacky feeling on your skin.



The Seduction vibrator is made out of hard plastic with a shiny matte finish. It has a visible vertical seam going down the vibrator, but it is completely smooth to the touch and can't be felt while inserted. It is best suited for those who prefer smooth toys and do not require the nubs that textured toys provide.

Taste / Aroma:

The lubricant smells like cocoa butter. The smell stays on your skin until you wash it off, but it is not overpowering and shouldn't cause headaches. You can only smell it when you place your nose directly where applied. It tastes artificial and not like pure chocolate. It reminds me of the chocolate flavored lip gloss that I used to get when I was a kid.

The Seduction vibrator had a faint plastic smell.

Performance:

The silky restraints/blindfold do not block the light and you can easily see everything through them, so it is not recommended to use them as a blindfold. They can be used as light hand or feet restraints. They measure 38" long and 3 3/4" wide, and give plenty of room to tie your hands and feet together or to something. They are best for those who are wanting to experiment with light restraints and will not engage in any rough play. To clean, I suggest placing in a lingerie bag or pillow case and using the washing machine's gentle cycle.




The rose petals measure 2 1/4" long and 1 1/2" wide and are shaped similar to a rose, but are longer than most normal rose petals.



They feel like mesh and bring a nice romantic touch to your play time. You can spread them over your bed, leave a trail of roses for your lover to find you, or add them to your bath. The possibilities are endless with a little creativity.



The candles have a 1/2" tall "flame" that give off a nice amount of yellow light and offer great mood lighting. These can be placed strategically around a bathtub or room to provide a romantic setting. The candles can also be used in place of regular candles when your electricity goes off. They have an on-off switch located at the bottom of the candle that is powered by a 3V lithium cell battery (included).




The lubricant can be applied inside or outside a condom's surface or directly to the genital area. It will last as long as it takes you to lick it off your partner. If you choose not to lick it off, you are able to wash this off easily with water.

The Seduction vibrator has a waterproof seal that prevents water from seeping into the battery compartment.



When tested in the water, the power did not diminish any, and no water seeped into the battery compartment. It requires 2 AA batteries that are not included, that are inserted under a twist off cap. It has one very easy to use push button control, that is located at the end of the vibrator. It has Low, Medium, and High power frequencies that should provide most users with enough stimulation. At the highest setting, it is a good 4 Vrooms. The vibrations are buzzy and rattle, and can be felt throughout the toy but mainly at the top. When in use, it can be heard through a closed door. The size is best for those who like average sized toys and do not prefer slender or girthier toys. To clean, it is best to wash with antibacterial soap and warm water, toy cleaner, or wipes. You are able to use any type of lubricant that you wish with it. Here's a comparison photo of it compared to Uma and Roulette High Roller.



Packaging:

This kit is elegantly packaged with a removable cardboard insert that pictures the kit on the front. It mentions on the front to remove the card before gifting. After removing the insert, the box is perfect for gifting. It has a small red bow tied around a red and black cardboard box.




Experience:

My husband and I had a great time with this kit. I didn't really like the taste of the lubricant, but he really liked how it felt when I applied it to his shaft and then proceeded to lick and kiss it off. The ties do not make a great blindfold because they do not block the light, and you are able to see everything that is going on around you. However, they did make great light restraints. Overall, I'm giving this kit a 4 out of 5. It has a little bit of everything to provide a nice romantic evening with your partner, lover, or friend.

Other

Kit includes:

Red seduction, silk blindfold and ties, rose petals, chocolate lube, and 4 re-usable tea light candles

Material:

Plastic

Material safety

Safety features:

Food-grade material / Hypo-allergenic / Latex free / Phthalates free