Sportsheets Sex in the Shower locking suction handle - Position accessory from Sportsheets

Product Details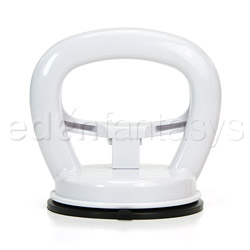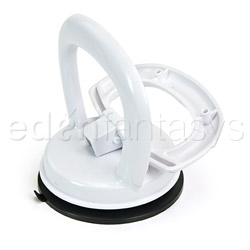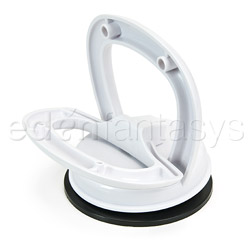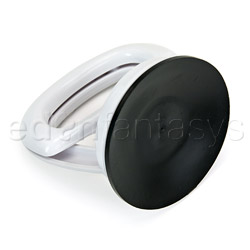 Summary:
If you and your partner enjoy shower play, this locking suction handle will add a new dimension by giving you a handhold for added leverage in any position. It isn't meant to support full body weight, but it goes on and stays on right where you need it.
Pros:
Easy to install and remove. Very strong.
Best use:
Anyone who enjoys sex in the shower knows the frustration of trying to keep your balance during vigorous play, but the Single Locking suction handle by Sportsheets solves the problem by giving you something strong to hold onto. It adheres itself to any smooth surface and is so simple to install and release that you can move in anywhere at any time.
Design / Craftsmanship / Material:

The design is relatively simple; just a very smooth medium-weight hard plastic handle with a big rubber suction cup on the bottom that has a release tab on its side. The handle opens in halves like a clam shell to engage and release the locking mechanism. It's comfortable to grasp, with about 3" in width to fit your hand through and plenty of room not to knock your knuckles in it. The entire unit feels durable and well-made.

Best of all, it's a rather subtle design, so it just looks like any other bath safety handle and is useful to hang your wet washcloth on when the shower is over too!

Material:

Plastic

Material safety

Color:

White

Length:

3 3/4"

Height:

4 1/4"

Weight:

0.4 lb

Performance:

You need at least 4" of smooth surface for the suction handle to work, but installing it couldn't be easier. With the handle in the open position, moisten the suction cup and press it to the wall, then squeeze the handle back together until you hear it snap. That's all there is to it. To remove it, simply open the handle, and tug the pull tab on the suction cup to release it. It's so quick and easy to do that you can move the it around on your shower wall in mid-play if need be.

The manufacturer advises against hanging from the handle, but once installed, our test model took all sorts of vigorous tugging from multiple angles and did not come loose. As a matter of fact, we found it difficult to remove just by opening the handle alone; you have to remember to pull the suction cup's tab too.

Packaging:

The handle comes wrapped in a plastic bag inside a 4" cardboard cube that has non-explicit photos of a couple using a pair of suction handles and quick install instructions on the side. The phrase "Sex in the Shower" is printed boldly on top, and then smaller on a couple of the sides. It's got a rather classy look, so if you remove the cardboard hang tag from the box, it would be fine to wrap for gift giving.

Sportsheets has included detailed installation instructions inside, as well as a small colored flier that shows other items in their shower play product line.

Personal comments:

Fleshlight users, there's an added plus for you with this nifty little handle. If you install a suction handle horizontally, the opening is the perfect size to hang one Fleshlight sleeve in for drip-drying, so no more trying to figure out where to lay out your sleeve after you wash it!

Experience:

Michele says:
Though the manufacturer suggests only putting pressure on the handle in a vertical position, Alan and I decided to really test it out. We put this thing vertical, horizontal, and even on an angle and it stuck firm in all directions. At one point when I had both hands and nearly all my weight on it and *still* it didn't show any signs of coming loose or breaking. So it's more durable than the manufacturer lets on.

Alan says:
I think that to get the best experience you would need to buy more than one of these because it isn't big enough for me to comfortably grab onto with both hands, but we got a lot of enjoyment out of the single handle. The fact that I can use it to dry my Fleshlight in is a major bonus for me too because I'm always worried it isn't drying fast enough on the counter. Hell, I'd buy one just for that reason alone!
A note here about installation though; when they say you need a smooth surface, they mean it. We have two showers, and in one of them there is a plastic-paneled surround that has one very slightly textured panel. You can barely feel the design when you run your hands over it, but the suction cup wouldn't even begin to stick. It did hold fine on the smooth plastic and in our tiled shower though, to the extent that I couldn't get it off without tugging that black tab on the cup.

Other

Safety features:

Food-grade material / Hypo-allergenic / Latex free / Phthalates free