Perfect Position The try-angle cushion - Position pillow from Perfect Position

The try-angle cushion videos
Product Details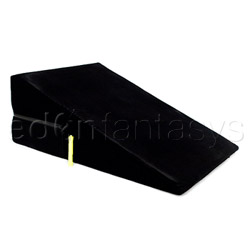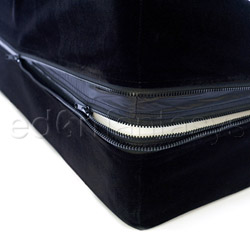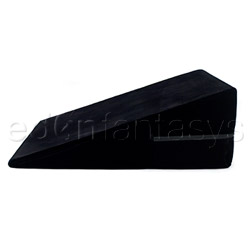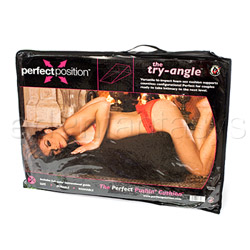 Summary:
The Try-angle is a great addition to your collection if your looking for support for your back, elbows, knees and shoulders, as it helps take on the brunt of the pounding you'll be receiving! The fabric is soft, and the black is nice and deep, with little to no fading after washing. It's easy to carry around for all of your playful adventures!
Pros:
Great for doggy-style positions, well-made, comfortable.
Best use:
There are some sexual positions that are just hard on the body, and doggy style is one of them. Maintaining the position for any period of time puts strain on the knees and elbows, and the back isn't exactly loving it after a long day on your feet. Pillows scrunched under the stomach provide minimal support, inevitably forcing you to bury your face into the bedding. Depending on the current climate, this can be a little more than uncomfortable. And let's not even get into the horror stories of carpet burn! (I've had some doozies myself.)

If you desire the deep penetration of doggy without all of the hassle, the Try-angle is a great investment. The microsuede cover prevents it from slipping on carpet or bedding, while providing a comfortable surface to rest your elbows and torso against while receiving that sweet, sweet pounding you crave.

It is also quite useful for other things - you can use it as a backrest on the bed while watching television, or on the floor to play video games for short periods. It's also a great support for erotic shaving sessions should you dare!
Design / Craftsmanship / Material:

The cushion designed for comfortable pushin' comes with a vinyl storage/carrying case. The top is clear, hard vinyl, while the bottom is a softer, more flexible black nylon. It's somewhat similar to a tote bag or duffle bag, and would protect the material of the cushion from condensation, dust, and dirt. The cover does not have a handle, but it isn't necessary as the cushion itself is rather lightweight. The zipper is thick, black plastic that moves easily across the teeth and is quite durable. The stitching on the cover is done very well, with a substantial amount of thread holding the pieces together.

The base of the cushion is foam that is wrapped in a nylon cover, with a zipper for easy removal and cleaning. This cover also helps prevents liquids from damaging the foam base. The cushion is then covered in a black microsuede cover that also zips up. In this case, both zippers follow the same path and may be a tad bit difficult to avoid catching one with the other, but it isn't extremely difficult.

Both covers and the outer storage cover are really well made and seem to be durable - standing up to three washings so far without any damage.

The foam itself is rather dense and has a bit of a give to it, but it is not memory foam and does not retain the shape of the body; this also means it will not conform to the shape of the body.

The overall dimensions are Width: 24" x Length: 34" x Height: 12". For this cushion to be used as anything other than a sex toy is really not advised, as it isn't long enough to fully support the back and be comfortable for any length of time, as the angle pitches in such a way that the bottom of your spine is forcefully tilted upwards and has to touch the floor, not the cushion, in order for your neck and head to be supported.

There are, thankfully, no weird smells or strong odors of plastic here. Just nice fabric. If you feel like the microsuede isn't soft enough you can always slide a pillow case across it and pin it down for added comfort. Using a throe with this might just cause a slippery disaster and is not recommended.

This is not the most discreet piece of furniture, but it could easily be passed off as a purchase for a small child to lie on if the need ever arises. The zippers do not have fobs indicating the origin or the company's purpose.

Material:

Foam

/

Micro-suede

Color:

Black

Length:

34"

Width:

24"

Height:

12"

Weight:

12 lb

Performance:

This cushion is perfect for doggy style positions. It lifts the buttocks into the air for ease of access and keeps the receiver in a stable and comfortable position. Elbows, knees, and tummies can relax comfortably against the cushion to add to the experience without causing undue stress on the back.

This cushion should not be used on slippery materials like silk and sateen sheets, as it will just slide right off the bed. It is rather lightweight, and a solid thrusting motion can cause it to skid. However, it's perfect on cotton materials and carpet.

It is really easy to use, and everything comes already assembled. Just slip it out of the storage cover, throw it where your heart desires, and get down to the good stuff!

Love pillow special features:

Moisture-proof / Stain resistant / Washable

Packaging:

There is not much to be said about the packaging other than two things: 1) the shipping carton is huge, 2) there is a giant insert that spans the entire top of the cushion with a very pretty girl leaning over the cushion in a pair of boy shorts. It's not exactly the most discreet image.

Care and Maintenance:

Care and maintenance for this cushion is rather simple. Both of the protective covers (not the storage, but the microsuede and vinyl) are machine washable on a gentle cycle with a gentle detergent. Line dry, do not tumble dry, then use a lint brush to swipe up any loose fibers.

This probably will not slide under most bedframes, but could easily be stored in a closet or in a corner of the bedroom. Usually, the best place to hide things is right out in the open.

Experience:

I really enjoy having this cushion around for doggy style positions as it helps with the strain on my back. My husband is not too thrilled that this is the only real use we've found for it, but I kind of feel like there are some things which should be used as intended, and they don't need alternative uses. I'm happy with our new toy!