Best use:
The Vibe Station by Perfect Position is a positioning device that holds a body massager or a favorite vibrator in the perfect position for you to ride or simply brush up against while having PIV sex.
If you love your body massager but don't exactly want to be on your back while you play, or you simply want to be hands free, then the Vibe Station is ready and willing to help out. This toy doesn't work as well with corded massagers, but it can be done. With a cordless body massager or vibrator, this thing is pretty darn amazing.
The foam form is held between the knees, or needs to be up against a solid object. On the up side it is very easy to hold between the knees, either from the longer rounded edge or the wider end.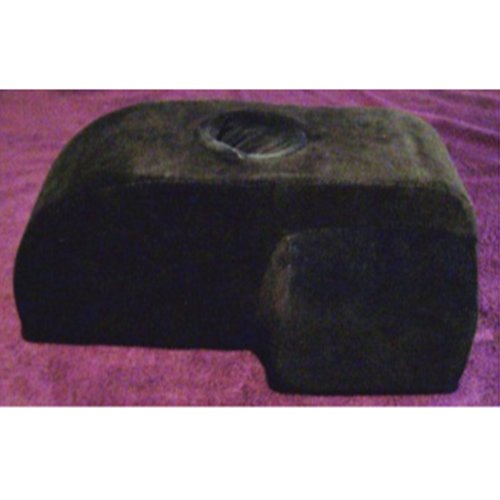 If you use the rounded end, it is easier to have PIV sex while rocking up against the massager or vibrator. If you turn the toy around and then grip the wider end of the toy with your knees, you can actually ride the toy.
This isn't a pillow that you are going to be able to carry with you openly and not get some raised eyebrows, because it has a very unusual shape and the hole on top is very visible.
Design / Craftsmanship / Material:

The Vibe Station has a unique design that is rather elegant. It is made of firm foam that holds its shape very well. I weight close to 190 pounds, and I could barely squash this foam flat by standing on the toy, so it's going to hold up to just about any weight without losing its shape. It pops right back into shape once the pressure is released, and will protect the massager or vibrator from damage. The foam is hypo-allergenic and covered with a nice micro-suede shell that repels water and fluids.

There is a sort of sock of the inside layer of the micro-suede material that is sewn to the top of the shell; this protects the foam and your massager from fluids.

As you can see, the sock is not closed on the end, so care should be taken not to spill liquids into this area.

The Shell zips off at the bottom of the pillow, and the zipper is well sewn and sturdy. It is unlikely to jam or rust.

It is very easy to slip off the shell, and this picture was taken after washing the shell cover, with the zipper closed, in the washer on normal cycle. I then dried it on the low heat setting and it slipped back onto the foam form with no struggling.

The micro-suede is very plush and has a very short nap; the foam is firm but forgiving. The whole item looks elegant and upscale. The entire pillow measures 14 inches in total length, making it much smaller than I envisioned from the pictures. Far from hogging the space in your bedroom, this pillow is rather compact. At its widest point, it measures 8.5 inches; at its narrowest point it measures 5 inches, so at no point will your knees or thighs be straining to wrap around this pillow. Even if you have bad knees or hips, you will be able to straddle this toy with ease.

The sleeve fits the toy to the very base of the foam micro-suede cover bottom. It is about 9 inches of room for you to stick your favorite all over body massager or vibrator. You do have to use a toy with some girth to it; otherwise, it won't fit as well. The average body massager will work just fine.

As you can see, my Mood Fantastic fits just fine and it's a slimmer body massager. I would suggest using a non insertable toy and the pillow the way the picture is facing so that you can get some penetration going!

Material:

Foam

/

Micro-suede

Color:

Black

Length:

14"

Width:

8 1/2"

Height:

6 1/2"

Weight:

5 lb

Performance:

I am one lucky reviewer, because I got to try out the Mood Fantastic Body Massager Wand along with my new Vibe Station. I was looking over some of the questions people have asked about the position pillow and I set out to answer as many as I could.

Yes, this position pillow does hold the toy securely and allow you to straddle the toy while having PIV sex. Your partner will feel the vibrations easily, and you will get the direct clitoral stimulation you desire, and the pressure you desire as well! Even if your knees are weak or you just aren't all that flexible, you can use this toy easily.

I didn't notice the pillow making my toys hot or causing them to run hotter than normal. Then again, my Mood Fantastic is brand new, and I used vibrators, to experiment with, that I know to be rather cool customers. I did try the pillow with a body massager that had a cord and, while it was a bit more difficult to arrange the wand, I solved the issue by unzipping the bottom of the cover and allowing the cord to come through. There are two zippers on the bottom, and you can zip them up so they butt up against the cord without causing it or the zipper any damage.


I have knees that are not quite as forgiving as they used to be, but this toy isn't too wide or so firm that it'll leave bruises or cause pain. It holds the toy at just the right angle, whether you are using it for penetration or just rubbing up against it while you are penetrated.

I have also used this to brace my back while I am sitting up in bed reading, and it works fairly well. It also works well for propping up an ankle that is swollen and sore from surgery!

Love pillow special features:

Washable

Packaging:

The Vibe Station comes sealed in a plastic bag inside a light cardboard box. It isn't graphic, nor will you educate young 'uns if they catch a glimpse of the box!

There were no instructions included with the pillow, but on the box is all the information you'll need. It's very intuitive, this pillow.

Care and Maintenance:

This pillow is very easy to store. It can fit under most standard beds, or in a bottom drawer of a dresser. You can store it in its own box in the closet as well! It does pick up lint and animal hair, so you will want to store it somewhere your cat won't decide it makes a great bed...like my daughter's cat did!

The shell can be washed, so it's not a total loss if it picks up some lint, hair and other flurf. If you want to spruce it up quickly, just double a piece of packing or masking tape over your fingers with the sticky side out. Dab at the lint and it'll come right off!

Experience:

I had an old plug in massager that we bought at WalMart way back in the early '90s. I loved that thing for many years, and we had devised a way of propping it up between pillows, but it really muted the vibrations. This positioning pillow places the rounded head of my Mood Fantastic in just exactly the right position for me to stimulate my entire labia and clitoris without a loss of vibration speed and intensity. I also don't have to worry about the thing getting too hot and catching fire or shorting out!

I can place my larger sized vibes in the pillow and then use them to penetrate myself. You can also use this with rabbit vibes, but I find that, personally, I prefer to be lying on my back when using my rabbits.