Pipedream Fetish Fantasy door swing - Swing from Pipedream

Fetish Fantasy door swing videos
Product Details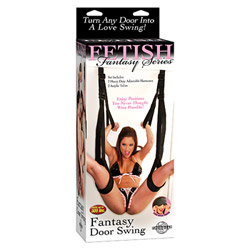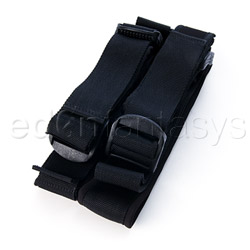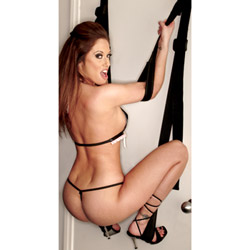 Summary:
For those who desire a sex swing but don't want to take the expensive plunge or for couples who live in small spaces and are looking for something to liven up their sex lives. This is a must have.
Pros:
Ease of use, design, comfortable, not obtrusive, easy to store
Cons:
Support bars could be made of a heavier material, big and beautiful may have some difficulty
Best use:
The Fetish Fantasy Series "Fantasy Door Swing" is an easy to use sex swing that can enhance the sexual experience no matter what your sexual orientation may be. It's a fairly well made item that appeals to those looking to bring a little extra spice into their life or for those who want a sex swing but aren't sure about laying down the big bucks for one.

You simply place the support bars through the straps, lay the bars over the door and close the door. Locking the door or bolting it for extra safety is recommended if you have that option available to you. Adjust the arm and leg straps (yes, unlike some other brands, this swing actually has adjustable straps!) and get in position.

You may need some help from your partner in getting into the swing as getting situated can take a few moments. Also, once in the swing, have your partner spot you while you make sure that the door is sturdy enough to handle the stress.

After everything is in place, prepare yourself for some good lovin'! Since the straps adjustable, you can elevate or lower yourself to the perfect spot for intense, spot on G spot stimulation whether with a toy or your partner.
Design / Craftsmanship / Material:

The materials used are: Neoprene, Nylon and Acrylic.

There is no smell and the overall feel is very slick and smooth. The padding is soft and comfortable, although it wouldn't hurt if it had a little extra. The materials are resilient to water and therefore easy to maintain. I have noticed no fading or decrease in support from the materials and it has been used fairly often over the last year.

It claims to support up to 300 lbs. I have no way of testing that as I am lighter than that; but, I will say that the stirrups might not be large enough for some. The support for the thighs could also cause some discomfort due to the pressure of relaxing yourself into a lower position or from the weight resting against the padding.

The weight limit is also not so much a factor of the product itself but the strength of the door you are using. If you have thin doors in your home, be extra careful when using the swing as it may warp the door and cause cracks/breakage. A sturdy door of heavy material will work best.

Material:

Acrylic

/

Neoprene

/

Nylon

Material safety

Color:

Black

Weight:

1.5 lb

Performance:

This product could be a sex "life saver". I love adventure and trying new things and my husband is very open minded so this choice was a no-brainer. I purchased this for Christmas last year and he was so thrilled about it we put it up immediately. It definitely handled our first session well and we tried nearly every position imaginable and even broke out the toys and had an extended teasing session.

If you live in a shared housing situation or are trying to keep your pleasures on a lower decibel level, this may not be perfect for you. The bars are easily seen on the other side of the door and the sounds that come from having sex directly against a door can be rather loud, to say the least.

Even though it is very easy to use this is a teamwork effort, as sex should be. Use with someone you trust and have fun with it!

Sex swings special features:

Adjustable

Holds weight up to:

300 lb.

Packaging:

The cardboard box is decorated with some humorous photos of a couple enjoying some of the positions. The female model is very enthusiastic. Doesn't she just make you want to buy one right now? Look at how much FUN she's having!

Other than the pictures this is a no frills affair. No instructions, but it's pretty simple. Pull out the contents, assemble and go to work. If you feel like keeping the box for storage feel free, but as it's cardboard it may not last.

Care and Maintenance:

Storage is a cinch. It's easier to take down than to put up! Take it off of the door, fold or bundle it up and place it in a drawer, closet, under the bed, in a bag or in the box it came in. The acrylic support bars are fairly small so if you are prone to losing things or will be storing it with other items keep it all packaged together for safety.

If you dirty up the swing, just wipe it down with warm water and a mild soap if needed. Let it air dry and store it away.

Personal comments:

I love it. My husband loves it. We love it. This item has seen use many, many times and couldn't be more recommended by both of us. The only sex furniture we use more is by Liberator. Completely worth it, especially for the price.

Experience:

When positioned facing forward I am able to fully embrace my love while he takes me. The support is sturdy enough that we have had soft love making sessions as he held me close or vigorously pounding hard against the door. When positioned facing away I enjoy the surprise of what's next and having to look over my shoulder to catch a glimpse of what he's doing.

He says he really enjoys the deep penetration (me too!) and loves seeing me spread out midair. He also has a great time going down on me as he really enjoys the vantage point and the overall aesthetic of me being suspended.

It's also fantastic for role play and light bondage situations with masks, whips and teasing toys. I say light only because use of rope, handcuffs, etc. together with the necessity to keep oneself held up by the support grips could lead to a possible accident. If one were to slip out of the swing while their hands or feet were tied they may hurt themselves. Please play cautiously.

We have also had lots of fun playing with all of our favorite toys in conjunction. Absolutely wonderful for G spot play, especially facing away.

Other

Safety features:

Food-grade material / Hypo-allergenic / Latex free / Non-porous / Phthalates free