Pipedream Fetish Fantasy fantasy swing - Swing from Pipedream

Fetish Fantasy fantasy swing videos
Product Details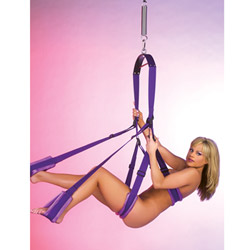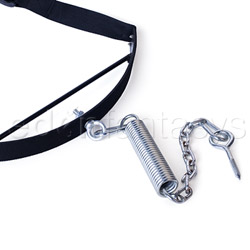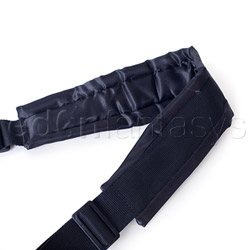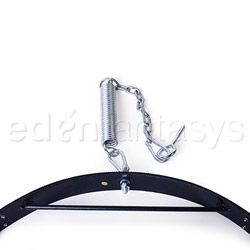 Summary:
Using the Fantasy Swing is a great way to express your sexual creativity with your partner. It may not work for everyone, but if you're looking for a tool to spice up your sex life and don't mind putting a little effort into it, this swing is a great option.
Pros:
versatile, strong, easy to install
Cons:
can be uncomfortable, takes a few tries to get the hang of it
Best use:
Fantasy swing is a toy that is primarily meant for couples. It's a great way to spice things up and try new things. I think it would be a great investment for gay and straight couples and will open up a lot of options for everyone.

You are really only limited by your own imagination and physical limits when using the swing. We have tried probably a dozen or so positions with the swing, and I know that there are many more that we could try and probably even more that neither one of us has thought of. Some of our favorite things we've tried are incorporating the swing into bondage play and using it for making oral sex more comfortable for the giver.
Design / Craftsmanship / Material:

The top portion is made of steel and is very strong. There is an eyelet bolt, some chain, a torsion spring, and a metal support bar. The swing itself can hold up to 350 lbs without the spring according to the directions and 200 lbs with the spring. I weigh around 170 lbs and I had no problems at all. The spring didn't stretch in the slightest and I am fully confident that it could hold the full 200 pounds.

The lower portion of the swing is made from nylon and is very similar to the straps you see on luggage. There are two large straps for the back/butt/whatever and two smaller stirrups that are for feet/legs/hands. You can adjust the straps to make them the length that you want.

While the straps and stirrups have some padding, I did not find them to be very comfortable. They dig in quite a bit and made some positions too uncomfortable for me to be in for more than a few minutes. I made some extra padded pieces and sewed them on top of the existing padding and that helped a tremendous amount. I think that this might be more of an issue with people who are heavier because having all of your weight on just a couple of straps puts a lot of pressure on those areas, and even if you added padding, I think that it might be pretty uncomfortable to some people.

Material:

Metal

/

Plastic

/

Polyester

Material safety

Weight:

8 lb

Performance:

I thought it performed very well. Installation was simple and straightforward. We were able to get it installed within 15 minutes so no worries about being frustrated all afternoon with this one. It's easy to put the swing on the bolt and take it off afterwards so you won't need to have the swing hanging permanently (though the bolt DOES need to stay in place, don't take it out). It is adjustable enough to allow for some creativity and differences in height/weight, and there are several pictures on the box to give some ideas for positions.

Using it does take quite a bit of upper body strength in most positions. I tend to get sore arms the next day after using the swing. Some people may find it to be tiring to use, but it definitely is fun enough to be worth it.

Sex swings special features:

Adjustable

Holds weight up to:

350 lb.

Packaging:

The packaging is pretty simple. It is a cardboard box with a handle on it. There is a single piece of paper with directions for installation but no directions on how to use the swing. The box has several pictures of a couple using the swing in different positions. The pictures are helpful for ideas as a starting point, but I am not one to keep a big box with pictures of naked people hanging around so I did not end up keeping it. When I am not using the swing, I keep it in a plastic bin underneath the bed, but it could easily be stored in the box that it comes with if desired.

Personal comments:

My first concern with using a toy like the Fantasy Swing was safety because it's never fun when someone gets seriously hurt. So it's important to take a few precautions when using the swing.

When installing the swing, it is important to use a stud finder to find a beam in the ceiling. This will ensure that it will be stable and secure and won't fall down during use. The directions say that you can just tap the bolt into the ceiling and screw it in, but we weren't able to do this and simply used a drill to make a hole and then screwed in the bolt.

We always check before either one of us gets on it that the eyelet bolt is firmly in place and that all pieces of the swing are in place and not coming loose so that we can be sure we won't have any accidents while using it.

I felt more comfortable keeping a padded mat underneath the swing. At one point I did slip through the swing and fell onto the floor. I don't think I would have gotten hurt without the mat there, but I was glad to have it there knowing that I wouldn't be falling onto a hard floor if I did slip through again.

Experience:

This was our first time using a swing, but we were very excited about trying something new and getting a chance to try some positions that don't usually work for us. It definitely took us a few tries to get the hang of using it. Between me falling down a couple of times and him getting tangled up in the the swing, we definitely had a few awkward moments (or maybe we are just a clumsy couple), but hey that's part of the fun isn't it? I feel that trying something new together is a great way to feel more intimate with someone, and I think that using the swing was a great way for us to do that. I don't think that we will be using the swing every time we want to get intimate, but I do believe we will have fun breaking it out once in awhile.

Other

Safety features:

Food-grade material / Hypo-allergenic / Latex free / Non-porous / Phthalates free