California Exotic Magnetic power ring ridge rider - Cock ring from California Exotic

Magnetic power ring ridge rider videos
Product Details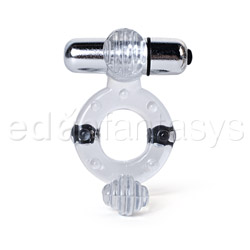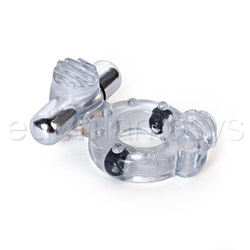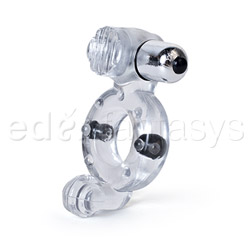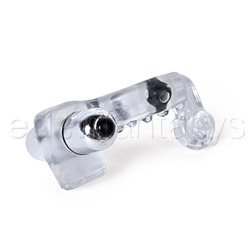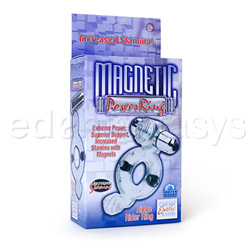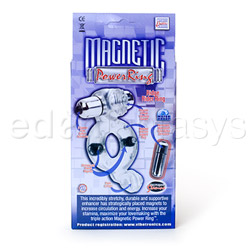 Summary:
My wife and I really got off using the Power Ring. Was it because of the magnets, the comfortable feel of the cockring, the powerful vibrator or the gentle texture of the ridges? I don't have an answer for that, but I don't think there is any one right answer. Any one of those will do, with the result that you will have a powerful Power Ring orgasm. You can't go wrong with that.
Pros:
Nice flexibility in the ring, dual ridges give nice sensation.
Cons:
Magnets don't always stay in place.
Best use:
The Magnetic Power Ring Ridge Rider is a wonderfully stretchy cockring with two textured ridges (one on top and one on the bottom), one of which includes an attachment for a small vibrator. Since the ridges are on the top and bottom of the ring, one can be used to stimulate your partner while the other presses against the perineum. On the main ring there are spots for the attachment of two small magnets (watch battery sized). This brings to the cockring a new application for magnets which have been increasingly used as part of sports and exercise equipment. As a cockring, it is great for beginners since the material is flexible. It holds your cock securely, but not unyieldingly like with metal cockrings. The dual ridges make it perfect for couple play. The vibrator is also good for couple play as well as solo pleasuring. As a special bonus- the vibrator is waterproof- expanding your play possibilities.
Material / Texture:

The ring itself is made with TPR, which allows it to retain its shape nicely but to also be fairly flexible. It is very easy to get this around your cock and once it is there, you know it isn't going anywhere. It is also a very smooth material, which you appreciate as one of the ridges is pressing against you. Speaking of the ridges, they are raised and textured, and that pressure on the perineum complements the general pressure you feel around your balls and the base of the cock. The attachable vibrator is hard- another nice contrast with the softer material of the ring. That bit of hardness will either be pressing against your perineum or your partner, giving an additional burst of pleasure.

Material:

TPR

Material safety

Texture:

Noduled / Ribbed / Smooth

Safety features:

Hypo-allergenic / Latex free / Phthalates free

Shape / Design / Size / Fit:

The design is fairly straightforward- after all, this is a cockring. While many cockrings have ridges or a vibrator attachment, the fact that this one has two pleasure ridges takes it out of the ordinary. If you are using this with a partner, the question is not who will get the benefit of the stimulation, but rather who will get the more intense stimulation from the vibrator and who will get the less intense, but delightful pleasure of the ridge pressing against them. There are no losers with this toy. A word about the magnets- I honestly can't tell whether they enhanced the experience. This toy has so many go things going for it that, magnets or no magnets, it is still a fun experience. The stretchy material makes it easy to put the ring on and easy to get it off after you have gotten off. It will fit pretty much all men.

Color:

Clear

Cock ring style:

Stretchy ring

Max stretched diam.:

2 1/4"

Unstretched diameter:

1"

Length:

3 1/4"

Width:

1/4

The set includes:

Cock ring
3-speed bullet
6 watch batteries

Weight:

2 oz

Functions / Performance / Controls:

The pushbutton vibrator has three settings- gentle, intense and super intense. The button is easily accessed from the side and it fits securely into the slot on main ring. You won't have to worry about it sliding out of position. The magnets, on the other hand, do tend to slide off in use. You may decide that it is better to simply remove the two small magnets, because you do tend to worry about how secure they are while using the toy.

Functions:

Multispeed

Special features:

Anal stimulator
Batteries included
Removable bullet
Waterproof
Wireless
Clitoral stimulator

Powered By:

3 watch batteries

Control type:

Push button

Care and Maintenance:

The Power Ring cleans easily with soap and water. You can throw it in the dishwasher as well. Be sure to remove the vibrator and clean that separately (easily done with a wipe since it is metal). It is fairly easy to store. The flexible material makes it nice and bendy and it will fit easily into a small space.

Packaging:

The Power Ring comes in a 6" x 4" package, which is small enough that you could easily use it to store the toy. The package is nicely illustrated to show exactly what is inside, but it doesn't give you any suggestions about how best to use it. However, you will quickly figure that out on your own. There are no instructions inside the package. I have to say, for a cockring, the packaging is fairly discreet. It does talk about "maximizing your lovemaking", but I'm not sure it would be obvious to everyone on first glance that a cock and balls are intended to be sticking out of that ring.

Personal comments:

I love that this gave me the two options with the vibrating and non-vibrating ridges. It also gives the option of solo play or partner play. While I didn't use the magnets, I didn't really miss them and I didn't hear my wife complaining either. This is a very satisfying toy that will get you both off very nicely.