Doc Johnson Velcro closure cock strap - Cock ring from Doc Johnson

Velcro closure cock strap videos
Product Details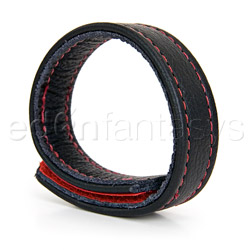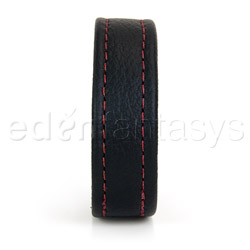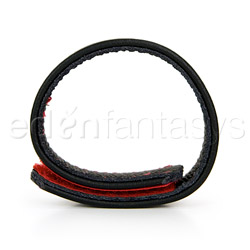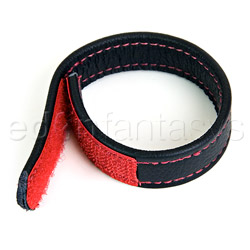 Summary:
The Velcro closure cock strap is from the Reds line of leather toys from Doc Johnson. It is a 3/4 inch wide by nine inch long leather strap with two inches of Velcro at each end. The Velcro makes it easy to put on and remove and also allows for adjustment. All exterior surfaces of the strap are finished leather which makes it easier to care for. Used correctly, the strap can work well for prolonging ejaculation, but the leather is pretty stiff when new which can cause some discomfort.
Pros:
Easy to put on and remove, adjustable
Best use:
Velcro has become pretty commonplace these days. For a while it was very common in shoes, but now you don't see it much there except for children's shoes or the elderly. It is a good solution for many circumstances.

The concept seems so simple. How many different ways can one hold a cock strap together? Snap closures are more common, and there's a cinch available, but Velcro seems like a good alternative. This class of cock devices is different from the standard stretchy rings that tend to saturate the market. There are no bells and whistles here. It's a leather strap with some Velcro attached to keep it together. The Velcro is nice as it holds well, allows for more adjustment than standard snap closures, and it's easy to take off when the time is right.
Material / Texture:

The Velcro closure cock strap material is leather. it is actually two black leather strips sewn together with the finished side out. It's from the Doc Johnson's Reds line, so the Velcro strips and thread are colored red. Having both sides finished means it is more durable and fluid contact will be less troublesome, but it also makes the strap less flexible. It actually wasn't as comfortable as some other leather straps I have had experience with. It should loosen over time, but brand new it is pretty stiff.

Material:

Leather

Material safety

Texture:

Smooth

Safety features:

Phthalates free

Shape / Design / Size / Fit:

The Velcro closure cock strap is about three quarters of an inch wide, and nine inches long with about two inches of Velcro at each end. This basically means it is intended to overlap by two inches which results in a circumference of seven inches or a diameter of two and a quarter inches. It is not limited to these dimension, however as the Velcro could be overlapped more or less depending on the need and your comfort level. This means one could start loose and keep tightening as the session continues. This means it should be able to fit all but the most extreme penises out there.

Color:

Black

Cock ring style:

Strap

Max stretched diam.:

2 1/4"

Length:

9"

Width:

1"

Closure:

Velcro

Weight:

0.1 lb

Care and Maintenance:

The Velcro closure cock strap is not a penetrative device, so theoretically it shouldn't be getting too dirty, and treated leather will shed water relatively well as long as it isn't soaked with it. It shouldn't be washed like most toys. Dirt can be wiped away with a damp cloth and mild soap can be used, but one should be careful with it. It is porous, so it really shouldn't be shared with multiple partners or other men, but that really shouldn't be a big problem at this price point.

Packaging:

As is common with the Reds line from Doc Johnson, the Velcro closure cock strap packaging is not very discreet. It is in a plastic hanging case that is easy to open and the enclosed picture depicts a cartoonish dismembered penis with the strap in place. At least it leaves little question about the intended usage of the device prior to purchase.

Experience:

I consider myself pretty experienced in devices of this nature and pretty tolerant of discomfort. That being said, I had no problem getting the Velcro closure cock strap in place, and removal was easy as well. I was able to tighten it as much as I wanted so that it was restricting blood flow in the area without causing discoloration caused by a cock ring that is too tight. Since it was restricting blood flow, it did prolong the period before ejaculation, but I did experience discomfort during intercourse. This was surprising, but I think it is due to the stiffness of the new leather and feel that it will probably decrease with continued working and use of the device.