Best use:
The Beaded Girth Ring Triple Stacker is a little extra help for anyone with a dick, bio or otherwise! The stacker is meant to be worn over your member to give just a little extra width and to add some texture to the base of your otherwise boring, non-beaded cock. It can be used with real penises or artificial ones whether you plan on front door or back door entry. Just lube this rascal up and have at it, hero!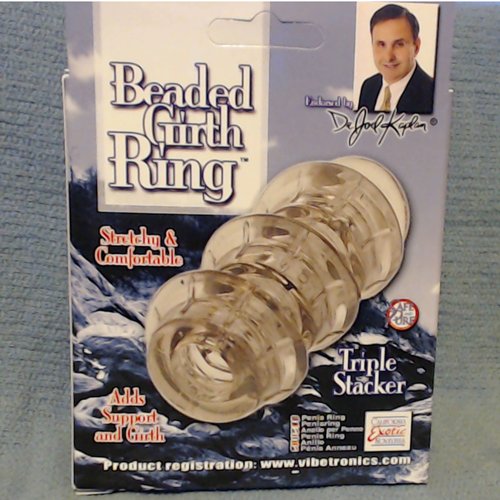 Dr. Joel Kaplan, on his website, says the following about the ring, "This stretchy and comfortable erection enhancer provides penile girth and support to make you perform longer and stronger than ever before. Simply slip it on to your penis to enjoy amazing love making, adds pleasure for both you and your partner."
See here!
Great news to a cock that no longer has quite as much "punch" or a vagina/bottom that may be a bit, ahem, large for the desired effect.
I don't know if the Doc designs these, but he certainly endorses them. Since 1991. There is a phone number on the web page, it may actually be Joel's. I didn't try to call.
There are some warnings, disclaimers and other lawyerly discourses on the bottom of the package: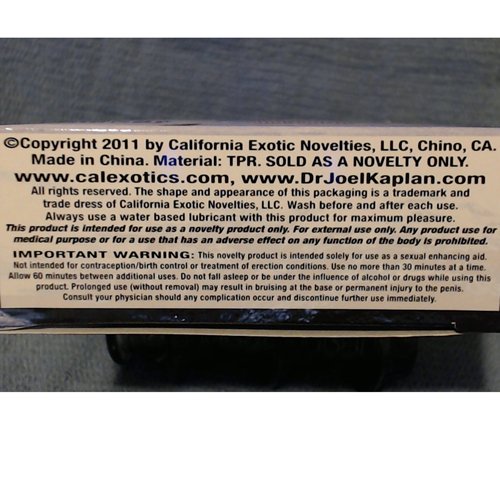 Yikes!! Really, though, it's not that scary. Just don't pass out wearing it. I wore it for upwards of 30 minutes with no ill effect. As always: follow directions, obey warnings, and use common sense and everything will be great. Prob'ly be OK for a fake cock.
Material / Texture:

The Beaded Girth Ring Triple Stacker is made from the finest TPR known to man. This material is given a safety rating of 7 on the Eden Fantasys web page - right up there with the better materials. I have it directly from the Cal Exotics rep that it is 100% phthalate free material! No latex, hypo-allergenic. It is more porous than silicone, but not as nasty-grabby as, say, a jelly material. If sharing this I would definitely use a condom. This would also be a definite for any anal use of this toy.



The material is VERY stretchy, a little grabby but otherwise very soft and rubbery. It is a bit of a lube hog and seemed to soak it up or consume it or something. We needed a little more lube than regular. The three rings are separated by rows of round, button-like nubs to increase the texture and the rings are made so that they lie flat on insertion and "open" up during withdrawal to accentuate the "girthiness".

The ring had no odor to it and no taste either. Though the ring in the picture on the web site looks more like a clear material, the stacker was a grey, smoky color as evidenced in these completely unretouched photos.

Material:

TPR

Material safety

Texture:

Beaded

Safety features:

Hypo-allergenic / Latex free / Phthalates free

Shape / Design / Size / Fit:

The triple stacker is designed to give a little help to a penis that may be a little smaller than desired or kinda, sorta doesn't have the "pop" it once did. Dr. Joel is in the business of helping folks with these concerns. For people without these issues, or people with detachable cocks, it can be a fun add-on to your dick to change things up. As stated previously the stacker has the three rings which open up during withdrawal along with the rows of nubs to increase feeling for your partner. The overall dimensions of the toy are stated as 3 1/4" length x 1 1/2" width and these numbers matched the actual toy very well. The TPR is so stretchy that I can't imagine that any cock anywhere couldn't use this ring.

The cool thing about the design is that it self-regulates how much thickness you get. Let me explain. In a larger size phallus the material is stretched very much and becomes very thin; the nubs are lessened and the rings don't have as much material to open up. So on me it fit very snugly, but wasn't uncomfortable. On a smaller tool the stacker stretches less, is thicker, the nubs are more pronounced and the rings have more material to open. So, the less you have, the more this works! Pretty cool. It was a simple thing to stretch this out and add a little lube to toy and cock and slip it right on. The box shows it being worn at the base of the cock, but you can experiment on your own.



Color:

Grey

Fits penis girth up to:

3"

Diameter:

1 1/2"

Length:

3 1/2"

Material thickness:

1/4"

Weight:

1.5 oz

Functions / Performance / Controls:

Care and Maintenance:

Care and maintenance of the Triple Stacker isn't too complicated. For use it likes any water based or silicone lube - that is very versatile, covering perhaps 80% or better of your lube choices. You have a lube in your bedroom right now that will work with this. Cleaning is done with toy cleaner or hot, soapy water. You did use a condom for anal, right? TPR material cannot be boiled to sterilize. Dr Joel Kaplan's web site recommends cleaning after each use, storing out of sunlight and keeping it apart from other toys. I use a simple plastic bag and it works fine.

Packaging:

The packaging for the Triple Stacker was not at all discreet. It is plainly obvious what it is. With that in mind, however, the packaging is very attractive with the cloud colors and the smiling, reassuring face of Dr. Joel. In the simple box the stacker comes in was an open ended plastic bag, and the toy shipped to me with a small paper cylinder rolled up inside the ring.



Presumably the paper is to keep the ring from sticking to itself and I put the paper back in to store it. I use the same little bag and just tuck it right back into its box.

The stacker came with no instructions, except for the warnings on the bottom of the box. The picture on the front gave me enough of an idea that I was able to figure out how to use it.

Experience:

Using the Stacker. Yay! Time to test drive this baby!! The picture of the stacker on the web page actually frightened my wife a little when I showed it to her. "You do WHAT with it?" was her response, I believe. The truth is that once she saw it it wasn't scary at all - it was friendly, soft, and stretchy. We used a little silicone lube and I slid the stacker down to the base of my erect rod. It is so stretchy this was easy to do. It fit very snugly on me, but it wasn't uncomfortable or painful. I'm on the large side, so the stacker was stretched a lot and was thinner. My wife really couldn't feel it very much. We paused to reflect on the stacker and its use and decided to move it up the shaft of my penis to just behind the head. Much better! She could now feel the rings and nubs and it felt very nice on her clit. She enjoyed it. I would caution that if you were smaller there is a chance it could come off, so use some common sense and feel how snug this fits on you in this location before diving in. For myself the stacker covered a good 3" of cock and so diminished my feeling somewhat. Good for prolonging the action! Overall the toy performed exactly as promised and did what it was supposed to do. I had a lot of stretch with this, so the effect isn't as pronounced as it would be with someone who was not as large. Your mileage may vary.