Rocks Off Limited Cheeky Boy - Prostate massager from Rocks Off Limited

Product Details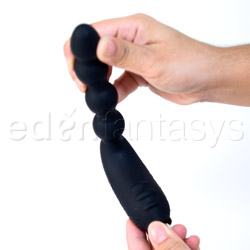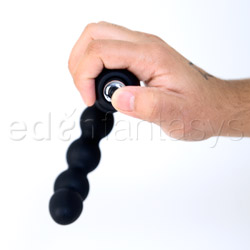 Summary:
The Cheeky Boy takes Rocks Off's basic "Boy" design and adds a lower-profile perineum stimulator and a beaded texture to the interior arm - and the result is a comfortable, stimulating toy that does a good job of staying in place without being held in. The Cheeky Boy delivers moderate to strong vibrations for prostate stimulation and a bit of fun on insertion and removal.
Pros:
Moderately strong prostate stimulation, stays in place without being held, comfortable insertion.
Cons:
Thrusting play can be difficult, N-cell batteries harder to find.
Best use:
The Cheeky Boy prostate/perineum massager is the best of the Boys to come out of Rocks Off. The combination of a moderately stiff internal arm with a beaded easy to grab texture and narrower perineum attachment makes the Cheeky Boy comfortable to use and the first Rocks Off product I've tried that can be described as "hands free".

During use the beaded arm rests against the prostate from the inside, conducting vibrations from the RO-80MM bullet vibe (same diameter as a silver bullet, but longer and using a N-type battery for longer life) to stimulate from within, while the base of the "C" that holds the vibrator rests against the perineum and stimulates the nerves in this area as well as providing a bit of stimulation to the prostate externally. It is entirely waterproof so it can be used in the shower or other places where it might get wet.

It's also possible to use the Cheeky Boy vaginally as a G-spot vibe, but it is obvious that it is not designed for that, and vaginal use can be a bit awkward.
Material / Texture:

The Cheeky Boy is made out of a matte finished 100% silicone of moderately firm density. While soft enough for comfortable insertion, the silicone is not squishy at all and is firm enough to provide plenty of stimulation to the prostate and conduct the vibrations all the way to the tip of the toy. The Cheeky Boy's silicone is smooth, so the only texture is from the beads cast into the silicone. The combination of smooth finish with beads should work well for almost anyone from slightly to very experienced, but the stiff silicone and noticeable beads might make this a bit too much for the absolute beginner.

The Cheeky Boy rapidly warms up to body temperature, so you don't need to worry about warming it up for comfort. It is completely unscented and without taste.

The bullet vibe that ships with the Cheeky Boy is made from hard plastic and is waterproof so it can be easily cleaned.

Material:

Silicone

Material safety

Texture:

Beaded

Safety features:

Food-grade material / Hypo-allergenic / Latex free / Non-porous / Phthalates free

Design / Shape / Size:

The basic design of the Cheeky Boy is an angular "C" shape, with the curved upper portion made with four one-inch diameter beads. The first bead has a gradually tapered tip to make insertion easier. The silicone is quite stiff, and barely deforms when a ball is squeezed between my fingers, but the thin neck of silicone that joins each ball gives enough to ensure comfort during use. While it maintains the same design elements as my Bad Boy, they are slightly tweaked in the Cheeky Boy to give a more comfortable, less intense feeling. The outer perineum arm is a bit flatter, and the joint between the outside and inside arm has been reworked a bit as well. I was very glad to see that these redesigns did not affect the ability of the Cheeky Boy to transmit vibrations to the end of the interior prostate arm, which provided vibrations that were close to the strength of the larger Bad Boy.

By far the best news about the Cheeky Boy is what I found out the first time I used it. Finally Rocks Off has been able to create a "Boy" design that is reliably hands-free. Yes, you heard it right - the beaded design of the Cheeky Boy gives the user's bottom enough to grab onto so that they probably won't need to worry about the massager popping out if it isn't held in.

With a maximum diameter of one inch, the Cheeky Boy is small enough for almost anyone to insert comfortably. Keep in mind that the beaded texture and curved, stiff material will require a bit of anal familiarity to work into place, a heavy hand with the lube and a gentle hand with the insertion (combined with a bit of rotating to help the arm get into position) will do wonders.

While not realistic I wouldn't consider the Cheeky Boy necessarily "discreet". The metallized cap of the vibrator is pretty obvious, and the words "Cheeky Boy" are prominently displayed on the side of the toy. While a casual observer might not know exactly what it's for, it's likely that they'll have an idea that it's sex related.

Length:

10"

Insertable length:

5"

Circumference:

3 1/2"

Diameter:

1"

Weight:

10 oz

Performance:

The Cheeky Boy does a good job at coupling the vibrator to your prostate. The stiff silicone transmits the vibrations quite well, and the dual action design was pleasantly stimulating. The Cheeky Boy definitely couldn't be accused of "taking a jackhammer to your prostate", but then again most of the time you probably don't want that much stimulation.

The dual-action vibrating, with stimulation both inside against the prostate and outside against the perineum, was very pleasant, especially when coupled with the ability for the Cheeky Boy to stay in place without being held - a feature that strongly increased the stimulation against the perineum. While the beads definitely increased the stimulation of insertion and removal, the Cheeky Boy really isn't designed for thrusting play. I tried it out a couple of times and eventually went back to using the Cheeky Boy as a stationary prostate massager, getting out another toy for thrusting play. I did find that turning the Cheeky Boy around so the vibrator points away from the penis made thrusting play both easier and more comfortable.

Control type:

Push button

Powered By:

N-1

Care and Maintenance:

Silicone is easy to care for, and the Cheeky Boy is no exception. The 100% silicone body of the Cheeky Boy can be cleaned with soap and water or any other toy cleaner. The vibrator is completely waterproof, so you don't even need to remove it before washing the toy, though removal is easy enough if you want to. Should you want to sanitize the Cheeky Boy you can either boil it or use a 10% solution of bleach - after removing the vibrator, because though it's waterproof it won't stand up to sanitizing. Should you want to you can even pull the vibe and run your Cheeky Boy through the dishwasher. During storage the stiff silicone material doesn't require too much care, though it will tend to pick up hair and lint if it is given the chance.

The one thing about the Cheeky Boy that you might find slightly difficult is finding replacement batteries, as the "N" cell is still not common. Don't worry, the extended life that you get with the vibrator makes the quest for replacement batteries worthwhile.

Care and cleaning:

Soap and water / Toy cleaner

Packaging:

The Cheeky Boy comes in a black canvas-textured box that is not tacky and can be used as a gift box. It's also reusable if you want to store your toy in it for safekeeping, but the box probably won't last too long as it is covered cardboard. Enclosed is a combination Rocks Off catalog and instruction manual that gives a few pointers on using the vibrator but is far from comprehensive.

Personal comments:

I wasn't sure about the Cheeky Boy at first, because it was noticeably smaller than my previous Rocks Off Bad Boy. After using the Cheeky Boy there was no longer any question in my mind - it's bumped the Bad Boy down and is now my favorite Rocks Off product. The stimulation is a bit lighter than the Bad Boy, but is still strong enough to feel good, and insertion is easier (thanks to the smooth texture on the Cheeky Boy). The best feature by far is the ability to use the Cheeky Boy without having something to hold it in, which is something I never was able to do with the Bad Boy and have continually heard others pointing out about the Rude and Naughty Boys.

Other

Special features:

Batteries included
Hands free
Waterproof

Functions:

Vibrating