LB Trading Ltd Nexus gyro xtreme - Prostate massager from LB Trading Ltd

Product Details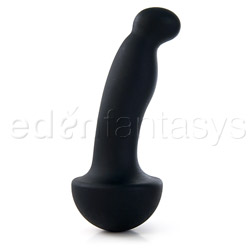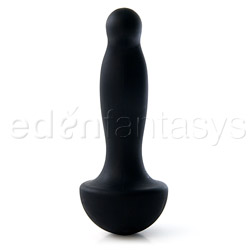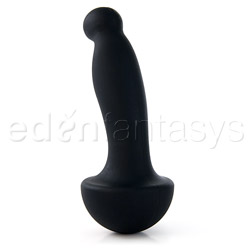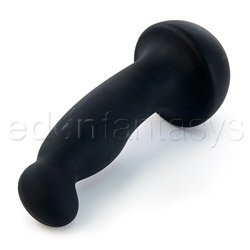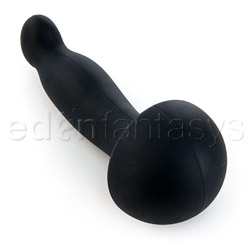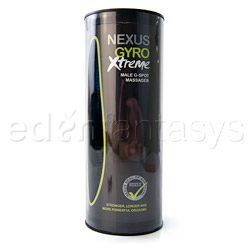 Summary:
For those for whom the Gyro just wasn't enough, Nexus produces the Gyro Xtreme. The Gyro Xtreme is a solid pound of premium silicone that is sized and shaped to give your prostate some real stimulation. This toy is big, so it will probably require some warm up, but the time spent is well worth once you get the Gyro Xtreme buried deep inside. The half sphere at the end is excellent for rocking against a hard surface to really put pressure on the prostate and provide excellent prostate orgasms.
Pros:
All silicone construction, excellent prostate stimulation, provides great feeling of fullness.
Cons:
Not suitable for beginning anal players.
Best use:
What does it mean when Nexus does something to the Xtreme? It seems as though this means everything about the toy is bigger. While bigger is not necessarily better, for all those size kings and queens out there, bigger is worthy of note. The Nexus Gyro Xtreme is definitely big. This means that it is not designed for anal beginners.

One should definitely consider oneself at least an intermediate anal player before bringing the Gyro Xtreme into your arsenal. After some warm up, however, the Gyro Xtreme is relatively easy to insert and get seated. It stays in place fairly well considering its shape and size. It pushes against the prostate very well and can even provide some degree of prostate milking in the process. Prostate milking is when fluid is forced from the penis just from pressure placed on the prostate. The male does not have to be erect at all for this to occur. It is a pretty unique sensation.
Material / Texture:

Nexus used to make their line of prostate massagers almost exclusively out of plastic. This was probably because they wanted to the rigid characteristics of that material to provide strong stimulation to the prostate. This isn't a bad idea, really, but silicone represents a better alternative in terms of safety, so as Nexus has increased their line, they, thankfully, have incorporated several toys made out of premium silicone. The Gyro Xtreme and its little brother, the Gyro, are two of these silicone toys. The Gyro Xtreme is a solid pound of pure silicone and it is really something to behold. Although the silicone is stiff (not as stiff as plastic, but stiff nonetheless) the surface is a soft matte texture that is very inviting to the touch.

Material:

Silicone

Material safety

Texture:

Bulged

Safety features:

Food-grade material / Hypo-allergenic / Latex free / Non-porous / Phthalates free

Design / Shape / Size:

The Nexus Gyro Xtreme is really designed for one thing – prostate stimulation. The spherical base design is pretty unique as it allows the toy to be easily manipulated internally by rocking on a hard surface even during solo play. The shape is excellent because the curve at the tip is able to provide ample pressure to the prostate. The tip is slightly smaller as well, so this makes insertion a little easier as the tip can be used as a warm up for taking the rest of the shaft in.

The transition is a little abrupt, but as you relax around the tip, the next part can slowly be worked in. The diameter of the main shaft is 1 5/8" which isn't too extreme, really, but it is probably too big for a person that is new to anal play. The insertable length of 5 1/2" ensures that the Gyro Xtreme will be felt and is great for sliding the toy partially in and out without having to worry about it coming all the way out.

Color:

Black

Length:

7 3/4"

Insertable length:

5 1/2"

Circumference:

5 1/4"

Diameter:

1 5/8"

Weight:

1 lb

Performance:

The Nexus Gyro Xtreme's performance is nothing short of amazing. After getting it seated, it was surprising how well it stayed in place. It isn't a plug and doesn't really have much of a neck, it weighs quite a bit, and it is lubed, so the fear is that it will slide right back out. Fortunately, that doesn't seem to happen. It will not stay in place during vigorous movements and the base is really too large to allow for long term wear, but that is not what this toy was meant to do any way. The length and width and curve of this toy make it perfect for prostate stimulation and it definitely hits the spot.

Care and Maintenance:

Since the Nexus Gyro Xtreme is made from premium silicone it is easy to take care of and can last a lifetime. Regular cleanings can be accomplished via soap and hot water before and after use, but for deeper cleanings, sterilization can be performed by putting it in a boiling pot of water for two minutes or rinsing it with a 10% bleach solution or putting it through a cycle in your dishwasher (top rack, no soap, and have the drying heat turned on). Sterilization is very nice with anal toys because then you can be sure that the toy is not harboring any bacteria that is inherently present in your digestive tract. Plus it makes the toy safe for sharing.

Care and cleaning:

Bleachable / Boilable / Dishwasher safe

Packaging:

The Nexus Gyro Xtreme comes in a clear plastic tube with information printed on both sides of the tube liner. This is a decent delivery method for a product with these dimensions and the tube liner information is helpful as it explains some ideas for how the toy should be used. The top end cap is easily removed and if some one did not mind the extra space consumed by the tube, it wouldn't be a bad container for storing the toy in long term.

Experience:

As I'm sure you can tell, my experience with the Nexus Gyro Xtreme was very good. I have only encountered one other toy that milked my prostate as good as or better than this one. That other toy was a harder material and so I kind of figured that I would never be able to find a decent prostate milking toy made out of my favorite material for anal toys, silicone. Well, the Gyro Xtreme proved me wrong.

During some solo play I did some warm up and lubed both myself and the toy and then I inserted the tip. In a short while I as able to insert the main portion of the shaft and I as did so, I was surprised to see some prostatic fluid emit from my penis ,even though at that point I wasn't hard at all. The pressure on my prostate was not too hard, but it was enough to produce pleasurable sensations and this pleasant experience.

I moved the toy partially in and out and then left it fully inserted and rocked back and forth on the floor and was pleased with the excellent prostate stimulation I experienced. I relaxed for a while playing with myself while working my sphincter muscles around the toy. It didn't take long before I was close to the edge. I rocked back and forth some more until I had an extremely satisfying orgasm. I am very pleased that I have the Gyro Xtreme in my anal toy arsenal.

Other