NS Novelties Renegade vibrating massager II - Prostate massager from NS Novelties

Product Details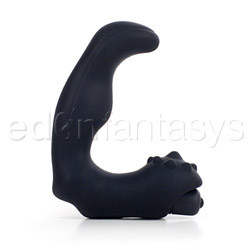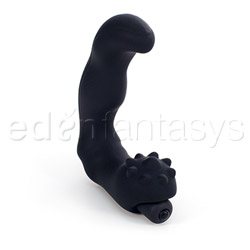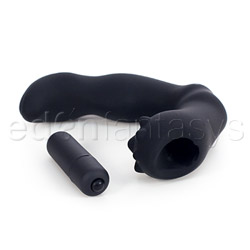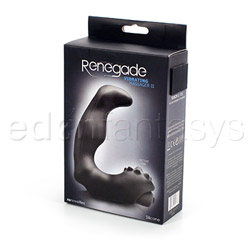 Summary:
The Renegade might look a little intimidating, but its aim is to please through and through. Use it solo or with a partner: the Renegade can be used in so many different ways! It's made of superior silky and hygienic silicone, and it comes with a powerful bullet that can be used with or without the toy.
Pros:
Buttery silicone that has no drag, powerful bullet, versatile uni-sex shape.
Cons:
The curve might be a little too pointy for beginners or some other users.
Best use:
One of the most versatile toys to be encountered by solo females, males, or couples, the Renegade is a beautifully crafted tool of pleasure. Made of platinum grade silicone, the surface is smooth as butter. The Renegade is specifically anatomically designed to slide into all your erogenous zones perfectly and with ease. The included bullet intensifies the already arousing shape with strong, steady vibrations that travel from one pleasing end to the other. It can be used vaginally or anally, and can then also tease a second area at the same time with the studded, bulbed end. The shape is very flexible and will fit many different bodies. The silicone material is hygienically superior and completely able to be sterilized. Renegade may look scary, but don't let those spikes deter you! It can be used by anyone!
Material / Texture:

The silicone used by NS Novelties is above most other companies in feel and texture. It's incredibly, buttery smooth and has the perfect consistency. The silicone has absolutely no drag and doesn't collect dust bunnies! It feels like it is lightly dusted in a powder, but it isn't. It's firm yet still flexible, and it feels as if the core is even more firm. The jet black color strengthens the look of the Renegade's uniquely curved shape. The silicone used in this toy is hypo-allergenic, non-porous, and free of both latex and phthalates, as well as other harmful chemicals. The silicone is very resilient to the elements and temperatures, making it an extremely long lasting product. It has no odor and taste.

The bullet is made of non-porous and phthalates free ABS plastic. It also has no smell or taste.

Material:

Plastic

/

Silicone

Material safety

Texture:

Bulged / Studded

Safety features:

Food-grade material / Hypo-allergenic / Latex free / Non-porous / Phthalates free

Design / Shape / Size:

The Renegade is anatomically designed to please both males or females. It stands 5" tall the longest way and 3 3/4" the widest way. The insertable portion of the toy is 4" long (the side opposite the spikes). Below that area it is 1" in diameter (about 3 1/4" in circumference). This helps to keep the "head" from popping out after it has initially been inserted. A very pleasurable, and surprisingly filling, bump follows at 1 1/4" wide and little over 4" in circumference. This area is more shaped like a rounded triangle than a circle or oval. The final area really anchors the toy because it's the smallest in diameter, about 7/8" in diameter.

Where the toy curves are two "knots" on the outside of the curve. The ball at the other end is 1 5/8" tall. It protrudes in order to stimulate a second area. A taller spike stands tall in the center surrounded by eight smaller spikes. This ball area has more surface area to hit all the good spots, whether it be the clit, vaginal opening, or anal opening, while the insertable part is either in the vagina or anus. On the underside is where the bullet is inserted. There is texture on the inside to grip the bullet, but it is still easy to put in and take out when needed. The bullet included is a typical size and traditional shape. It takes watch batteries, which are included. A single push button on the bottom controls the toy. The toy comes ready with the batteries in. A red tab has to be pulled to make contact with the toy and batteries before it will work.

There is an indented line on both sides of the insertable portion, but it, as well as the mold seam that runs the other way, cannot be felt during insertion.

Because of its unique shape and dark color, this toy isn't the worst thing you could leave lying around waiting to embarrass you. It's somewhat discreet, especially to those who don't have much experience with toys. Its silicone material and size make it easy to store in common places.

Color:

Black

Length:

8 3/4"

Insertable length:

4"

Circumference:

4"

Diameter:

1 1/4"

Weight:

7.5 oz

Performance:

Control type:

Push button

Powered By:

LR44-3

Care and Maintenance:

Silicone is a great material. To care for it, a few different things can be done. For one, it's easy to wipe down with a toy wipe. To sterilize, remove the bullet (which can also be wiped down if used separately). Then place the silicone portion of the toy in a pot of boiling water for about 5 minutes or in a dishwasher on the top shelf.

Do not use silicone lubricant with silicone materials without test spotting first. Silicone lubricants can degrade silicone materials. Water based lubricants are ideal. Allow it to dry, remove the batteries, and then store in the package or cool and dry place.

Care and cleaning:

Soap and water

Packaging:

The Renegade comes in an ominous black box that has an actual size picture of the Renegade on the front. On the side is a small square piece of silicone material as a sample for feeling. The side has information about the toy. Inside the box is a plastic tray for the toy to nestle in. It's fairly discreet because of the dark colors, but it does contain sexual language. It's suitable for storage, but is not necessary.

Personal comments:

Here is my subjective portion of the review. This toy is one of the most versatile toys since I found the Nexus G-Rider. I never thought I'd find a toy with that many uses again. The Renegade gives the Nexus a run for its money. The design is somewhat similar, but has a few major differences. This toy is a lot of fun for my partner and I to use solo or with each other.

The curve at the end is a little pointy for anal insertion, in my opinion, but it only took a few seconds for things to settle comfortably. I love how many different ways I turn this toy to make it please some portion of my body. My partner loves to have this used in massages, even! We discovered this when I jokingly rubbed it on his foot. He loves it! It really is an all over body, unisex toy.

Other

Neck diameter:

7/8"

Special features:

Batteries included
Waterproof

Functions:

Vibrating