LB Trading Ltd Stilo - Prostate massager from LB Trading Ltd

Product Details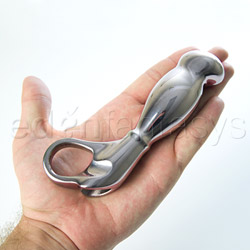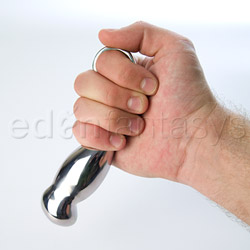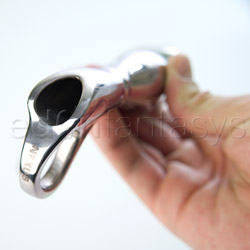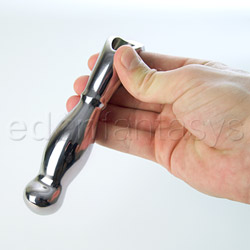 Summary:
The Stilo is a prostate stimulator rendered in polished stainless steel. Though it is designed for hand-held and P-spot use, you can also use it for G-spot use or handsfree anal stimulation. In the hands of someone willing to take the time to become a Stilo virtuoso, the subtle sensations you can create with this toy are amazing, but it does require work to get the best out of it.
Pros:
Strong yet subtle stimulation of the P or G-spot. Can be used in many ways. Good for temp. play.
Cons:
You need to work to master this toy. Hole in shaft might need a brush to clean.
Best use:
The Nexus Stilo is first and foremost a prostate stimulator. Constructed of unyielding stainless steel that has been buffed to a mirror shine, the Stilo slides easily into place and offers the user many options for play. The multi-grip handle allows you to use the Stilo in many different positions and with many different (subtle) effects, but it does take some practice to figure out. The bulges stand out providing predominantly internal stimulation except for one small ridge that lies right at the anus during use. Small moves and subtle sensations are where the Stilo shines, but when things rise to a crescendo you can get plenty of sensation from the Stilo, but the hard material does require a bit of care to prevent soreness.

While it is targeted as a prostate stimulator the Stilo does work for vaginal use as well. You need to hold it in more, but if you're a G-spot connoisseur you can work wonders with the Stilo. If you're just starting to find your G-spot you might want another toy, such as the Pure Wand or a G-spot vibrator.
Material / Texture:

The Stilo is built out of body safe, easy to care for stainless steel. The surface of the steel is polished mirror smooth, resulting in a toy that can best be described as gliding during use - even smoother than many glass toys I have used. The lack of surface texture allows the bulges to stand out during use in the way a quiet room allows music to stand out, allowing you to play on the Stilo's irregular bulges the way you can play on an instrument.

The massive two pound hunk of stainless steel also is excellent at holding heat or cold for temperature play and can be connected to an electro-stim box as an electrode if desired.

Material:

Stainless steel

Material safety

Texture:

Bulged / Smooth

Safety features:

Latex free / Non-porous / Phthalates free

Design / Shape / Size:

At a maximum of one and a quarter inches in diameter and three and a quarter inches of insertable length the Stilo is long enough to hit the prostate or G-spot and narrow enough that someone who is an intermediate anal player could easily use it. Because steel is so rigid this is probably not the best choice to introduce someone to anal play, but if they have some familiarity with their anus and rectum through either finger play or toys it could be a good step up. Experienced anal players are not likely to be left behind by the Stilo, since it is very controllable during use and can produce very targeted and pleasurable stimulation.

The Stilo's design is very good and offers many options for stimulation and control of the toy. While the obvious way of using it is rocking the toy back and forth with the point pressing into the prostate (or G-spot), using the "back" of the toy, rotating the toy, or light thrusting can vary the stimulation. The handle also offers a number of different grip points. Other than putting your finger through the loop you can use the grip indentations or put your finger into the hollowed out portion of the shaft. If you're interested in hands-free play I found the Nexus stayed in fairly well on its own, and while it did not move as much as one of the other Nexus or Aneros hands-free toys the movement from my anal and PC contractions combined with the weight was very nice. The hole in the handle can accommodate some bullet vibes, but I didn't notice much vibration because the weight of the Stilo tended to damp them out.

The Stilo can even function as a buttplug if you want (though the handle can get in the way of sitting or lying down) Retention isn't super strong, but it is adequate for around the house wear.

While completely non-realistic, the Stilo is of a shape that would likely arouse suspicions that it was some sort of sex toy if it were left out on its own.

I would recommend care if taking the Stilo traveling on an airplane. As it is made of solid steel it will pop up on X-rays or trigger metal detectors, and you're almost guaranteed to get some questions from security staff, and it's possible that things could get embarrassing. If you do want to take it checked baggage is probably your best bet, since it doesn't look anything like a bomb.

Color:

Steel

Length:

5 1/2"

Insertable length:

3 1/4"

Circumference:

3 3/4"

Diameter:

1 1/4"

Weight:

2 lb

Performance:

The Stilo can deliver a virtuoso performance, but you need to tune up and practice first. Though made of steel, the Stilo is not really a "heavy metal" type of toy. If you try wild thrusting or any other sort of high power play you'll probably be disappointed, and possibly even sore. The Stilo is more of a classical or Eric Clapton type of toy. It shines as a more sedate toy that rewards those willing to become a virtuoso and learn how each bulge and twist can play on their or their partner's body.

The smooth steel surface of the Stilo allows your slightest move to come through, and the multi-grip handle gives you many different options of ways to move the Stilo. In general I found that small moves were best, though I did have some very satisfying sessions where controlled thrusting was used. Some positions are easier to use the Stilo in than others, but with creativity you can find a way to make almost any work. I had trouble figuring out how to get strong stimulation of the G-spot or prostate of a partner who is lying on their back, but eventually I discovered that putting your index finger through the loop and grabbing the finger grooves allowed it to work.

Care and Maintenance:

Made of stainless steel, the Stilo has the strong and weak points of this material. It is entirely body safe and sanitizable. After use you can clean the Stilo with soap and water. While most of the toy can be cleaned with hands or a washrag, there is a deep hole in the shaft of the Stilo that might need a brush from time to time in order to keep it clean. Care during use will also help to keep things from getting inside the hole. If you want to sanitize the Stilo its best to boil it, as bleach solutions have been known to attack steel when left on too long. Do be careful because it can hold heat for a long time, so use a tool or let it cool for a few hours before trying to pick it up.

While steel is very hard and difficult to break, you do need to be careful to keep from scratching the polished surface of the Stilo. Nexus includes a storage bag that will protect the Stilo from being scratched, and it's best to keep your Stilo in this bag when you're not using it.

Care and cleaning:

Bleachable / Boilable / Dishwasher safe

Packaging:

The Stilo comes in a magnetically latched cardboard box that would work well for a gift box and with care could be used for storage. The outside is black with an outline of the Stilo and white/metallic lettering, so there is little chance of anyone being offended. There is a small book of instructions, but the use section is rudimentary and you'll probably need to spend some time figuring out how to best use the Stilo. The instructions do cover care very well. The box also includes a drawstring bag that you can use to keep the Stilo from being scratched or damaged.

Personal comments:

At first I wasn't sure about this, my first steel toy. Steel and glass are pretty close, and while I like glass I wasn't sure if steel would be worth it. I was quite surprised at first - the polished Stilo is a bit smoother and slicker than the glass toys I've tried, so much so that "glide" could be applied to the way it felt during use.

The second thing I noticed was how much better the Stilo was at retaining temperatures than a glass toy. It stays warm at least twice as long as a comparable glass toy, primarily due to its weight (over three times heavier).

The third thing I noted was that this toy needs some practice. I started out with crude wiggling and thrusting, and it was OK but not spectacular. Later on I came back and tried little moves - a small wiggle here, a twist there, and the effect was amazing. Little zings of pleasure that multiplied as the time went on.

Other

Neck diameter:

5/8"

Special features: