Evolved Talon prostate massager - Prostate massager from Evolved

Talon prostate massager videos
Product Details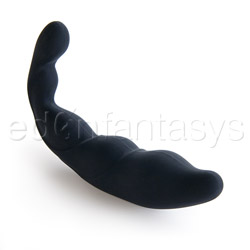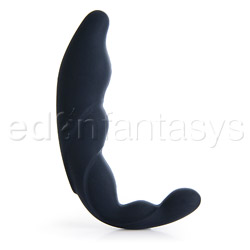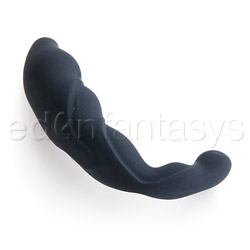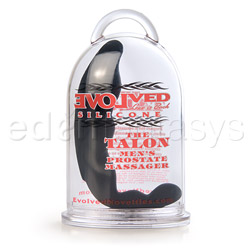 Summary:
The Talon is a 100% silicone prostate massager that's fun whether or not you have a prostate. It's small but stimulating, and stays in during use without needing to be held in. A narrow (1" diameter), wavelike curved body with 3" of insertable length easily finds the P-spot. Unfortunately, the base doesn't always hold the toy outside the body if you manipulate the Talon with your hands.
Pros:
Small and stimulating, easy to insert, good for anal play even if you don't have a P-spot.
Cons:
Base can slip inside if you aren't careful.
Best use:
Billed as a prostate massager, the Talon is in truth a versatile anal toy. If you have a prostate the Talon will find it and give it gentle, pleasurable stimulation, but you don't have to have a prostate to enjoy the Talon - the unobtrusive base and gentle wave texture makes this a fun small anal toy for anyone, and the small size (a finger-like 3" circumference/ shy 1" diameter by 3-3/4" length) make the Talon a great first choice for someone interested in exploring anal stimulation as long as you're careful to not play too hard (the base can slip inside if you use your hand to wiggle it too strongly). The best part is that the Talon will stay with you a while - the body safe silicone construction and stimulating design make this a toy that won't be rapidly outgrown.

Once inserted, the Talon can be manipulated in one of two ways: it can be moved by the contractions of various pelvic muscles, or it can be gently wiggled by hand using the tail that serves as a base. If you wanted to you could even use it as a small dildo, holding the base and thrusting, although the stiff silicone and ridges might cause a bit of irritation if you aren't able to keep your anus relaxed. While you might thing that you can just pop it in and have it stay still this probably won't happen - the Talon does a good job of picking up your muscle movements and converting them into pleasurable wiggles.
Material / Texture:

The Talon is made from a very firm silicone and has a matte surface with bumpy, wavelike contours running down the front of the toy. The aquatic motif was further developed (to a very pleasing effect) by the blue color of my sample. The texture feels good going in and out and also helps the toy to move around with your muscular movements. While it is textured, the small size combined with the fact that this toy isn't generally used for thrusting play makes this a toy that someone new to anal stimulation could enjoy.

Material:

Silicone

Material safety

Texture:

Bulged / Smooth

Safety features:

Food-grade material / Hypo-allergenic / Latex free / Non-porous / Phthalates free

Design / Shape / Size:

The base doesn't get in the way. It's small, but hits the right spots. It's good for both women and men. While you can grasp the base to wiggle the toy for added stimulation, you'd best not get carried away. While the base is adequate to hold the toy in position during most use, exuberant thrusting could allow the toy to be completely inserted.

The Talon is a good design for a toy to add an extra bit of fun to playtime - or to give you something to think about

The design Talon possesses a definite wavelike character, especially when it is executed in the swirled blue silicone. The unusual 90-degree "tail" which serves as the base does a fantastic job of staying out of the way, while the curved, bumpy body does a good job of staying where you put it. The Talon is small, but it hits all the right spots, readily finding my prostate.

Length:

3 3/4"

Insertable length:

3 1/4"

Circumference:

3"

Diameter:

1"

Weight:

0.1 lb

Performance:

The Talon is a toy that's easy to insert, comfortable, and stimulating. The stiff silicone does a great job of picking out the P-spot during use without being difficult to insert, and the shape lets the toy rest right where it gives maximum pleasure. The Talon has another great plus: unlike many prostate massagers, it stays in place on its own, no need to hold it in or brace yourself against something. This feature is fantastic if you like to use a toy during sex, since you can use any position you like without having to worry about the Talon coming out.

While hands-free stimulation is mild to moderate, you can (carefully!) grab the tail with one hand and wiggle it for more stimulation. This does need to be done with care, since the Talon's unusual "tail" base can slip inside the rectum if it is pushed too much, and removal can be difficult. Indeed, the risk of the base sliding completely inside is one of the only things that mars an otherwise great product (a "T" type base would be much more secure).

Care and Maintenance:

Care for the 100% silicone Talon is predictably easy. Lube it up well before use with plenty of water or oil based lube, and after use clean it via your favorite method. You can use soap and water or commercial toy cleaner, or even pop it into the dishwasher (since it's small I'd recommend using the flatware basket or something else to help hold it in place). After it's washed you can sanitize it if you want by popping it in boiling water or a 10% bleach solution for a few minutes. When you aren't using it the Talon can be slipped back inside its sturdy plastic case to reduce the amount of dust it picks up.

Care and cleaning:

Bleachable / Boilable / Dishwasher safe

Packaging:

The Talon comes in a sturdy, reusable holder that resembles a squashed bell jar. Unlike many other prostate massagers, the Talon does not include any instructions or hints on how it is best used.

Personal comments:

I enjoyed using the Talon. While I'm not sure if I would recommend it for someone interested in exploring hands-free prostate orgasms, the Talon does give a variety of pleasurable sensations either used on its own or in combination with other sexual activities. Indeed, it's in the versatility of use that the Talon shines. It stays in and out of the way, allowing it to be used to add anal stimulation to sex without undue concerns about embarrassment or discomfort.

Since the Talon doesn't ship with directions, and someone new to prostate massagers may be a bit unsure of how best to use the Talon, I'll give a brief rundown on one way to use it:

First prepare yourself. Relax, make sure you don't have to go to the bathroom, and lubricate the Talon and your anus with lubricant - a bit more than you think you'll need.

Slowly massage your anus, first with a finger, then with the tip of the Talon. When you're ready start to slide the long end of the Talon in with the "tail" pointing towards your genitals. Stop if you need to and relax more.

When you have the Talon fully inserted, experiment with various movements. Tense and relax your anus; tense and relax your PC muscles (do Kegels). Wiggle your hips around, do whatever feels good. You (or your partner) may want to reach down and wiggle the end of the Talon's tail for increased sensation, but be careful that you don't press it forcefully enough and insert it all the way (it will come out eventually, but it could be alarming and slightly uncomfortable to have it get lost inside).

Other