Evolved The mighty marble double bullet - Cock ring from Evolved

Product Details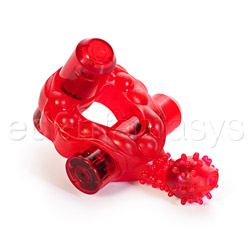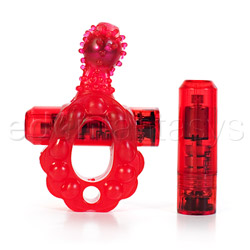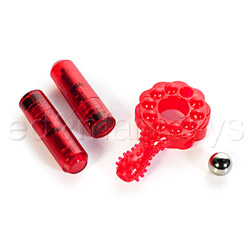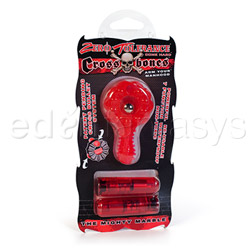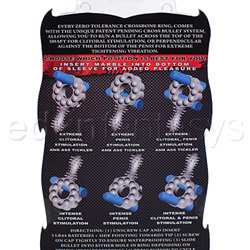 Summary:
Evolved Novelties developed the Mighty Marble Double Bullet as part of the Zero Tolerance line. It is a stretchy cock ring, with two multi-speed, multi-mode vibrators and an attached ball. It is designed to go on the shaft in front of the testicles, with one vibrator parallel and one vibrator perpendicular to the ring. The ring can be rotated to provide the most stimulation to you and your partner. The parallel vibrator actually cuts into the center of the ring, which is pretty unique.
Pros:
Two multi-speed, multi-mode vibrators and batteries included; different ways to wear it.
Cons:
Ball adds nothing, awkward to get on, vibe positioning is average.
Best use:
The Mighty Marble Double Bullet (MMDB) is produced by Evolved Novelties as part of their Zero Tolerance line. As the name suggests, it includes two bullets that can be inserted into two different locations on the ring if desired. The ring is designed to be worn at the base of the penis shaft in front of the testicles. In this location the ball is theoretically free to swing in response to your movements. The bottom vibrator is mounted parallel to the ring and actually threads through the bottom of the ring. The upper vibrator is mounted perpendicular to the ring. In theory this vibrator would provide clitoral stimulation for the receiver. The intent of any cock ring is to restrict blood flow in the penis which helps to strengthen the erection and possibly prolong time to ejaculation. Rings that go in front of the testicles are generally not as good at this function, and this one is no different. There is a little impact, but it isn't extraordinary. Although this ring can be reversed so the ball and the parallel vibrator are on top and the perpendicular vibrator is on the bottom, for purposes of this review I will refer to the parallel vibrator as if it's on the bottom and the perpendicular vibrator as if it is on the top.
Material / Texture:

The ring of the MMDB is made out of TPR. This is a decent material choice for a stretchy cock ring. It is certainly stretchy and it is compatible with more lubricants than, say, TPR silicone. There is a "spiky" texture on the ball holder, and it is stretchy enough to get the ball in and hold it, but that also means the texture isn't all that noticeable. The ring itself has rounded textures that do not really have an impact either. TPR is certainly porous, but there really isn't a stretchy material that isn't porous, so what can you do?

Material:

Metal

/

TPR

Material safety

Texture:

Noduled / Ribbed / Smooth

Safety features:

Food-grade material / Hypo-allergenic / Latex free / Non-porous / Phthalates free

Shape / Design / Size / Fit:

With a 1.75" unstretched inside diameter, and a stretch to 2.5" the MMDB should be able to fit most guys in front of the testicles without much issue. A very adventurous guy could probably get it behind the testicles, but that seems rather selfish to me because then you're putting both the bottom vibrator and the ball out of reach of your partner. The way the bottom vibrator passes through the interior of the circles is pretty unique. It does put the vibrator right up against your penis which is pretty effective, but it does come with a problem. When putting the ring on it tends to pop out of one side of the ring. This makes putting it on a little trickier, but it can be done.

Color:

Red

Cock ring style:

Stretchy ring

Max stretched diam.:

2 1/2"

Unstretched diameter:

1 3/4"

Length:

3"

Width:

1/4

The set includes:

Cock ring
2 bullets
marble
and 6 LL44 Batteries.

Weight:

0.2 lb

Functions / Performance / Controls:

The two vibrators that come with the MMDB are identical. They each take their power from 3 LR44 vibrators. They have a push button that cycles through the various speeds and modes. There are three constant speeds followed by the different vibration modes. The non-constant modes go in this order:
1. Full power on followed by completely off alternating at equal intervals.
2. Oscillating from low to high in five steps and then back down again followed by a short break which all repeats.
3. A medium burst transitioning to a high burst, then a short break, then another high burst and another short break followed by a medium burst and another break, then two high bursts separated and followed by a break. All of that repeating.
4. A low to high pattern with five steps and then a short break which repeats.
In order to turn it off you have to hold the button down for about four seconds.

Functions:

Multifunction

Special features:

Anal stimulator
Batteries included
Double bullets
Removable bullet
Waterproof
Wireless

Powered By:

LR44-3

Control type:

Push button

Care and Maintenance:

TPR care and maintenance is pretty simple. Avoid petroleum based lubes with it, but hardly any one uses those for sex, so that shouldn't be too hard. Since this isn't a penetration toy, it shouldn't get all that dirty, so whether you use water based or silicone based lube, just take the vibrators out when you're finished and wash it with soap and water or your favorite toy cleaner. Since it is porous and can't be sterilized, sharing with multiple partners is not a good idea. The vibrators do have o-rings, so they can get wet and should be washable, but I always worry about submerging battery operated devices too much.

Packaging:

The MMDB packaging is pretty minimal. It is wrapped in a hard plastic shell which then has a cardboard surround that has information printed on it and is designed for hanging display in a retail outlet. The plastic is easy to open, which is a nice feature. The information on the back shows the different ways that the MMDB can be worn with a penis silhouette to show positioning. The depictions are helpful but keep the packaging from being discreet, but I don't think that is their intention at all with this thing.

Experience:

So as we were using this, we found the vibrators to be pretty good in and of themselves. You get two of them and they include a set of batteries, so you are ready to go right out of the packaging, which is nice (you need to remove a plastic piece from the battery compartment, but that is pretty standard). The placement of the vibrators with respect to the ring is certainly different, but the placement of either was not really ideal for my partner. She preferred the parallel one to be on top, but it was certainly not hitting her clit in any meaningful way that was going to take her to orgasm. The ball was just a waste of space for us. As for me, having the vibrator right against my shaft was different and may have changed things slightly, but the reason I am putting vibrators around my penis is to help my partner get there, as I have no problem getting there on my own and don't really need help from vibrators to do it. I can use help on the longer lasting side, and with the parallel vibrator off you might get that a little more, but the perpendicular vibrator didn't seem to do much for her. I think the biggest complaint is that this kept me from penetrating her as deeply and stimulating her g-spot, and thus from getting her off that way, so for us it was more in the way than anything else. If I had more length...