Bushman Products Two-O double pleasure ring - Cock ring from Bushman Products

Product Details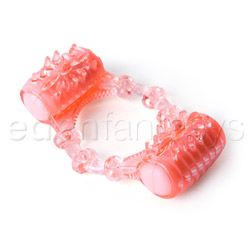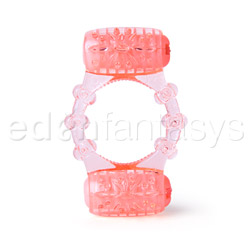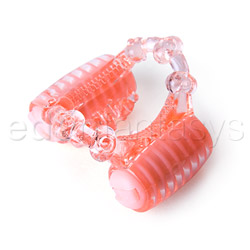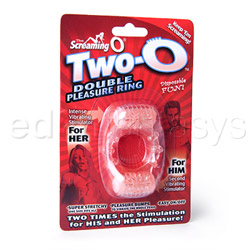 Summary:
Looking for a non-intimidating cock ring? The Two-O Double Pleasure Ring should definitely be on your shopping list for consideration. It has two vibes (one for each of you). It's lightweight and stretchy. It's easy to put on, easy to take off, and comfortable. Trying to get the vibe to line up with her clitoris might be difficult, but that is common in this kind of toy so just consider it part of the challenge. When the vibes run out, just throw it in the trash. What could be easier than that?
Pros:
Two vibes; lightweight; extremely stretchy; nubbed; inexpensive.
Cons:
Disposable (not very earth friendly); small.
Best use:
The Two-O Double Pleasure Ring by Bushman Products is a stretchy, wireless vibrating cock ring with two small vibrators at the top and bottom of the ring. The vibe at the top is intended to provide stimulation to the clitoris in a "missionary-style" position while the vibe at the bottom is intended to provide stimulation to the wearer's testicles. If the ring is placed in front of the testicles, then the bottom vibe can also stimulate the receiver's perineum (or the clit in a "from behind" position).

One of the purposes of a cock ring can be to strengthen and prolong the wearer's erection, but this is less the case with a stretchy cock ring. The ring of the Two-O is thin and very stretchy, so its help in this regard is minimal.
Material / Texture:

The Two-O Double Pleasure Ring is made of TPR silicone. This is good material for a toy at this price point and allows for durability that should easily outlast the battery life of the vibrators. The toy had no odor associated with it. The material is soft, stretchy, and slightly sticky if no lubricant is present, but is very slick once lubricant is applied. The material surrounding the vibrators is nubbed to the front in a star pattern to provide additional stimulation. The material is soft enough that these nubs are not uncomfortable at all.

Material:

TPR Silicone

Material safety

Texture:

Beaded / Nubbed

Safety features:

Food-grade material / Hypo-allergenic / Latex free / Non-porous / Phthalates free

Shape / Design / Size / Fit:

The Two-O Double Pleasure Ring is a single ring with thicker nodules along the sides and the two vibes housed in horizontally oriented, nubbed casings at the top and bottom. The size of the vibes is small enough as to be unobtrusive, but the orientation is not ideal for lining up with the anatomy of the receiver. A vertical orientation would probably be better, but this is pretty hard to find in this kind of ring. The diminutive size of the vibrators does keep them from getting in the way, which is nice.

Color:

Pink

Cock ring style:

Stretchy ring

Max stretched diam.:

2 1/2"

Unstretched diameter:

1 3/4"

Weight:

0.8 oz

Functions / Performance / Controls:

The vibrators of the Two-O Double Pleasure Ring are single speed, operated via a slider switch on the side of each vibrator. This took just a moment to figure out as most bullet style vibrators I have experience with use a push button or a circular dial for operation. The slider switch is not better or worse, just different. The vibes do not appear to be waterproof, so operation in a tub or shower is not advisable. The packaging mentions 40+ minutes of battery life and this matches my experience. If you were to use one vibe at a time, I believe you could get over 80 minutes of use between the two vibes. The vibe did noticeably lose power about two minutes before the batteries expired, but they were very consistent during the rest of the time.

Special features:

Batteries included
Double bullets
Wireless

Powered By:

Not replaceable

Control type:

Power switch

Care and Maintenance:

Care and maintenance is certainly less important for a disposable toy like the Two-O Double Pleasure Ring, but you may want to consider it if you do end up getting it to last long enough for a second session (or even more if you are really quick). Only water based lubricants should be used with the ring as any others may cause deterioration of the material. The vibes can easily be removed from their sleeves and then the TPR silicone ring can easily be cleaned with soap and warm water. The material is somewhat porous and cannot be sterilized, so sharing with multiple partners is not a good idea.

Packaging:

The Two-O Double Pleasure Ring packaging is very minimal. The ring is housed in a formed plastic shell attached to a cardboard backing meant for hanging. The ring is completely visible to make size and shape very easy to see. The features are detailed across the packaging including how the vibes are intended to stimulate and how long they should last. There are a couple of scantily clad torsos screened back on the packaging, and the company logo has a female silhouette (much like the ones on semi-truck mud flaps) but all of that is relatively discreet.

Experience:

So, my partner and I have some experience with stretchy, vibrating, wireless cock rings, but we have never used a disposable one before. The two vibe feature is certainly nice and may allow for additional stimulation or prolong the usefulness of the vibe if only one is used at a time. This adds versatility to the ring and I am all for versatility.

I would definitely prefer a vibe that has replaceable batteries, and these can be had for about double the price. So, if it is a choice between getting two of these or getting one with replaceable batteries, then I would probably go with the replaceable battery option.

The horizontal orientation of the upper vibe did not contact my partner's clit very well, but at least it didn't get in the way and wasn't uncomfortable. All in all, this is a pretty decent toy at a good price, so if you're looking for an inexpensive, versatile way to test the waters of cock rings, the Two-O Double Pleasure Ring may be a good fit.

Other