I was really inexperienced with sex toys before coming to EdenFantasys nearly a year ago. In fact, I was turning thirty and had never experienced any type of orgasm. I talked to a couple of my best friends that happen to be the opposite sex about my issue, and they both suggested that I try sex toys to help.

I honestly didn't know what type of sex toy that I would like, need, or be comfortable with. Between the two of them they suggested I try one of each specific category of rabbits, wands, bullets, pocket rockets, dildos, and clitoral vibe. My husband wasn't comfortable with the idea of dildos so I took that out of consideration, but I decided I would still purchase a rabbit, wand, bullet, pocket rocket, and clitoral vibe. One problem with that was I didn't know where to order them from, so I just picked a brick and mortar store about 45 minutes away and grabbed one of each. Unfortunately nothing happened when we used these toys. I realize now that I was uneducated and just grabbing random toys from specific categories isn't the best idea.

At the same time, I had just finished reading a book called the Orgasmic Diet and they suggested a product called the Eroscillator for women that have never experienced an orgasm, or those who have a hard time achieving climax. I used Google to find search results on the Eroscillator, and EdenFantasys appeared in the results.


Wahl 2 Speed Massager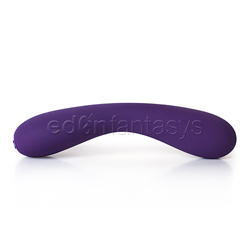 Uma by Je Joue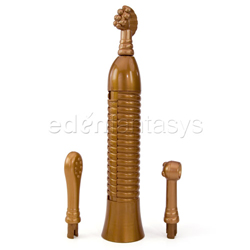 Eroscillator 2 Plus]To my amazement, this site was everything an inexperienced sex toy user could ever want out of a site. It offered discreet shipping, had wonderful reviews on every product on the site from real users, and had a wonderful community that answered any question that I had regarding sex toys in general, as well as specific toys that interested me. I came to the website for the Eroscillator, but stayed because they offered so much more than I was expecting. While saving for the Eroscillator, I had the chance to join the community and begin experimenting with other toys that interested me, as well as pick up my writing career again. Unfortunately nothing I tried worked for my inability to orgasm, but I was learning my body and becoming more confident with what I wanted in my sex life as well as learning more about my body and what it liked.

After some time passed, I was able to purchase the Eroscillator and everything they mentioned in the Orgasmic Diet and in the pamphlet with the Eroscillator was true. This toy fulfilled all my desires, and finally I was able to join the ranks of experiencing a clitoral orgasm. If it hadn't been for EdenFantasys, I would not have had the ability to receive the Eroscillator and experience my first clitoral orgasm.

Since then, I have found a few other toys that have allowed me to achieve clitoral orgasm, like the Uma and Mimi by Je Joue, and Wahl 2 Speed Massager. After achieving clitoral orgasm, I went on the search for the perfect products to achieve vaginal orgasm or a blended orgasm. Unfortunately I'm still on the search for the toy that will help me achieve that, but I am enjoying my new found sexual confidence. I feel Eden has the perfect toy for me. I just have to be patient and keep trying toys to see what works for me.

I have learned that I need very powerful toys to achieve climax and did not know this before coming to EdenFantasys. I am confident in my choices when I purchase toys and can tell by reading other peoples reviews on them if they are going to be strong enough for me or not. I love that EdenFantasys gives contributors the ability to write honest reviews about products because it honestly helps me when I'm deciding what product I want to purchase. EdenFantasys is the first site I have come across that goes into as great detail on the items as they do, and they are realistic views from people just like me. I've seen reviews before at other sites that just state whether or not they like the toy, but never explain why it's the greatest toy or why they didn't like it. That is a wonderful advantage of EdenFantasys because everything is explained in detail.

All in all, I think EdenFantasys is the best place to find sex toys. They have brought my sex life to a whole new level and I am thankful to them. For the opportunity to grow sexually, to gain sexual confidence, and experiment with new toys to see what my body likes.