Je Joue Uma - G-spot vibrator from Je Joue

Product Details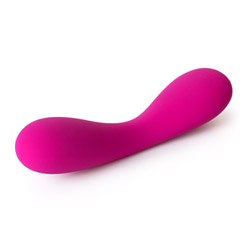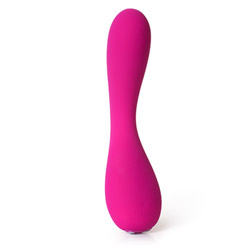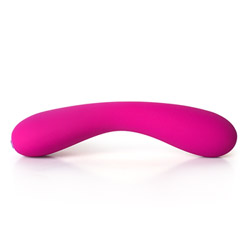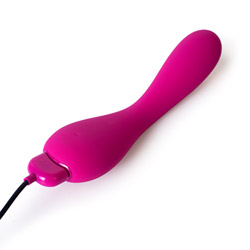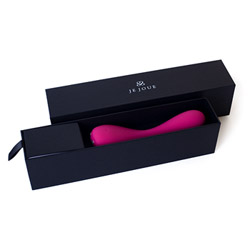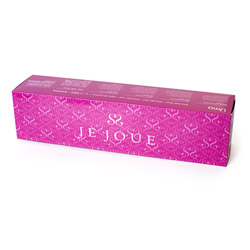 Summary:
Simple in appearance, the Je Joue Uma is not a toy that should be overlooked. It has what it takes to be part of the top dogs of toys; it's powerful, responsive, has a luxurious coat, and if given time to recharge it may very well become your best friend. However, you may feel like the Uma nibbled on your fingers after trying to play with it.
Pros:
Powerful, waterproof, silicone, patterns modified by intensity.
Cons:
Controls are hard to press, can even hurt fingers to turn it on and off (thus 4 stars).
Best use:
Unrealistic in appearance, the Uma shares a sleek design with other high quality toys on the market. Its surface is soft and free of seams, allowing you to follow the gentle curves without disruptions. The Uma is a powerful toy that is intended to please, whether externally or internally, and in any way you want it. In addition to the obvious uses, it also fits like a key over the entire vulva area and is also suitable to anal play with its slender neck and flared base.

The charger is magnetic and allows this toy to be completely waterproof. The piece that connects with the toy is made of plastic and is of the same color as the toy, which makes it possible to identify the Uma's charger from others if you have other rechargeable vibrators or items.

When the toy is charging, a red LED light, located in the symbol of Je Joue at the base, flashes until it is completely charged, and at that point, it stays turned on. Two hours of charging will give you two hours of play with your Uma, which is more than sufficient for a few play sessions.
Material / Texture:

The surface is hard while maintaining a luscious surface that is similar to that of Lelo toys or velvet-coated plastic. It feels really soft and does not create much drag during use, just a little bit more than is expected from a toy that is not shining smooth.

It is made of pure silicone, which is non-scented, non-porous, hypoallergenic, phthalates and latex free.

Material:

Silicone

Material safety

Texture:

Smooth

Safety features:

Food-grade material / Hypo-allergenic / Latex free / Non-porous / Phthalates free

Design / Shape / Size:

The design of Uma is sleek and ergonomic in the way the soft curves are gentle on the eyes and on the body. It is obvious that the firmness of this toy was taken into account when designing this toy, and the resulting shape is quite satisfying even if it appears to be simplistic.

It is true that this toy is smaller than the average one, but it's not a disadvantage. The key feature of the Uma resides in the sheer power it can provide, and appears to be made for users looking for a powerful vibrator. They will not be disappointed. It is possible to pinpoint where you want to apply that power as the toy is easily handled to hit any spot desired with the base, which is larger than the shaft and seems to be of the same size as the Mimi.

The head is shaped like an oval, with a width of 1 1/4" and a height of 1 1/2", and is not that pronounced in terms of specific g-spot stimulation, but can manage to stimulate it in more ways than one. The first way it to direct the toy directly on the g-spot area and the other is by repeating an in-and-out movement, which will also stimulate the g-spot along with the entrance of the vagina.

Even though some pressure has to be applied on the buttons, the base can still be held so that the pressure is not transferred to the body, which could be uncomfortable.

Length:

7"

Insertable length:

4"

Circumference:

4 1/2"

Diameter:

1 1/4"

Weight:

0.75 lb

Functions / Performance / Controls:

The controls can be tricky to learn and figure out if you are not familiar with the buttons on the base, and there are no instructions given about that in the booklet.

The fact is that the charging metal circles are the control buttons. The positive symbol, which is embossed, is the one used to turn the toy on and to increase the intensity of the vibrations. As for the negative symbol, which is indented, it is used to turn it off and to decrease the intensity. Those buttons need more than a reasonable amount of pressure to hear them click, and have to be pressed down for two seconds for turning the toy on or off. The only advantage of the buttons is that the Uma will not accidentally turn itself on if you want to carry it in your purse for a night out.

Between the metal buttons is a smaller button with a wave symbol that can be pressed to cycle through the pattern settings. This button is the least convenient to use as you really need to pinpoint the button, which cannot be done with the soft flesh of a fingertip.

As for what the Uma can deliver, you'll be glad to know there are 5 intensity levels and 7 patterns, and all patterns can be modified in intensity though the Plus and Minus buttons. The patterns are:
1. Constant.
2. Constant minor throbbing.
3. Escalating and deescalating.
4. Throbbing with a quick pause.
5. Quick pulses.
6. Quick throbbing.
7. Slow pulses.

At the first three intensity levels, the Uma is fairly quiet and hums nicely, and it's only at the highest setting that it will sound a little bit like a bullet. The fourth setting is somewhere in between in terms of noise level.

When tested for being waterproof, the Uma just floated around and made fun wave patterns over the surface of the water.

Functions:

Escalating / Pulsating / Vibrating

Special Features:

Gifts
Multifunction
Premium
Waterproof

Control type:

Built in control pad

Powered By:

Rechargeable

Care and Maintenance:

Silicone can be washed with soap and water, soaked in a 10% bleach solution and wiped with alcohol. The last two options would also sanitize the toy. Any sex toy should be washed before and after each use, and sanitized after anal play.

The Uma comes in a very nice and practical box that can be used for storage, but if you are limited in space, you can put it in a satin bag instead to keep it away from lint.

The only recommended lubricant to be used with the Uma is water-based.

Care and cleaning:

Soap and water

Personal comments:

Considering the lack of weight, the firmness, and how the LED light is easily visible through a large part of the base, I get the impression that the silicone on this toy is more a thin coating. I could be wrong, but it could explain how well the vibrations travel on this toy, as it would if it was a plastic toy powered with a rechargeable battery. One thing I am sure of is that it's not a silicone sleeve.

Honestly, I think the idea is sound and the result is more than satisfying. At the beginning I was thinking that this toy was worth much more than it was valued, but now, I believe that the price is just right. It's waterproof, rechargeable and more powerful than other silicone toys.

Other