Shunga Erotic Art Shunga energy herbal supplement for women - Sex supplement from Shunga Erotic Art

Product Details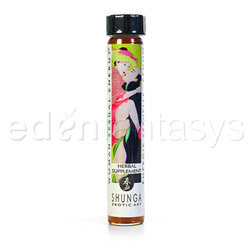 Summary:
Need some aphrodisiacs and more sexual energy? Shunga Erotic Art's Herbal Supplement for Women - Sexual Energy is full of natural ingredients such as bark and roots that are thought to be aphrodisiacs. Each bottle comes with three doses: mix one dose with your choice of juice or alcohol 30 minutes before sexual activities to get your body ready for some fun. This does contain caffeine, so women that are pregnant or suffering from high blood pressure are advised not to use this.
Pros:
Natural ingredients, good smell and taste.
Cons:
Contains some unnatural ingredients, not FDA approved.
Best use:
The Shunga Energy Herbal Supplement for Women is designed to enhance sexual energy in women. Full of aphrodisiacs, this should turn you on and give you enough energy for lots of fun!

Each bottle comes with three doses. You mix one dose with juice or alcohol, according to the directions, and drink it 30 minutes before sexual activity. The bottle reads that "3 doses over 3 days may be necessary, and a single dose is sufficient there-after".

While this is made with many natural supplements, it also has preservatives and other unnatural ingredients (most that are found in MANY other products that we eat/drink/use on a daily basis).

Everyone should definitely read the ingredient list if they have allergies and be wary because this contains caffeine. Many of the ingredients are natural aphrodisiacs and this really might work for some. However, many of the ingredients are not "proven" to work. This product is not approved by the FDA, so there's always the chance that this won't actually work for you.

The label says that pregnant women and people with high blood pressure should not use this product.

Here is a breakdown of the ingredients:

Main ingredients:
Damiana (Leaves that are used as an aphrodisiac)
Caramuru (Bark that is used for a variety of reasons, though none proven. One of the main ones is enhancing libido.)
Ashwaganda (Bark. This is used to make some medicines for a huge variety of reasons. Two that are most fitting for it being in this product is increasing sexual desire and coping with stress. There is no guarantee that this product works for everything it is thought to however)
Clavo Huasca (Roots from rain forests that are thought of as an "Amazonian aphrodisiac")
Guarana (Seed that contains about twice as much caffeine as coffee beans)

Other ingredients:
Water
Glycerine (Also known as Glycerol, and here is some info from Wikipedia "In foods and beverages, glycerol serves as a humectant, solvent, and sweetener, and may help preserve foods")
Aroma (Natural Flavor)
Sucralose (Splenda)
Citric Acid
Sodium Benzoate (Preservative)
Methyl Paraben (Anti-Fungal Agent)
Texture / Consistency / Thickness / Viscosity:

Three doses comes in one tube. There are lines on the side of the tube that show Dose 1, Dose 2, and Dose 3. This is a thin light brown liquid, with a consistency just like your average thin juice or soda. It's really easy to pour, the only tricky part would be getting the exact amount out. If this gets on your skin, it's very sticky and probably needs some water to come off of you.

Ingredients:

Damlana, Caramuru, Ashwaganda, Clavo Huasca, Guarana, Water, Glycerine, Aroma (Natural Flavor) Sucralose, Citric Acid, Sodium Benzoate, Methyl Paraben.

Taste / Aroma:

When looking at this brown liquid, it doesn't look the most appealing, but it actually smells nice. It reminds me of juice and baking spices. The smell is pretty strong right when you open the tube.

It tastes really sweet, a lot like a sweet juice. Since this is supposed to be mixed with juice or alcohol, it will probably just serve as a sweetener to your drink and probably won't be noticed too much. You could really mix this with anything of your choice or, if you like the taste, drink it straight.

Performance:

You are supposed to consume one dose 30 minutes before sexual activity. There's really no way of knowing how long a dose of this will last for you. All of the ingredients will wear off eventually, depending on how fast your body processes it.

While there is no guarantee that this will work for you, with the impressive ingredient list it's worth trying!

Packaging:

This product is in a small tube, just take off the cap to use! There is an ingredient list and a little paragraph about using this. It reads:

"Dosage: Dilute 0.25fl.oz. with juice or alcohol 30 minutes before sexual activity. For the first use, 3 doses over 3 days may be necessary. A single dose is sufficient there-after. It is normal for a deposit to form at the bottom of the bottle. Shake well before pouring. Do not use if the seal is broken. Contraindication: Not recommended for persons suffering from high blood pressure or pregnant women."

Very simple packaging, no pictures of half naked women, this should be fine to bring along with you when you travel.

Experience:

It's really hard for me to say if this worked or not. I don't usually feel like supplements help me at all, maybe it's a mind thing? All of these ingredients are really good though and the caffeine will give you more energy. I think this is overall something good for someone looking for natural aphrodisiacs!