Tantus Snap strap paddle - Paddle from Tantus

Product Details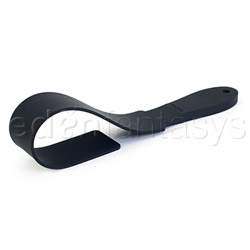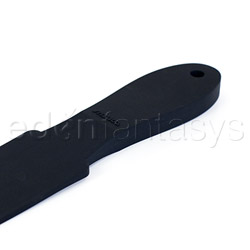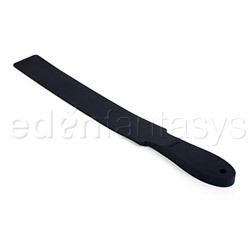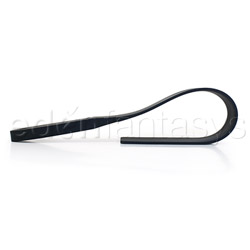 Summary:
The Snap Strap is a very minimally designed paddle. It's made entirely out of silicone and does not have a firm core, so it does appear kind of floppy. Appearances can be deceiving, as this is a very sturdy and hard hitting paddle. The strap is safe for play in the bath or shower, making it more versatile than other paddles. The silicone material is all one piece without any separate glued on pieces, making this a great toy to abuse.
Pros:
Easy to care for, waterproof, minimal design, sturdy.
Best use:
The Snap Strap is like a paddle and a whip combined into one toy. It's completely flexible, like the stays of a whip with a nice, firm handle, but at the same time it has the shape of a paddle. It's great for BDSM play, especially if you want something that has the potential to inflict a lot of pain upon your sub.

Since it's made out of premium Tantus silicone, it's safe to take into the tub or shower as well, unlike most leather paddles. Since it's so flexible, it's easy to roll up and take along with you when traveling, too.
Design / Craftsmanship / Size / Material / Features:

The Snap Strap is made out of silicone, which is a hypoallergenic, nontoxic, and phthalate free material. It is nonporous, making it safe to use with more than one partner after it has been cleaned. It has no odor, and can be washed by boiling it or by throwing it in the dishwasher. The strap is made completely out of silicone. It does not have any metal or plastic rods inside it to keep the handle firm or anything. The silicone does not have any seams on it. There is a tiny Tantus brand logo on the handle. At the base of the handle, there is a plastic cord which can be used to hang the Snap Strap up after use.

The strap feels nice and soft, like Tantus brand silicone dildos. It's completely smooth and feels nice rubbing against skin. It isn't too heavy to hold, either.

The Snap Strap's design is very interesting. Since the strap is not firm, it may appear to be a more gentle toy. It's actually the hardest hitting toy I have right now. It can be used to deliver a gentle slap, or a pretty heavy blow that leaves skin bruised and sore. Using the strap in water can add even more sting to blows.

The strap is just under 18 inches in total length, with 5 inches of that being the handle. It measures 2 inches wide at most parts, with the handle being a bit smaller. The thickness ranges from 1/8 of an inch to 1/2 of an inch.

I think the size is ideal for a strap. It's long enough to cover a lot of skin during use, and the handle is big enough to provide a good grip without being too big. I like that the handle has a cutout so that the strap can be hung up.

Since the Snap Strap is one molded piece of silicone, it's extremely sturdy. You don't have to worry about seams coming apart, or parts breaking, or anything. The only concern is keeping the material in good condition.

Material:

Silicone

Material safety

Color:

Black

Length:

17 3/4"

Width:

2"

Weight:

1.4 oz

Performance:

Prior to receiving the Snap Strap, I kind of expected it to be flimsy and almost useless. However, after receiving it and testing it out a few times on my partner and myself, I found it's actually a pretty painful strap. I tested it out on my leg by hitting my leg as hard as I could, and found I left my skin stinging for quite a while. Some skin even bruised. At the same time, though, barely putting any strength into blows makes the strap hit very gently, without hurting skin at all. Simply running the strap over skin can feel good, since the silicone is nice and smooth feeling.

I like that this strap can be taken into the bath or shower as well, since water can enhance the stinging sensation of a blow.

Care and Maintenance:

You can clean the strap with just soap and warm water, or a toy cleaner. If you wish to sterilize it, you can bleach it with a bleach solution of 10 parts water to 1 part bleach, or you can boil it. It's also safe to throw in the dishwasher.

I suggest leaving the strap out to air dry, or wiping it dry with paper towels. Silicone is a lint magnet, and this will pick up lint and hair quickly from towels.

If you choose to use the strap with lubricant, do not use it with silicone-based lubes, which will break down the material. This is safe to use with water-based lubes.

Packaging:

The strap arrived wrapped in a plastic bag. Attached to the cord on the handle was a hang tag with some brief information about the strap. I had to rip the bag open to get the strap out, so it was not suitable for storage. I suggest storing it in another plastic bag, especially if you are storing it along with other silicone toys. Contact between two or more silicone toys may break the materials down and ruin them.

Personal comments:

Despite my initial impression that the Snap Strap would be kind of a failure, it performed pretty well at its job. I like that it's all one piece, so I can really abuse this thing and it won't fall apart or anything. We didn't really have any sort of session with the strap, it was mostly just me swatting him with it a few times, so I can't really comment on how effective this would be for a long session. It did make his skin pretty red, and test blows to myself left my skin stinging, red, and later a bit bruised.

Other

Texture:

Smooth

Special Features:

Flexible
Kinky
Waterproof

Safety features:

Food-grade material / Hypo-allergenic / Latex free / Non-porous / Phthalates free