California Exotic Tantric satin ties ankle cuffs - Ankle cuffs from California Exotic

Product Details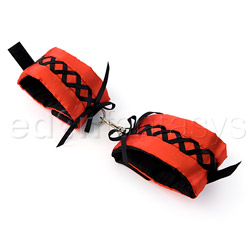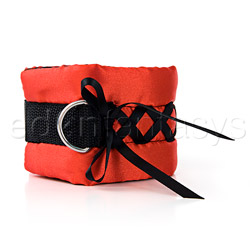 Summary:
These ties really show that you can combine function with a sexy appearance. They also allow you to punish your partner in the manner of your choosing without inflicting bruises caused by the restraints that allow that to happen.
Pros:
Soft, strong, gorgeous.
Cons:
No tethers provided.
Best use:
These satin ankle cuffs can be used with tethers or rope to tie your beloved down before giving them the punishment of their life.
Although not Unsuitable for the beginner, you will need some other bondage kit in order to use this effectively. Perhaps a better starting point would be a pair of
furry cuffs
.
Design / Craftsmanship / Material / Size / Fit:

The satin is soft to touch but there's no messing with these cuffs - they are reinforced and strong. Velcro is a surprisingly impressive force to be reckoned with in the bondage business but the more determined slave may manage to escape from these - you have been warned.

The cuffs are adjustable so suitable for people anywhere from skinny to slightly chubby, but they really are too big to double up as wrist cuffs.

Material:

Metal

/

Polyester

Material safety

Color:

Black / Red

Length:

13 1/2"

Width:

2 3/4"

Closure:

Velcro

Performance:

My girlfriend chose these Tantric Satin Cuffs for our most recent sexscapade, even though she had the option of leather or metal cuffs instead. She says she likes me to be comfortable before she spanks the life out of me. The cuffs did manage to restrain me successfully (not that I tried very hard to escape) and although I wasn't exactly focused on the sensations around my ankles, it was pleasant not to have to worry about metal digging in. Another bonus of fabric ties is that you can twist your legs without pain - some metal cuffs prevent this.

Care and Maintenance:

Some materials, such as leather, might require a bit of maintenance but these are polyester so can be chucked away in the cupboard for months - not that you'd want to.

Packaging:

The packaging is sexy - with a scantly clad couple on the front - and a sensible size for the product within, making the packaging better for the environment than some that I've seen in the sex toy business.

Personal comments:

You can't beat combining a strong color in satin with black ribbon - these ties match at least two sets of my underwear.

Other

Size:

One size fits most

Safety features:

Food-grade material / Latex free / Non-porous / Phthalates free