Red Satin Dream!
Add a touch of elegance to your sensual bondage play. These satin red plush cuffs are a great way to introduce bondage into your play time. They are sturdy enough to hold those arms right where you want them. With Tantric's Satin Cuffs play time just became classy.
Published:
Pros:
Elegant, Satin, Plush, Durable, Sturdy, Non-intimidating, and Classy.
Cons:
Not for heavy bondage. Swivel Clasp only turns ¼ of a turn.
Add a touch of elegance to your bondage play with Tantric Satin Ties Ankle Cuffs. These cuffs feel plush and silky on your ankles. But don't let this fool you. Although they are best suited for sensual bondage, they are strong and durable enough to keep your lover right where you put them. Escaping from these cuffs is difficult and takes a great amount of force. Rest assured you can tug and pull against these sexy cuffs without breaking free.
Does your partner have a foot fetish? These elegant cuffs are sure to be a great accessory to add some pizzazz to your feet and drive your partner crazy.
Sexy and appealing, the Tantric cuffs are non-intimidating. Therefore, they are an ideal set to introduce your bondage fantasies into your playtime. Also, they are a great set to add a splash of color to your sensual light bondage. Wear them alone or with the matching wrist cuffs. These cuffs are sure to be a favorite amongst your light bondage gear.
Design, Material, and Cleaning:
California Exotic has an appealing design for these cuffs with red satin and black ribbon on the outer side of the cuff and black satin on the inside. They truly are classy and sexy on your ankles.
With a plush polyester satin cuff they feel great on your ankles and don't leave behind the tell tale signs of bondage through red marks or abrasions. Also, they are designed with two d-rings and a snap swivel which only turns ¼ of a turn to the right. The fasteners utilized for these cuffs are hook and loop which is attached to the cuff via a nylon strap. In addition, the dainty ribbon design covers the middle 1/3 of the cuff and has a large bow next to the d-rings.
The hardwear for each cuff is a bit diffrent. One cuff has two d-rings and snap swivel, while the other only has one d-ring.
Cleaning your cuffs is simple. They can be spot cleaned with cold water and a soft cloth. Should they require further cleaning, you can wash them in sudsy lukewarm water and gently scrub. Hang to dry.
--
Polyester
.
--
Zinc Alloy
Snap Clips.
--
Metal
D-Rings.
Measurements:
Cuff length –13 ½ inches
Cuff width – 2 ¾ inches.
Ribbon area—6 ¼ inches
Loop side for fastener – 4 ¾ inches
Hook side of fastener – 4 ½ inches. Can be trimmed to suit your preference.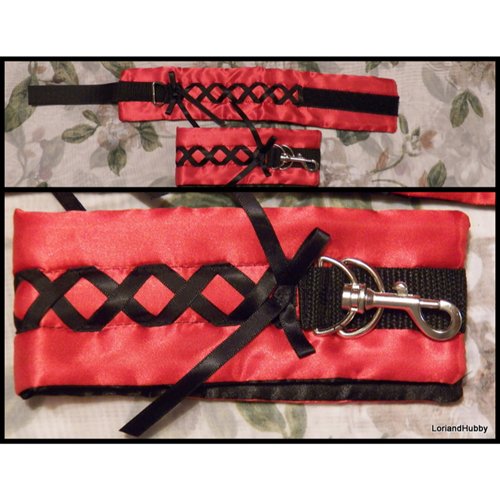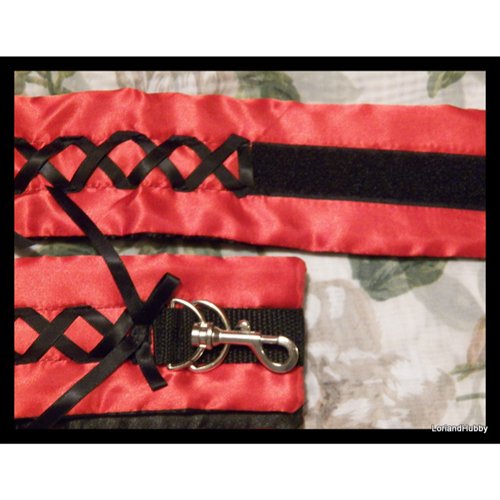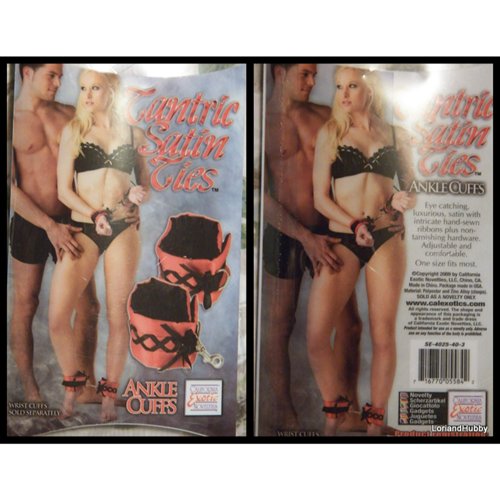 Experience
Through our grand experiment with bondage play I have found that Hubby is really a foot man. He just love my feet. When I saw these ankle cuffs and already owning the wrist cuffs I could not resist getting them for Hubby.
When I received my cuffs they came packaged in a plastic sleeve that is not discreet. The package features a female and male couple modeling the cuffs. Although the package is 100 % recyclable, I choose to keep it for storage of my cuffs.

Wearing my new cuffs for the first time Hubby was… well shall we say, very turned on. He was amazed at how they really set my feet off. Needless to say, Hubby could not resist my feet that night.

After asking Hubby latter what he enjoyed most about the cuffs, he gave me a list of points. First and foremost, he loved the look of the red satin on my ankles with a touch of black through the ribbon. Also he commented on how soft they felt when he griped my ankles and how nice the clasp looked hanging down from it. Hubby knew my feet was in his control through this feature and absolutely loved it.

For me, I really enjoyed that wearing them adds a bit of pizzazz and color to my lingerie. Like the matching handcuffs they are soft and plush while holding me firmly bound. I could tug and pull all I wanted with these cuffs on and my ankles could not break free.

This is defiantly a pair of cuffs that will have a long happy life in my toy box.
Follow-up commentary
3 months after original review
These are a great set of ankle cuffs for those who enjoy sensual bondage or those who have a foot fetish. They are sexy and cute. Best of all they hold up well to many play times. I just adore wearing them for Hubby when he massages my feet. However for our bondage play, we have moved on and up to heavier sturdier cuffs.
This content is the opinion of the submitting contributor and is not endorsed by EdenFantasys.com

Thank you for viewing
Tantric satin ties ankle cuffs
review page!