Aslan Leather Vegan Commando - Double strap harness from Aslan Leather

Product Details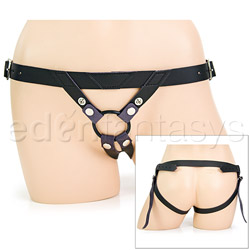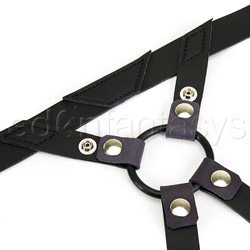 Summary:
The Vegan Commando is the animal-free alternative to ASLAN Leather's famous Commando harness. Made from soft, sturdy faux-leather, this quality harness is an environmentally-friendly and animal-friendly choice for beginners and advanced users alike.
Pros:
Vegan-friendly, soft faux-leather, very easy to control, attractive
Cons:
May not be able to be used with dildos with bullets, may not fit all bodies
Best use:
This ASLAN Leather harness is a great value, well constructed harness that will work well for most couples for strap-on sex with a flared base dildo. Adjustable sizing allows it to fit the quite petite--I'm a size two and the harness was capable of going several inches smaller--and goes up to a maximum 46". The harness also comes with an interchangeable O-ring. The one included will fit dildos up to 1-7/8" in diameter, but snaps allow the included O-ring to be swapped out for one that is either larger or smaller.
Material:

The Vegan Commando is made of a soft faux-leather that is barely distinguishable from actual leather. When I first took this out of the package, I had to check the tag to make sure I'd actually received the vegan version. It is soft and comfortable but also very sturdy.

Design / Craftsmanship:

The craftsmanship of this harness is truly amazing. It has been thoughtfully reinforced in all the right places to ensure that this harness is very long lasting and has a belt-style adjustable waistband that allows a comfortable, proper fit for either partner. Additional metal rings on the leg openings allow you to tighten or loosen under the legs to give the optimum level of control for thrusting.

Size / Fit:

This harness sits fairly low on the hips, so measuring the fullest part of your hips is essential to ensure this harness will fit you. The harness fit both my partner and I, who are petite women, quite well. However, it only goes up to a 46" maximum hip size, however, so it may not fit those above a ladies' 18 or so or those with a hip size above 46".

Size:

One size fits most

Maximum hip size:

46"

Dildo holder diameter:

1 7/8"

Weight:

0.3 lb

Performance:

The Vegan Commando really shines in overall performance. It is very comfortable and can be worn fairly tightly without the material cutting into the skin. It slips on and off very easily with just the tightening and loosening of the leg and waist buckles. It holds the toy you are using against the pubic bone, which I though might cause some issues with chafing, but I have not had any problems thus far. Some issues might arise, however, when using dildos with a bullet vibrator in them. Due to the construction of this harness, it is likely that these toys may painfully poke into the pubic bone and turn on and off easily.

Care and Maintenance:

As this harness is faux-leather, it can be cleaned with warm water and a mild, detergent-free soap. Hand washing, rather than machine washing, is recommended.

Packaging:

This harness comes is a simple zipper locking plastic bag.

Experience:

This is my second ASLAN Leather harness, with both being of the vegan varieties. Though I love the ability for each partner to use a dildo with the Pleasure Principle, I prefer this harness because it is so much easier to control. In terms of the harnesses I've owned, this might very well be the most user-friendly.

Other

Texture:

Smooth

Safety features:

Phthalates free

Harness compatibility:

O-ring compatible