Summary:
Ako, the new clitoral addition to the PicoBong line, is just what you're looking for if you need a versatile, quiet, waterproof clitoral 'outie' vibe. No cords, no flashy gimmicks or extras, just you, Ako, 7 power levels, and 12 vibration functions. Once you try Ako, your mind will be changed about Outie Vibes.
Best use:
The Ako is the newest of the PicoBong clitoral vibrators. While it may appear small at first glance, this little guy packs quite the punch! Aside from being adorable, Ako gets the job done with multiple speeds and a functional design. It's travel sized and only requires 2 AAA batteries. Ako can be used anywhere, but the box reminds us that she is an "Outie Vibe"! Ako is best used for solo play or during partner play. She is the perfect addition to intercourse, making her the ideal threesome partner for any ladies who tend to get jealous! Ako will do nothing but please and tease her way into your heart.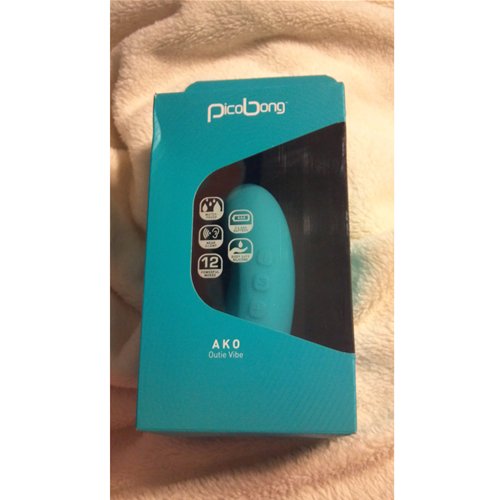 Material / Texture:

Ako is made of high quality silicone and has an ABS plastic handle that seals her battery compartment. The handle is ribbed to make for easier gripping when fingers are wet. Since the toy is waterproof, the best way to clean it is to sanitize with toy wipes or antibacterial toy wash and then rinse it in warm water. Even antibacterial hand soap will work. This is safe for both the ABS plastic handle and the actual silicone of the toy. Silicone is best used with water based lubricant, so remember to use a generous helping! If sharing, use a condom, because any insertion at all leaves both partners at risk.



Ako's smooth silicone design is both visually and physically gratifying. The smooth curves fit the delicious vibrations for a rockin' combo that is sure to get you off.


Material:

Silicone

Material safety

Texture:

Smooth

Safety features:

Hypo-allergenic / Latex free / Non-porous / Phthalates free

Design / Shape / Size:

Ako's innovative shape allows you to use her wherever you want. Her tapered tip allows for a more concentrated flow of vibration, which can be as strong as you make it. Since there is no give to the texture of the toy, the vibrations stay strong no matter how much pressure you apply.

Ako measures about 5 inches in length. She has about 3 insertable inches and is about 2 inches thick at her biggest.

If you're going to insert Ako, you might want to choose your vibration settings before getting comfortable, because the controls are located on the insertable portion. That's why she's for Outie use!

Being waterproof is one of the major draws of Ako, since many people that want a small, discreet clitoral vibe would also appreciate the added bonus of water play. This one's the whole package! Now grab your Sex in the Shower handles, ladies!

Length:

4 3/4"

Insertable length:

3 1/4"

Circumference:

4 1/2"

Diameter:

1 1/2"

Weight:

0.3 lb

Functions / Performance / Controls:

There are 3 buttons for controlling Ako. One has a tiny plus sign on it, another a minus, and finally one with an M for "Mode". To turn it on, hold the + button for about 2 seconds. To turn it off, do the same with the - button. Ako has a crazy variety of power levels and functions, so I'm going to break it down a little here.

1 – Lowest setting Less than a vroom, not quite a 0.5, 1 bee
2 – Low – 0.5 vrooms, 1 bee
3 – High Low – 1 vroom, 1 bee
4 – Medium – 1.5 vrooms, 1.5 bees
5 – High Medium – 2 vrooms, 1.5 bees
6 – Low High – 2.5 vrooms, 2 bees
7 – High – 3.5 vrooms, 2 bees

I didn't feel much variety in vibration, until the last jump between 6 and 7. I *am* a little bit on the desensitized side, so my ratings do tend to differ slightly from others.


1 – Slow pulses--most like using Electro Sex Therapy Massager on low
2 – Fast pulses--the buzziest of the settings, but good in the bath
3 – Faster pulses-- very strong; good for those who like variety
4 – Even faster pulses-- a definite difference from setting 2
5 – Very fast pulses-- combine this with the highest setting and you'll be numb for a week
6 – Slow cycle through all settings-- best for those who like an escalating orgasm
7 – Faster cycling-- very quick escalation
8 – Constant low rumbling while cycling--yummy!
9 – Same as 7, but faster; 1 cycle per second-- probably the best for those tired of constant pulsing
10 – Same as 7, but with 2 full power pulses-- ramping up the power a bit
11 – Same as 7, but with 4 full power pulses-- the power pulses are what will end you!
12 – Cycling through power levels randomly--can be exciting and keeps you from going numb as fast

Ako is fun to experiment with, and to see what fits your body best. Truthfully, after all those settings, sometimes it's just nice to put her on steady vibration mode.

Functions:

Pulsating / Vibrating

Special Features:

Multifunction
Multispeed
Powerful
Pulsating
Quiet
Travel
Waterproof

Control type:

Built in control pad

Powered By:

Aaa-2

Care and Maintenance:

Ako is the best for maintenance!! She is compatible with most lubes, but best suited for water based ones. Sliquid products are ideal for use with her. After removing the batteries, she can be stored anywhere! The best place is in a toy chest, in her own compartment, but feel free to get creative! She can be stored in a sock, in a drawer, in the closet, in a toy pouch, in a cut out section of a Harry Potter novel--you decide! Wherever it is, just make sure it's a cool, dry place. Always sanitize her with antibacterial toy cleaner/soap and warm water.



Care and cleaning:

Soap and water

Packaging:

Ako comes in a hybrid plastic and cardboard box. Mine was blue, but so was my Ako. The boxes are coordinated to match.


Experience:

My experience with Ako has definitely been positive! There are very few drawbacks to her. The main one is simple: the buttons could be better placed. If you want to change the setting during use, you might as well take the thing out (or off), wipe it clean, and start over. It is a serious pain, but doesn't bother me since I usually stick with one setting for a whole Ako session. If you like to switch it up, you might just have to sit tight and get comfortable with your favorite. On the plus side, she's very small and not at all a battery drainer. I kind of wish the controls were brightly lit up for use in the darkness. That's always very helpful. Ako's main positive point is her size, small and mighty! Her vibrations feel so great, and she's 100% waterproof, which is my favorite part. I was looking for a good waterproof clitoral vibrator, and now I have a great one. This was my first PicoBong experience, and I'm glad to say it's a good one!