Pipedream Fetish Fantasy Elite vibrating strap-on liner - Clitoral vibrator from Pipedream

Product Details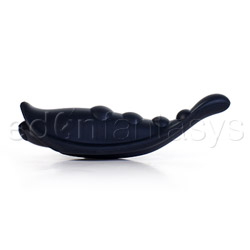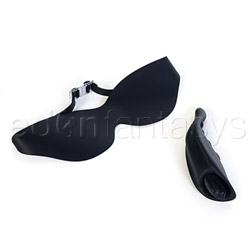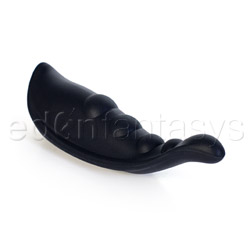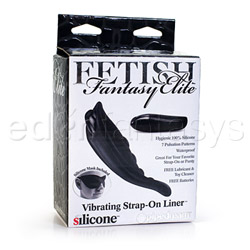 Summary:
The vibrating strap-on liner can be placed in a strap-on or in panties to have some secret pleasure. You can use this on any part of your body for pleaure and the silicone is really easy to clean. You just insert the 7-function bullet into the liner (or use the bullet alone!), press the button on the bullet to get to the function you want, and you're off! This liner also comes with a sample of toy cleaner, lube, and a silicone blindfold.
Pros:
Really nice curve, Nubs, 7-function bullet, Easy to use, Came with extra stuff
Cons:
Not the strongest vibrations
Best use:
Don't be fooled by the name: this may be called a strap-on liner, but it has many uses. The curved silicone "liner" can be placed in a strap-on to stimulate yourself or partner. This could also be placed in your panties for some solo pleasure. You could go in to public with this in your panties, and if you don't want the bullet turned on the nice curve of the liner might still pleasure you.

This is really meant to give a lot of clitoral and external vaginal stimulation, but you can hold it anywhere for pleasure or a massage. Put it on your nipples or outside your anus. Men can use this for great vibrations on their genitalia. The ergonomic curve of the liner and ridges on it are all to heighten your pleasure. You could insert the liner vaginally, if it's comfortable to you also.

This is a multi-purpose toy. The bullet is removable, so you can use the bullet for stimulation anywhere and everywhere (except anally isn't recommended since there's no base).

The blindfold that comes with this is pretty self explanatory, you can blindfold yourself or partner or wrap it around your wrists for a restraint.

Your imagination is the limit with this toy.
Material / Texture:

The liner itself is made of food-grade, hypo-allergenic, latex and phthalates free, non-porous silicone. It's really flexible and soft, with the thin tip being on the firmer side. This really has no noticeable smell and hardly any taste. This has a very slight drag to it and is really nice to touch.

There are four round nubs on the top of this toy which definitely add extra stimulation while using this. This texture isn't too extreme, so it would probably be fun for anybody.
This silicone is a huge lint magnet, so make sure you rinse it off before using or store in a lint-free place.

The bullet that goes inside of the liner is made out of plastic. It is also non-porous and phthalates free. The bullet is very hard and has no give at all.

The blindfold that is included is also silicone and very smooth.


Material:

Plastic

/

Silicone

Material safety

Texture:

Nubbed

Safety features:

Food-grade material / Hypo-allergenic / Latex free / Non-porous / Phthalates free

Design / Shape / Size:

The design of this liner is so nice. It's made to fit perfectly in panties or a strap-on and the curve should fit most ladies comfortably; however, there is another liner sold that is marketed as a panty liner that is XL exactly like this one.

This is 5 1/2" long. It has 4 1/2" circumference around the widest point, and 1 1/2" diameter.

The bottom of the liner is a perfect smooth curve, with one end being open to insert the bullet into, and the other end firm and delicately curved for perfect clitoral stimulation. The top of the liner has a gentle curve to fit your curves with nubs on it for extra pleasure.

This is the perfect design for any user; it is very, very easy to use. It may not be as easy to hide. It doesn't quite stand out as a sex toy, but does look like it would be a panty liner.
This is small so you might be able to travel with it if desired.

The bullet included has two very defined lines, almost corners, going down it which may be uncomfortable if using the bullet alone. The tip is flat and there is a little indent on the tip.

The blindfold should fit most people. It is ever so slightly stretchy, and the band around it is adjustable.

Color:

Black

Length:

5 1/2"

Circumference:

4 1/2"

Diameter:

1 1/2"

The set includes:

Batteries
lube
mask
toy cleaner

Weight:

0.3 lb

Functions / Performance / Controls:

All of the fun vibrations come from a small bullet that is slipped into the larger end of the liner. The bullet is ran on 2 watch batteries, which are included.

The bullet's functions are:
1. Low vibrations
2. Medium vibrations
3. High vibrations
4. Quick pulses that start out really low and get faster and longer
5. Long high constant pulses
6. Quicker high pulses
7. Three high pulses followed by a long pulse

The strongest vibrations are not *too* strong. They may be ideal for someone who doesn't like really strong vibrations. The vibrations do get even weaker when felt through the liner. The bullet is turned on through one push button on the end of it, and you press it again and again to go through each function. To shut it off, you have to go through all the functions. This is a very quiet bullet, and is even quieter when in the liner.

This is waterproof. The liner is a nice silicone and can be placed in water. The bullet is waterproof as well, just make sure the cap is screwed on tigiht.

Functions:

Escalating / Pulsating / Vibrating

Special Features:

Batteries included
Multifunction
Multispeed
Premium
Removable bullet
Waterproof

Control type:

Push button

Powered By:

3 watch batteries

Care and Maintenance:

This is a fairly easy toy to care for. To clean it, you can take the bullet out of the liner, and easily wash the liner with soap and water, in the dishwasher, with a bleach solution, toy cleaner, or boil it. The bullet should only be washed with a toy cleaner or soap and water.

The liner should only be used with water-based lubricants. The bullet is plastic and safe with water, silicone, or oil based lubes. If you using oil or silicone based lubes, keep it away from the liner!

The liner is small and really easy to just toss in a drawer or a toy box.

Care and cleaning:

Bleachable / Boilable / Dishwasher safe / Soap and water

Packaging:

Everything came in one simple box. There is a picture of the toy on the box, so it's not super discreet. There were no instructions included, but the box does have a lot of information on it.

Included in the box:
Strap on/panty liner
7-speed bullet
Blindfold
1oz sample of Moist Personal Lubricant
1oz sample of Antibacterial Toy Cleaner