World Access Kiwi - Clitoral vibrator from World Access

Product Details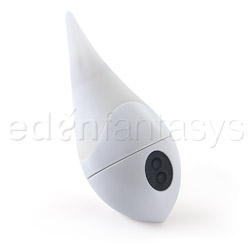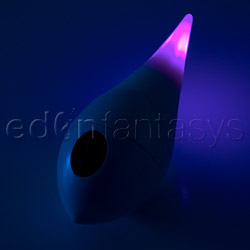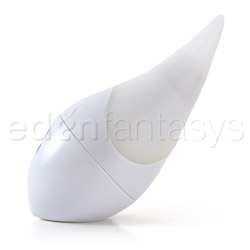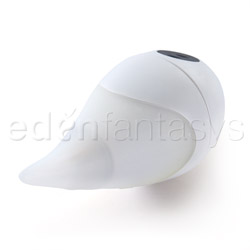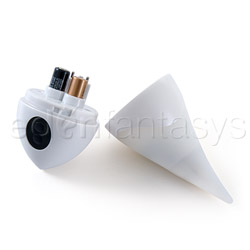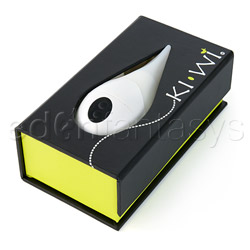 Summary:
Are you into speed when it comes to a vibrator? The Kiwi is a fast moving vibrator with the cutest design and great functions. It is waterproof, and extremely quiet. I would have preferred a more rigid tip for pressure, but not everyone likes pressure.
Pros:
Great quality, silicone tip, cute little LED light, fast speed.
Cons:
Might not offer enough power or pressure for some.
Best use:
...It's a sex toy.

The Kiwi is a clitoral vibrator that has a "nose" that whips around at light-speed. This is a great teaser vibe or a nice foreplay toy. Since it is not meant for insertion it is a toy for those who like mainly clitoral attention. You can really stimulate anywhere you would like (i.e. nipples or anywhere else you prefer).

You can use the Kiwi alone or with a partner. During oral sex the Kiwi adds additional stimulation to any areas you want it. While your partner focuses on giving you oral sex you can use the Kiwi vibe on your nipples or labia for a little more "oomph." If add just a little bit of lubricant the Kiwi will glide smoothly over your skin.

The Kiwi is best suited for those who like a fast vibration verses a lot of pressure. The Kiwi doesn't offer a ton of pressure because it is so pliable, but it does offer fast speed. I need pressure, but as long as you don't need a lot of pressure this toy has a lot to offer.
Material / Texture:

The Kiwi body is plastic and the vibrating tip is silicone. There is no strong odor to the Kiwi even when it is fresh out of the box! The tip is extremely flexible and soft, but it maintains just enough stiffness during use to allow for great stimulation. The tip is very narrow at the beginning and gets wider as is attaches to the body of the vibrator. It is a smooth vibe with no ridges or bumps and is non-porous.

Anyone can use this vibrator as long as you like the "whippiness" (yes, I am making up words for this review) of the fast moving vibrations. This might not make the best first vibrator due to speed and the lack of ability to use for vaginal insertion (I think a good first vibe should allow you to feel insertion and clitoral stimulation so you can learn what you like), but as long as you know you like clitoral stimulation this is a definite go for you.

Material:

Plastic

/

Silicone

Material safety

Texture:

Smooth

Safety features:

Food-grade material / Hypo-allergenic / Latex free / Non-porous / Phthalates free

Design / Shape / Size:

Ok, this is just the cutest little vibrator ever. It looks just like a Kiwi bird. The beak is what the actual vibrating part of the toy looks like. It is only two inches wide at its thickest point (the motor area), but the part of the vibrator you would use tapers down to a point at the tip. It uses two AA batteries, and the compartment is really easy to open and close. If you have company over and forget to put it away they are not likely to figure out what it is unless the pick it up and play with it. That little discretion allows for easy travel and hiding, which is extremely wonderful for people with roommates and children.

The thicker body allowed me to use the Kiwi without my hand cramping up. Rather than having to hold a thin shaft you are given a bulbous base you can wrap your hands around. Definite brownie points for comfort.

Color:

White

Length:

5"

Circumference:

6 1/2"

Diameter:

2"

Weight:

0.5 lb

Functions / Performance / Controls:

The Kiwi is a 10 function vibrator with low setting that you can start on then move up from. You have the basic low, med, and high vibration levels then goes into pulsations. The pulse starts as a pulse and does the basic pulse and the long the pulse and a fast speed. The most interesting one is a pulse that starts off low and goes higher then into a vibration.

While your vibrator moves there is a pink LED light at the end that flashes with the pulsations. On the vibration mode it just goes on and gets brighter as you turn the speed up. The controls are built into the base. Just up and down buttons; just go through the vibrations to get the setting you want. You don't have to scroll through them again to turn it off though. You can hold either button down for two seconds and the Kiwi will turn off. The controls are really easy to use while you are playing with your toy.

The noise level is incredibly low. This will not be heard through closed doors, even on high. Unfortunately the vibrations are not super strong. They are not really weak, just not really strong. The Kiwi is also waterproof so you can play with it in the shower.

Functions:

Escalating / Pulsating / Vibrating

Special Features:

Light indicators
Multifunction
Multispeed
Waterproof

Control type:

Built in control pad

Powered By:

Aaa-2

Care and Maintenance:

The Kiwi is water proof, which is really handy during cleaning. Since the tip is silicone care should be taken when choosing a lubricant. Silicone only plays well with water based lubes, so to keep your toy in nice shape you need to be sure to only use water based lubricants during use. Clean up is a breeze, just wash it off with some toy cleaner and warm water, or you can wipe it down with a 10% bleach solution or a toy wipe. You cannot boil the Kiwi, so don't try that.

I keep mine in its original packaging for storage. The box was amazing and is really meant to store your toy in, so treat it well. The box it came in had a satin lined indentation for the toy and a magnetic closure. I am always hard pressed to toss packaging like this, and since it offered a little bed for the Kiwi I just figured I would use it for storage.

Care and cleaning:

Bleachable

Personal comments:

Unfortunately the Kiwi didn't quite do it for me. I need pressure to orgasm and the Kiwi wasn't strong enough or hard enough for my liking. This isn't to say it will not work for others though. If you like a fast vibration (like the ears on the rabbit vibes) this would be a great toy for you.