California Exotic Luxe replenish - Clitoral vibrator from California Exotic

Product Details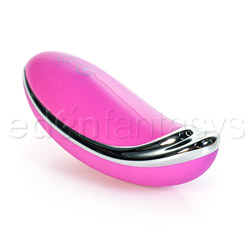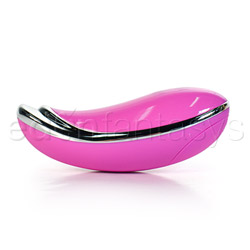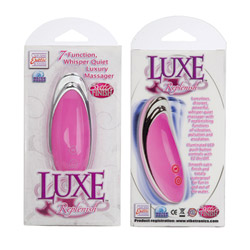 Summary:
Luxe Replenish is discreet plastic vibrator that features seven vibration settings. This vibe's sleek design makes it great for travel and ideal for use with a partner. Its vibes are mostly buzzy, so if you're looking for a stronger version of a bullet vibrator along with some fun pulsation patterns, check out Replenish.
Pros:
Quiet, 7 vibration settings, nonporous material, dedicated on/off button.
Cons:
Battery cover doesn't keep all water out, buttons require a good bit of force to press.
Best use:
Luxe Replenish by Cal Exotics is quiet, compact vibrator designed to pleasure the clitoris and other external erogenous zones. Replenish is part of the Luxe line of discreet vibrators along with Rejuvenate and Renew. It's small enough to be used along with an insertable toy or during partner play.
Material / Texture:

Replenish is made of ABS plastic with a polyurethane (PU) coating. The two control buttons are on the shiny plastic face of the toy. They're flush with the surface, so you won't accidentally press them. Replenish's matte underbelly has a velvety feel to it and easily glides over the skin, even without lube. Its rigid construction makes it easy to hold, giving you good control over the angle and pressure.

Material:

PU coated plastic

Material safety

Texture:

Smooth

Safety features:

Hypo-allergenic / Latex free / Phthalates free

Design / Shape / Size:

Replenish is shaped a bit like a teardrop and has a shiny band of silver plastic around the middle that accentuates its curves. This vibe is powered by two AAA batteries, which slide in after removing the oval-shaped cover. The cover is on the thick end of the toy on the matte side, and features an o-ring that keeps water out of the battery compartment.

Replenish's tapered end is where all the magic happens. The vibrations are concentrated near the tip, especially on the matte side. You can use the tip or edge of the toy if you prefer more pinpoint stimulation, or press the curved matte portion against you for a broader vibration area.

Length:

4 1/4"

Circumference:

4 3/4"

Diameter:

1 1/2"

Weight:

1.5 oz

Functions / Performance / Controls:

On the shiny side, you've got a dedicated power button and a function button. You'll need to press pretty hard to use either button. When you press the power button, a red light illuminates both button symbols. Pressing the function button scrolls through the vibration functions:

1. Steady low: Medium-deep vibrations
2. Steady medium: A mix of buzzy and somewhat deep vibrations
3. Steady high: Quite buzzy
4. Escalation: Somewhat slow; starts off feeling throbby then gets buzzy
5. Pulsing: Buzzy vibrations
6. Slightly faster pulsing: Vibrations are just as buzzy but not as strong as on setting #5
7. Three short pulses, then one long pulse, repeating: Buzzy

Replenish delivers a good bit of power for its size, and will probably satisfy users who enjoy typical watch-battery bullet vibrators and other buzzy toys. Its vibrations are moderately strong in intensity and very buzzy once you get past the first two settings. People who always need deep or throbby vibrations probably won't enjoy Replenish.

The small size of this vibe is an advantage when using it with other toys or during partner sex. It's also fairly light, making it suitable for longer sessions. A possible downside to its size is that your fingers will likely feel a fair amount of the vibrations.

Replenish is not only discreet in size but also in volume. All of the settings sound like cell phone vibrations and probably won't be heard through a closed door.

Functions:

Escalating / Pulsating / Vibrating

Special Features:

Light indicators
Multifunction
Powerful
Quiet
Waterproof

Control type:

Built in control pad

Powered By:

Aaa-2

Care and Maintenance:

You can use any lube you want with Replenish, just be sure to wash it with soap and water afterward. You can also wipe it with 10% bleach solution or use toy cleaners or wipes on it. If you're running water over the toy, it's best to open the battery compartment after cleaning to allow everything to dry completely.

Packaging:

Replenish comes in a somewhat rigid plastic box with a plastic insert that holds the toy in the clear window of the outside box. While the product features are listed on the package, there are no additional instructions or information included.

Experience:

I've used this toy a lot more than I thought I would. The first two speeds are my favorites, which is a nice way of saying the rest of the settings are way too buzzy for me. The third and fifth settings feel particularly powerful (although, still too buzzy) to me. If I could rate it 3.5 vrooms, I would, if only for those two settings. I usually start off with the steady low vibrations and can sometimes get off with them, but most of the time I finish with the steady medium setting.

I'm still on the fence about whether this toy is really waterproof. I've tried running water over it and submerging it completely for a couple minutes. Water definitely gets under the battery cover, but I don't think it gets past the o-ring barrier. The batteries and connections were still dry when I opened it up after submerging it.

Some aspects of the design, while not inherently bad, didn't work that well for me. For instance, the dedicated on/off button is quite nice, but I actually wish the buttons weren't flush with the surface. I almost always have to look at the vibe to change the setting or turn it off, and I'd rather be able to feel the buttons. Also, Replenish didn't feel very ergonomic to me, but I admit I'm not a typical user. I always want a good bit of pressure when I use a vibe, and my fingers and hands are quite sensitive (in a bad way) to vibration. This is not an ideal combination of user qualities for using a vibrator like Replenish.

I've had many enjoyable sessions with Replenish and would recommend it as a solid, body-safe, moderately-powerful vibrator.