California Exotic Namaste harmony - Clitoral vibrator from California Exotic

Product Details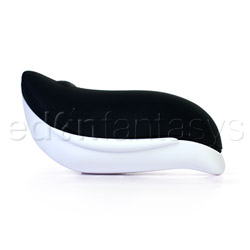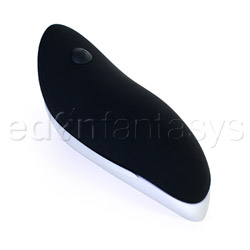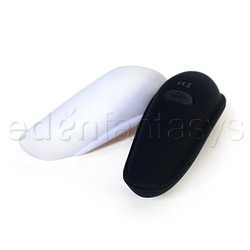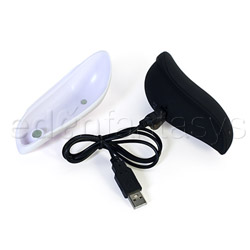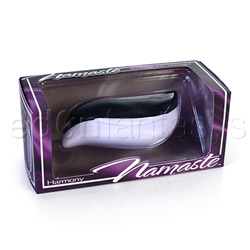 Summary:
Namaste Harmony is a great toy--if you live alone. It's got very nice vibrations in a new and interesting package, and the ability to recharge using your USB port. If you can get past the lack of waterproofness (and lack of discretion due to the loudness), you'll certainly be in harmony with it.
Pros:
Strong vibrations, easy to use, USB charger, low maintenance.
Cons:
Not waterproof, sounds like a Hitachi, no instructions.
Best use:
The Namaste Harmony is a clitoral vibrator, meant for external stimulation. It packs enough power to satisfy most users, and would be a good couple's toy due to the ease of use and comfortable shape when it's held. It works extremely well when stimulating erogenous zones beyond the vagina; the curves cup around the nipples quite nicely, for example.

The toy also comes with a kind of cover or cap that protects the USB (yes, I said USB!) charging port from fluids or damage. The cap features two small magnets which are used to keep the cap on the toy, so if you have metal sensitivities you might want to pass.
Material / Texture:

Made of PU coated plastic, Namaste Harmony is a fairly safe toy; it can't be totally sanitized, but the plastic does mean you're keeping most creepy crawlies away. The toy itself doesn't have a distinctive taste or scent, but I did find that it held on to the scent of the soap I used to clean it.

The plastic itself has a very slight matte to it, but it's still fairly slick; I prefer the slight matte because it's so much easier to grip than unmatted plastic is when it's wet. There's no give to this toy; it's rigid and firm, and the exterior is fairly textureless. However, there is a seam running down the side of the toy that can definitely be felt, and does tend to collect fluids--it's a bit difficult to clean as well. The top cover of the toy has some defined bumps that add to the grip on the side of the toy.


Material:

PU coated plastic

Material safety

Texture:

Smooth

Safety features:

Latex free / Phthalates free

Design / Shape / Size:

I must admit, I was reminded of the Life when I first saw this toy; both have that slightly curved design, and I think the larger size of this toy gives it an edge over the Life. This is a large toy--much larger than I ever thought it would be, measuring in at 5" long, with a 6" circumference. The larger size means it's easier to hold and maneuver, but can also mean that it doesn't fit your specific anatomy; I found myself frustrated when I was trying to pinpoint the vibrations because I couldn't get a good fit.

Color:

Black

Length:

5"

Circumference:

6"

Diameter:

2"

Width:

2 1/4"

Weight:

4.5 oz

Functions / Performance / Controls:

The toy came with no instructions, which is a little frustrating. The toy wasn't hard to figure out, but I always think instructions are necessary. The toy is controlled buy a button on the top of the toy that reads 8F (for the 8 different functions it has). Once you tap it, the button lights up, for ease of finding the settings in the dark, and pulses along with the vibration setting you've chosen.

The eight patterns are:
-Low vibration
-Medium vibration
-High vibration
-Medium pulses
-Fast pulses
-A vroom/revving pattern
-Low pulse, medium pulse, high pulse
-Dot dot dash (two short pulses and then one longer pulse)

To turn the toy off, just hold down the 8F button, and it shuts off. The vibrations themselves are fairly strong: not quite MiMi or Hitachi strength, but a low four, since the rumbly vibrations make them feel more intense.

This toy, though, is fairly loud; with the cap off we couldn't tell that it was a vibrator from outside the door, but could definitely tell that something was making noise. We refused to use it with the cap on because it was so much louder--to the point where it was distracting. I'll take my chances with getting the USB port wet.

Speaking of the USB port, it comes with a cable you can use to plug your Namaste Harmony into your computer for easy charging; the box says that it takes an hour and a half to charge, but there are no indicators letting you know when you should charge it, or when it's fully charged, so guestimate and do your best.

Namaste Harmony is NOT waterproof, so do not take it into the bubblebath with you.

Functions:

Escalating / Pulsating / Vibrating

Special Features:

Ergonomically shaped
Light indicators
Multifunction

Control type:

Push button

Powered By:

Rechargeable / USB

Care and Maintenance:

Plastic is a super easy material to clean; just use a damp cloth and some soap, or a toy cleaner, or a cleansing wipe--just remember that this is not a waterproof toy, so make sure you're not dripping water near that USB port. Plastic has no sensitivities around other materials, and can be used with any lube you'd like.

Care and cleaning:

Soap and water

Personal comments:

If you've read this as the descriptive review on the product page, just click here to ask any questions or leave any feedback you may have!

Other