California Exotic Lia bounding bunny - Discreet massager from California Exotic

Lia bounding bunny videos
Product Details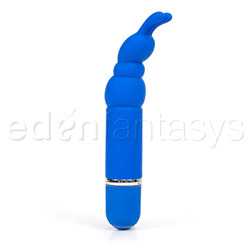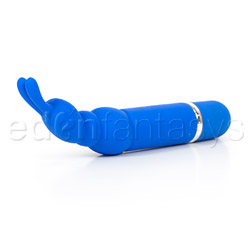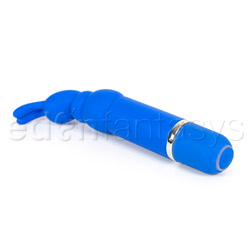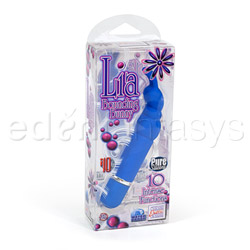 Summary:
The design of Lia will have bunny lovers rejoicing without having to worry about finding a rabbit style vibrator that fits their anatomy. Although it won't be for everyone, this cute discreet massager will have options for many.
Pros:
Ten settings
Silicone
Waterproof
Cons:
May not be powerful enough for some.
Best use:
Lia Bounding Bunny by California Exotic Novelites is a bunny shaped discreet massager that can be used externally on your clit or other erogenous zones that enjoy stimulation or for very shallow vaginal insertion. I do not recommend it for anal insertion because it does not have the proper base for that.

It is waterproof so you can take it with you in any water setting that you please without the fear of it breaking.

You can use this solo or by incorporating it into your play with your partner.

I feel this is best suited for anyone regardless of experience with sex toys. Beginners can appreciate that it doesn't have a phallic shape. Advanced users who prefer smaller toys and enjoy buzzy vibrations with a strength of 3 Vrooms can also appreciate this wonderful silicone toy. Those who prefer thicker toys or more power should look somewhere else.
Material / Texture:

The Lia Bounding Bunny is made out of pure silicone which is considered a ten on the safety scale. Silicone is considered to be a food-grade material that is hypoallergenic, phthalates free, latex free, and non-porous. Silicone can be sterilized to prevent infection after every use or between partners.

When it arrived, it did not have any noticeable smell to it at all.

Overall, the Lia Bounding Bunny is smooth and without texture. It does have a visible vertical seam running the length of the toy, but it can't be felt during use. The upper portion is flexible and the bottom section is hard. It is best suited for those who prefer smooth toys with a small amount of flexibility.



Material:

Silicone

Material safety

Texture:

Ribbed

Safety features:

Food-grade material / Hypo-allergenic / Latex free / Non-porous / Phthalates free

Design / Shape / Size:

Lia comes in blue and features a LED light that glows when in use. It features rabbit ears and three different size bumps before becoming a steady size at the base.



Here's a picture comparing Lia's size and design to the Silicone Finger Bunny.



From the tip of the bunny ears to the end of the toy Lia measures 5 3/4" long. However, if you measure from the tip of the bunny ears, along the curve, and to the bottom of the toy it measures 6 1/4" long. Depending on those measurements it either has a 4 1/2" or 5" insertable length. Unstretched the bunny ears are 1/4" apart and are 1/2" long. The head is 2 1/2" around. The second bump is slightly smaller than the head and measures 2 3/8" around. The third bump is the largest of the three and measures 3 1/2" around. The base measures 3 1/8" around.



Although this is shaped like a bunny, if one is familiar with sex toys at all then I'm sure they would be able to recognize this as one. If discretion is important to you, I would recommend keeping this put away while not in use.

Lia's small size is perfect for those who prefer smaller toys regardless of experience.

The size of Lia is wonderful for storing in a small purse, bag, or coat pocket if you decide to take this traveling with you. I do suggest removing the batteries before traveling to prevent it from accidentally turning on.

Length:

5 3/4"

Insertable length:

4 1/4"

Circumference:

3 1/4"

Diameter:

1"

Weight:

0.3 lb

Functions / Performance / Controls:

Lia has one easy to use push button control that is located at the bottom of the toy. There is an audible click when pressed. To use, simply push the button once to turn it on and continue pressing through the ten settings. To turn off, hold the button for three seconds and it will turn off. One thing that is unique about this is it remembers which setting you turned it off at and starts up at the next setting. The settings are as follows:

1: High solid vibration
2: Medium solid vibration
3: Low solid vibration
4: Four roller coaster pulses and then repeat
5: Slow paced pulse
6: Medium paced pulse
7: Fast paced pulse
8: Deep pulse-pulse-pulse
9: Deeper pulse-pulse-pulse
10: Revs up

I like that it offers a variety of choices when it comes to the vibrations and patterns because there surely should be a setting for everyone.

The buzzy vibrations can be felt throughout the entire length of the toy even at the bunny ears, but are best felt at the largest pump. When in use, the vibrations can be felt in your hand especially at the highest setting, but it didn't cause any irritation.

It requires 1 AA battery that is not included. The battery lasted nearly two hours of non consecutive use, but that will depend on which setting you choose to use.

There's a silver ring at the bottom of the toy where the battery cap is located. Underneath the battery cap it has a clear plastic ring to prevent water from seeping in. I tested it in the water and did not have any issues during or after use.

While in use, Lia can be heard by others in the same room, but not outside the room or through thin walls.

Functions:

Escalating / Pulsating / Vibrating

Special Features:

Light indicators
Multifunction
Waterproof

Control type:

Push button

Powered By:

Aa-1

Care and Maintenance:

Lia picks up hair, lint, and debris so I recommend washing before and after every use with soap and water or your favorite toy cleaner or wipe. Since this is waterproof, you do not have to worry about water getting into the battery compartment while cleaning.

Water based lubricant is suggested with the Lia since it is made out of silicone. You should not use silicone based lubes with the Lia because this could damage your toy. If you absolutely have to use silicone based lubricant, I suggest to spot test an area first.

Care and cleaning:

Soap and water

Packaging:

It comes in California Exotic Novelties standard see through plastic package. There is nothing fancy about the packaging and it is not considered to be discreet since it displays the toy through the package. It features minimal information on the front and back of the package describing the product.

Inside the package was a battery installation guide that depicts a diagram on how to insert the batteries properly and information on how to avoid battery leakage and prolong the life of the battery.




Experience:

I'm giving Lia 4 Stars out of 5 because it is a wonderful toy that's made out silicone, has a long battery life, and is waterproof. I'm deducting a star because it may not have enough power for everyone, but for those who do not require a ton of power then this toy will have several options available to them to enjoy.