California Exotic Lia pleasure O - Discreet massager from California Exotic

Product Details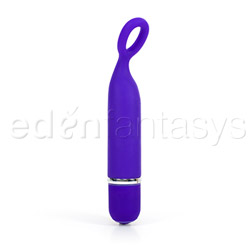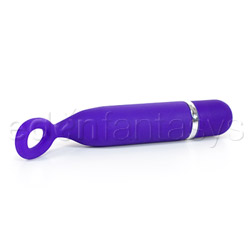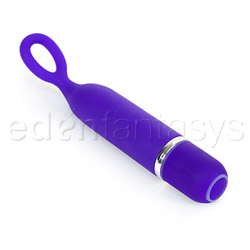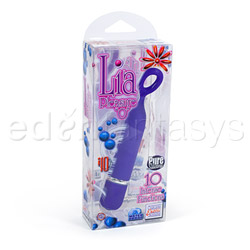 Summary:
This item is not only cute, but it's lots of fun. Have fun experimenting with all its different functions and vibrations. The LED light just adds that extra kick of fun, watch it dance to the rhythm of the vibrations!
Pros:
Cute, soft, silent, LED light, waterproof, only one battery, variety of vibrations.
Cons:
Vibrations should be stronger, didn't like the loop design, the button clicks too easily.
Best use:
Lia can be a great toy for both beginners and more advanced users. She has a pretty and playful design and you can have fun with her under the sheets, in the dark, in the bath or shower, in the daytime, in your car on the way to work, your job's bathroom on break time, just about anywhere! She is small, quiet, and discreet, you can fit her just about anywhere.

She has different intensity levels and vibration patterns, making her a perfect potential gift since you never really know what type of toys the person prefers, whether it's big, small, strong, or weaker. Lia is perfect, she is not intimidating for anyone and is a very safe bet if you want to give her as a gift. Lia is made for clitoral stimulation, but can be used in a variety of ways. You can use her on your nipples and she is also safe if you want to insert her into your vagina. You can add a little spice and add another toy. You can use something bigger to insert in the vagina and just use Lia on your clitoris and have yourself a fun night!
Material / Texture:

As soon as I saw Lia, I couldn't wait to take her out of her box just to feel the material. Lia is made out of pure silicone, which makes it 100% safe and easy to clean. She is hypo-allergenic and latex free. You can tell just by looking at her that she has a very soft and smooth texture. This gives her a very feminine feel, which I love. She also has a very flexible material, it can easily be bent or twisted.

She does not have a very strong scent; it is a very light, clean, new toy smell. You can only smell it if you put her up close to your nose. I actually liked it. I love the smell of new and clean, as long as it's not too strong.

Material:

Silicone

Material safety

Texture:

Smooth

Safety features:

Food-grade material / Hypo-allergenic / Latex free / Non-porous / Phthalates free

Design / Shape / Size:

She is pretty small and light (5 3/4 inch long, 1 inch in diameter, and .3 lb). It doesn't look and isn't intimidating at all. When I lay her down on my hand, she reaches from my finger tip to almost the bottom end of my palm. She is small and discreet, which makes her easy to store. So you can carry her around in your purse and take her anywhere you might want.

There is a loop at the top, which is made to stimulate all around the clitoris. I think it is pretty cool and a lot of people might like it, but for me it, didn't quite work. Don't get me wrong, it does feel good, but I personally prefer something that will go directly over my clit. I am not sure if it is made to be inserted in the vagina because of the loop, but since it's so soft and flexible, it is completely safe if you do want to do that.

Length:

5 3/4"

Insertable length:

4 1/2"

Circumference:

3"

Diameter:

1"

Weight:

0.3 lb

Functions / Performance / Controls:

Lia has 3 different levels of vibrations, which start from the highest intensity to the lowest. I'd say the first level is between 3 to 4 vrooms (probably closer to 4), the second level is at about 2 vrooms, and I'd say the third level is a perfect 1. I would personally prefer a little bit stronger vibration. She has a variety of seven different pulsations, they all have different intensity levels so anyone can find their perfect level. I love the LED light, it is a very neat feature to this toy. I think it is so neat how the light blinks to the same rhythm as the different pulsations. The light is also helpful if you are playing in the dark and you need to see where the toy is going.

She is very easy to control, you do everything with just one button. It's an easy click to turn on and switch from function to function. And to turn it off, you just click and hold for a few seconds. The only problem I have with this is that the button is a little too easy to click. If you accidentally tap it on something, it will either turn on or switch vibration. This can also be an issue if you have it in your purse or something where it can easily accidentally turn on if it bumps into something.

I like that she is pretty silent. You can hear the vibrations if you are in the same quiet room, but the noise can VERY easily be covered up. I really doubt that you can hear it through a door. She is also waterproof, so you can literally have fun with her ANYWHERE, a huge plus for everyone!

Something I like to pay attention to is how long the batteries last with a toy, which unfortunately I cannot tell yet with this one. But it does require only one AA battery, which I know for me is a huge plus.

Functions:

Escalating / Pulsating / Vibrating

Special Features:

Light indicators
Multifunction
Powerful
Waterproof

Control type:

Push button

Powered By:

Aa-1

Care and Maintenance:

She is 100% silicone, so this makes her easy to clean. All you have to do is either rinse her off with soap and water, boil her for very few minutes, you can throw her in the dishwasher, or you can simply use a toy cleaner. You might want to clean before and after each use just to be safe. Also, take the battery out when you're done using it. (Editor's note: Because this is an electronic toy, it shouldn't be boiled or placed in the dishwasher.)

It is recommended to use a water-based lubricant to avoid messing up the material. It's a small toy so you can store it almost anywhere, although you do have to be careful not to put it somewhere where it could be tossed a lot since the on button is so easy to press down.

Care and cleaning:

Soap and water

Packaging:

Personal comments: