California Exotic Petit Ami - Clitoral vibrator from California Exotic

Product Details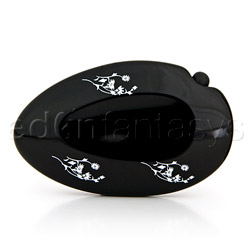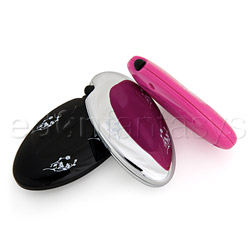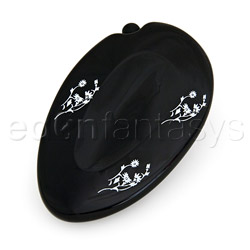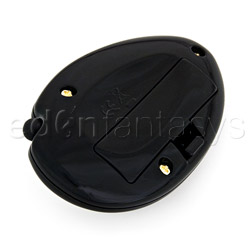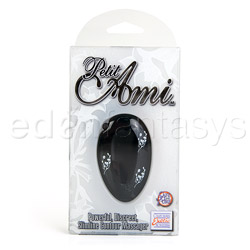 Summary:
The Petit Ami provides gentle vibrations that are good for all-over body massage. Though it was not stimulating enough to provide an orgasm, it was definitely pleasant to use during foreplay.
Pros:
Affordable. Compact design. Gentle vibration level.
Cons:
A bit loud. Can't use running water when cleaning it.
Best use:
The Petit Ami is listed as a "clitoral stimulator," but it actually makes a pleasant all-over body massager for foreplay as well. The vibrations can be felt all over the body, but are quite mild, so it would be best for those who prefer gentle vibrations on the clitoris (similar to a pager or cellphone's vibrations). It is *not* designed for internal use.
Material / Texture:

Made of hard ABS plastic with a completely smooth surface, the Petit Ami glides easily over your skin. ABS plastic is odorless, phthalate-free and non-porous; a material safe enough that it is also used to make certain childrens' toys.

Material:

Plastic

Material safety

Texture:

Smooth

Safety features:

Food-grade material / Hypo-allergenic / Latex free / Phthalates free

Design / Shape / Size:

This egg-shaped slimline toy measures approx. 3" long x 1-3/4" wide and is only around 1/2" thick, making it easy to cup in your palm while your hand roams. Being so small, you can take it practically anywhere, simply by slipping it into your pocket. It certainly wouldn't be hard to conceal within your home, though with its discreet design and pretty floral decor, it isn't likely that too many people would know what it was even if you left it out somewhere.

Length:

3"

Weight:

0.1 lb

Functions / Performance / Controls:

The Petit Ami is constructed in two separate halves, which are held together by tiny screws on the bottom and leaves a seam line around the outer edge of the toy. Apparently those halves flex a bit, even though that movement isn't visible, because if you apply very much pressure to the toy when using it you can hear the motor slow down. It does take a fair bit of pressure to produce this result, but we thought it worth mentioning to people who might be inclined to push harder to try to get stronger vibrations from it.

There is a snap-on flap on the back of the toy that opens to house one AAA battery, which is not included. On the side, there is a small rubber push button to turn it on and off. The vibrations are felt all over the toy, and the motor does make a fair bit of noise. It's not drastically loud, but it might be heard from right outside your bedroom door, like the sound of a small electric razor.

Functions:

Vibrating

Control type:

Push button

Powered By:

Aaa-1

Care and Maintenance:

Because the battery compartment is located more off to one side of the bottom and NOT in the slightest bit watertight, we found that you can't use any running water to wash this toy. You'll need to wipe it with a rag dipped in either antibacterial hand soap or alcohol, and then follow up with a damp rag. We would suggest removing the battery first, and then double-checking to make sure the compartment is dry before you put it back in.
You may also want to be careful if you decide to use lube with this toy for the same reason but, if you do decide to lube up, the Petit Ami is compatible with both water-based and silicone-based lubes, as well as massage oils.

Packaging:

The Petit Ami comes in a very thin clear plastic box with some product information printed on the back. There's a thin plastic slide-out tray that has an indention in it for the toy to rest in. We wouldn't consider it a permanent "storage box" so to say, because it doesn't seem like something that would last too long, but if you're careful with it you could probably keep the toy in it for quite some time.

Experience:

Michele says:
If you're like me and need medium to strong clitoral vibrations to orgasm, you won't get the "big O" from this toy. However, it was very nice to use as an erotic massage tool, particularly on the breasts, thighs, and outer labia.

Alan says:
I liked the shape & size of this toy, because it's easy to cup in your hand while caressing your partner all over. When applied to the perineum and testicular area, it was pleasant but not hugely arousing, so I'd call it more of a "teaser" than anything. It's also not what I'd call a "high-quality" toy, but it's worth the price you'd pay for it if for nothing more than to provide a new sensation during gentle foreplay.