Bushman Products Studio collection Vibrating mascara wand - Discreet massager from Bushman Products

Studio collection Vibrating mascara wand videos
Product Details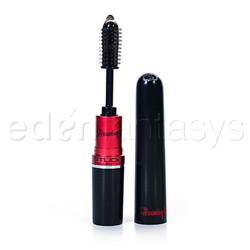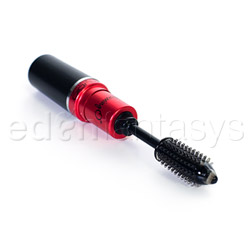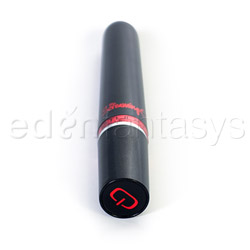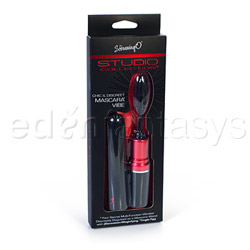 Summary:
Perfectly disguised as mascara, Studio Collection has come out with a really cute, clever product. With two different options - cover on and cover off - you can enjoy a variety of vibrations. For the makeup junky who wants something quick and kitschy at her side, this is the vibe for you.
Pros:
Multi-functioning, cute design, smooth.
Cons:
Pulse setting makes the power weird, scratchy paint.
Best use:
As soon as you see the box you can be easily fooled by what this product actually is. Resembling a mascara wand down to its core, you can leave this toy anywhere without anyone second guessing its true intentions. A true read of the box will reveal its nature. With multiple functions and various options this is a toy of many faces, and extremely clever at that.

This toy is marketed for clitoral use without the cap and vaginally with the cap. I wouldn't recommend using it anally due to it not having a flared base and being so thin: with a slip of the hand this could easily get pulled in.

Material / Texture:

Like the real deal this fake mascara wand is made of plastic. It consists of 3 main parts: the bulk of the body, which houses the vibrator; the wan,d which is a softer plastic with bristles; the cap, which is again a hard plastic that you would find on any mascara top.

The best way to describe the ultra soft bristles is that of a finger rest on a pen: the really comfortable ones that your finger sinks into when you write. The tip of the wand is smooth, but then are 12 rows of 10 bristles circling it. The connecting stem is hard plastic, and even with some pushing doesn't seem like it will break, but I would be cautious just as well.

Material:

Plastic

Material safety

Texture:

Smooth

Safety features:

Food-grade material / Hypo-allergenic / Latex free / Phthalates free

Design / Shape / Size:

From end to end this is 5.5 inches in length. The wand containing the bristles reaches 1.5 inches.

It is designed to be as discreet as possible; you could travel with this with ease. Completely waterproof, it screws open mid base. This small toy takes 3 Ag-13 batteries, and is cited as giving 80+ minutes of pleasure. If that isn't enough, they give you 3 replacement batteries as well to sweeten the pot. The slate colored bottom screws back into the red top holding the bristles: there is a marking to easily match them up and get a nice tight seal. A silver band separates them but will wear if you aren't careful.

Color:

Black / Red

Length:

5 1/2"

Insertable length:

3 1/2"

Circumference:

3"

Diameter:

3/4"

Weight:

0.2 lb

Functions / Performance / Controls:

There are 4 functions to this vibrator as stated on the back of the box. You use the same button to shuffle through all of your settings.

On
1. Low
2. Medium
3. High
4. Multi-pulse
Off

The vibrations are easily felt through the entire body of the vibrator. These vibrations aren't dampened if you are using the cap on for insertion. Even on the highest setting this toy is very quiet, about that of a cell phone.


Functions:

Pulsating / Vibrating

Special Features:

Batteries included
Gifts
Multifunction
Multispeed
Travel
Waterproof

Control type:

Built in control pad

Powered By:

3 watch batteries

Care and Maintenance:

To clean just wipe it down or soap it up, it will take mere seconds. Again, the silver band separating the 2 parts is going to wear, even from washing---this is not going to disrupt the integrity of the vibrator. To store you can throw this in your makeup bag if you were taking this with you, or leave it anywhere you please---seriously they will be fooled at how good this toy looks.

Care and cleaning:

Soap and water

Experience:

I was really quite scared I might break this toy when I got it. I was sure the wand neck would break with too much pressure---it was really surprising at how well it held up. While I enjoy the concept of this completely, especially as a Makeup artist, I must say I wish it packed a little more punch. This is kind of unfair because I might be a power queen. If I didn't know better I would never guess this is a vibrator, which is the point, and it's done well. I was disappointed that the paint scraped so easily off the silver band but it's easy to remove it all so you won't even know it was there in the first place. The versatility of this also impressed me, especially for being such a small easy toy. Another thing is, on the pulse setting it kind of felt like it wanted to die out on me - it hasn't, but I feel like over time it would. I don't know if the toy just can't be taken through the paces but it really was kind of a letdown.