Fun Factory YOOO - Discreet massager from Fun Factory

Product Details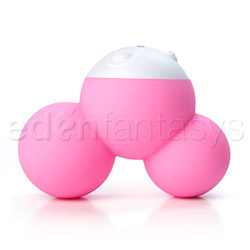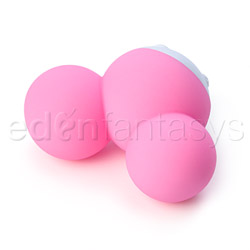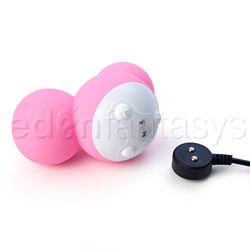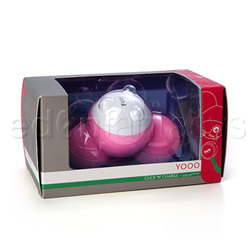 Summary:
The Yooo is Fun Factory's first foray into the Land of Dual Motors and it is a masterfully executed one indeed. True to their reputation for innovation, Fun Factory strikes out boldly with bubbly, voluptuous geometry, a series of thrilling patterns and a wide range of vibration depths. Rather than re-hashing the old and predictable, the Yooo sets a whole new standard for dual vibrators and luxury toys all around.
Pros:
Wide range of vibration depths, speeds and patterns, non-porous, compact, low maintenance.
Cons:
Buttons hard to push, loud, will not suit all anatomies, no storage, charging can be difficult.
Best use:
The Yooo is the latest high tech gadget from the highly creative minds at Fun Factory, and it truly is another feather in the cap of this highly lauded company. Yooo is a versatile hand-held, dual motor vibrator with enough power to wring your back muscles of tough triple-knots and enough variance in speed and function to tickle all your erogenous zones. With a "turbo boost" mode strong enough to send shivers of vibration through your hands up to your elbows, fans of pulverizing clitoral stimulation can finally enjoy monstrous power in a petite and luxurious vibrator. No more wrangling with plug-in wall massagers to achieve hard and fast clitoral orgasms, or to work the kinks out of aching back, thigh and buttock tissues.

Of course, there's something for everyone with the Yooo which is one of its most remarkable attributes. There are eight levels of continuous vibration that range from a low, deeply penetrating rumble to a rocket powered high pitched buzz that sets your skin humming. The two balls (one of larger size and one of smaller) allow for direct clitoral contact while simultaneously stimulating the labia with the other, or shallow insertion. This vibrator can also easily be held to the perineum, breasts or testicles for more teasing and thrilling.
Material / Texture:

Unlike many other vibrators that sacrifice comfort for speed and power, the Yooo is covered with a comparatively thick and luscious layer of plush medical grade silicone. Many vibrators of a similar style provide the toy's silhouette with a quick once-over with a thin sheet of the material. However, when I press my thumb down against the flesh of this toy, it sinks about a quarter of an inch down before being stopped by the motors beneath. Not only just this more cushioned outer layer provide greater comfort when pressing against sensitive areas like the clitoris, labia, testicles or perineum, but it also transmits vibrations nicely. The loftier buzzes are slightly absorbed by the silicone, dampening them just a bit and making them more deeply penetrating. This helps to prevent desensitization even when in turbo boost mode.

The silicone is matte, meaning there is more drag and friction created between its surface and your skin. It is less likely slip when you are using lube for this reason, although it also holds lint and dust quite well as a result of its texture. There is a slight but wholly unnoticeable seam that runs horizontally across the toy, as well as a slight ridge between the vibrator's plastic base and silicone body.

Material:

Silicone

Material safety

Texture:

Bulged / Smooth

Safety features:

Food-grade material / Hypo-allergenic / Latex free / Non-porous / Phthalates free

Design / Shape / Size:

Yooo is so named for the three O's that its form is comprised of. A large circular base that is two inches across anchors the toy and is home to the vibrator's interface, while two spheres - one that is 1.75" across and another that is 1.5" in diameter - house two separate motors. The largest ball can be easily cradled between the palm and fingers while the buttons can be manipulated with the thumb, and it functions as a handle of sorts. Because the motors on not located in this ball the vibrations will not be as strong here and your hand is less likely to fall victim to desensitization. However, on the turbo boost mode the vibrations are strong enough to be felt through the entire lower arm and can irritate the hand's skin after an extended period of use.

The two motorized balls can be applied in a variety of ways. One excellent use is to hold the toy vertical across the vulva with the smaller sphere resting against the clitoris and the larger ball (below) resting against the inner and outer labia. Depending on your anatomy this technique may be more or less pleasurable. The distance from the fat edge of one ball to the far edge of the other is 3.75" - many vulvas are not so long from the top of the clitoris to the bottom of the inner labia. However, if your vulva is longer you may be able to enjoy inserting one ball while applying the other to your clitoris. The toy can also be used for external anal play; it works wonderfully if the smaller ball is rested across the anus while the larger is applied to the perineum. You may also even wish to insert one of the balls anally since the base is large enough to function as a flange to prevent the toy being swallowed. Due to its unique shape, Yooo has endless applications with a little imagination!

Length:

4 3/4"

Diameter:

2 1/8"

Width:

2 1/2"

Weight:

1 lb

Functions / Performance / Controls:

As mentioned earlier, Fun Factory's Yooo has a wide range of functions that make it appealing to a broad audience. Three buttons on the base concentrated in a triangular area allow you to operate the toy's controls. The minus sign (-) on the base can be used to lessen the intensity of vibration, or held down in order to turn the toy's motors off. The plus sign (+) allows you cycle upward through eight continuous speeds that increase incrementally in strength, and then through through additional pre-programmed patterns. Finally, there is a third button which makes the Yooo quite unique. This third button is shaped like Fun Factory's flower-power emblem (*) and is called the "turbo boost". Similar to grabbing a gold star in a game of Mario Kart, the turbo boost button provides a sudden jolt of extra power if tapped briefly. If the boost button is held down, it will move the motors into a final ninth level of continuous (and very powerful!) vibration. By pressing the turbo boost button a second time the motors will return the setting they were on previous to the boost. The two highest continuous modes of vibration (the eighth speed and the turbo boost) can be easily heard through a closed door and are actually quite loud. Their volume is, however, proportionate to their muscle - they're VERY strong!

A quick run down of the settings:

By holding the (+) sign down for two seconds you will turn the toy on and the motors will automatically enter the first continuous level of low vibration. This setting is low, rumbly and can scarcely be heard through a thick comforter. By depressing the (+) sign you can increase the speed and enter seven additional continuous vibration speeds, each more powerful than the last. When you find a speed that is desirable you may stay on that speed, and press the turbo boost at any time to provide you that last minute punch of power to push you over the edge. After reaching the eighth level of continuous vibration, the toy has three patterns. The three patterns:

1) Each motor cycles through a rollercoaster mode that begins low and "coasts" to the highest power before "coasting" back to the lowest. The motors do not do this in time with one another; the motors are staggered so that as one motor completes the rollercoaster, the other is still mid-way through its rollercoaster.
2) Same pattern as above, but faster.
3) A rapid pulse pattern in each motor - the motors do perform simultaneously in this mode.
4) Pressing the button a fourth time brings you back to the highest continuous speed.

Once you master these slightly complex controls you'll have no trouble getting to where you want to go, with the exception of one small flaw. The buttons are somewhat difficult to depress and they require a fair amount of force to activate. Other Fun Factory vibrators (like the Click n' Charge series) do not have such stubborn buttons, so this is somewhat unusual.

Functions:

Pulsating / Vibrating

Special Features:

Light indicators
Multifunction
Multispeed
Powerful
Travel
Two motors
Waterproof
Wireless

Control type:

Built in control pad

Powered By:

Rechargeable

Care and Maintenance:

Fun Factory's Yooo is 100% waterproof meaning you can take it in the bath with you. It works fantastically submerged because the water dampens the sound of the vibrations. In the bath you can hardly hear it! In a shower stall, however, this little baby can echo loudly enough to wake the neighbors so beware! When your Yooo runs out of juice it can easily be recharged with the included Fun Factory plug. The end that hooks into your vibrator is a circular magnet with the words "Fun Factory" written across it. The magnetized end of your Yooo has a matching emblem that the circular magnet charger should be laid across - when it is properly connected the plug's emblem will glow red. When your toy is done charging (this will take a few hours) the red light will turn off, indicating that your vibrator is ready to play some more. Be careful that the plug and toy are strongly connected because the plug can slip off base if they are not.

Due to the motors in Yooo as well as its plastic base you will not be able to boil this toy to clean it. However, the non-porous silicone and plastic base can both be easily cleaned by wiping down with a 10% bleach solution or by lathering and washing thoroughly with antibacterial soap and hot water. Take extra care to remove lube and fluids from the ridge between the base and body. Yooo is safe for sharing if you clean diligently between uses; no condom or barrier is needed. This vibrator can be safely used with oil or water based lubricants but should not come in contact with a silicone based lube. Silicone based lubricants can bond to silicone toys and leave a gummy and hard to remove film on their surface.

Because Yooo can pick up lint and hair, you'll want to store it in a plastic bag or lint-free toy pouch. Sadly, Fun Factory does not include any storage; it comes packaged in the standard Fun Factory cardboard box. If you plan on storing this vibrator near toys made from soft materials like TPR/TPE, jelly, rubber, silicone composites of any kind then you should keep them separately in bags or pouches. Silicone can melt or warp soft materials like these if left to mingle.