Jimmyjane Hello touch - Finger massager from Jimmyjane

Product Details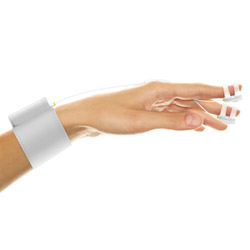 Summary:
When was the last time you fought with your partner about who gets to use the toy? When you get this (and you will), you'll want to keep it on the down-low until you're ready to share.

Vibrating back rubs? Foot rubs? A vibrating finger on either side of a clit or while you're rubbing one out? This could easily be the perfect toy...if it had LEDs or glowed in the dark.
Pros:
Easy to use, non-gender specific play, easy to clean and store.
Cons:
Battery size, finger bands are a little too tight for prolonged use.
Best use:
Fingers are great - sometimes really great. Now, imagine your fingertips vibrating!

The control pack slips into a (possibly nylon) wristband. The twin vibrating pads slip around your fingers with silicone covers. Your hand is now a vibrator!

This is more than just a toy for her. The reading material from JimmyJane shows this as a toy for her pleasure, but it's really for anyone. You can use it for both internal and external stimulation.

An added bonus: back/neck/foot rubs just got a LOT better, too!
Material / Texture:

I love the idea for this product! Having silicone as the coating material on the pads helps with clean up, and also gives it the elasticity to stay on your fingers.

Silicone is has no real odor. The wristband didn't really smell, either.

There really isn't any texture to speak of. Sure, it can give your fingertips a couple of ridges, but I didn't notice a difference.

Material:

Silicone

Material safety

Texture:

Smooth

Safety features:

Hypo-allergenic / Latex free / Non-porous / Phthalates free

Design / Shape / Size:

I love the design! The pads aren't too big, but maybe a little tight on my fingers. I have average-sized guy hands, making the bands on the pads a bit tight, but not too-too bad. If you have larger fingers, you'll want to keep use to just a couple of minutes (no more than 30 minutes or so, but I'm not a vascular doctor).

This toy is not only easy to hide, but comes with its own storage pouch. You can fold it up and put it away in a purse or shirt pocket, no problem. If you travel, it might even get mistaken for an mp3 player with headphones. Even just sitting out in the storage pouch, no one would suspect anything. It's just a little black square of cloth.

Color:

Clear

Length:

3/4"

Width:

1"

Functions / Performance / Controls:

The functions are pretty easy. There are only two settings: on and off. The buttons are under the silicone, in the main unit that slides into the wrist holder. There are three circles on the wristband that line up with the buttons. The middle circle isn't over a button, but it makes a neat tri-circle design. The buttons can be a bit slow to respond, but it's not too bad.

The silicone bands that hold the vibrating pads onto the fingers are a bit tight for my meaty hands, but not too bad. This can be alleviated by turning the bands around on your fingertips. The bands will go across the nail instead of the pad of your finger. The difference between having the vibrating pads on your finger or on the fingernail isn't too big of a difference and shouldn't affect use that much. The vibrations are definitely more on the buzzy side than the rumbly side. Considering the size, that's very understandable.

The toy is pretty quiet. I'm sure you could hear it under blankets, but definitely not through a door or over running water.

It does take AAAA batteries: two of them. It's been used for about an hour to an hour and half, and the power loss hasn't been noticeable as they've run down.

Functions:

Stroking / Vibrating

Special Features:

Batteries included
Powerful
Quiet
Small size
Thrusting
Two motors
Water resistant

Control type:

Control pack

Powered By:

AAAA-2

Care and Maintenance:

The toy is water resistant. This means you can run it under water and let it air dry, but do not submerge it. The battery pack is sealed off, so you can rinse it off all together or use wipes.

The wristband can just be tossed into the laundry, no harm no foul. Just don't put it in the dryer. It could be fine, but it does run a little tight, and the hem on the seams isn't 100% finished. Those aren't big issues.

As mentioned above, this also comes with a storage/travel pouch. Everything fits in it easily, and it's still discreet.

Care and cleaning:

Soap and water

Experience:

This was her first time with a toy like this, and our first time with toys together. She's an external stimulation lady and really liked the Hello Touch. As a matter of fact, we're probably going to have to get another one just for her. I plan on holding on to this one for myself!

I'll take a vibrating hand over a vibrating stroker any day! The vibrations were strong enough that I could feel it all over, and not just on my fingertips.

If it wasn't for the tiny, tiny batteries, I would use this more. I'm just dreading how much those AAAAs are for a four pack.