BMS Enterprises Dahlia - G-spot and clitoral vibrator from BMS Enterprises

Product Details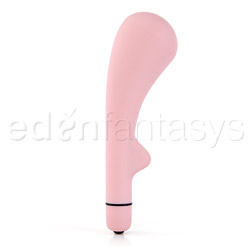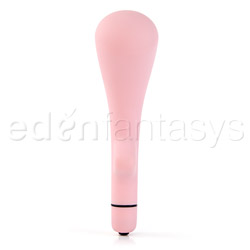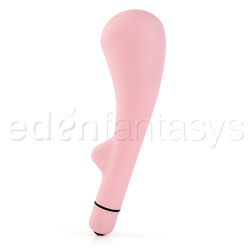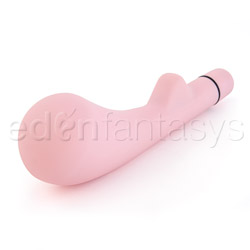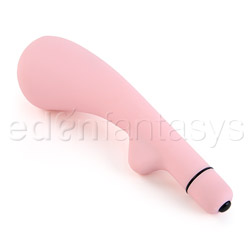 Summary:
This Dahlia packs a large punch for being a mini vibe. She is sleek and classy as well as quite lively with vibration. This toy is supposed to be a g-spot vibe, and probably works amazingly as one if it fits your body. It can also work as an intense vibrator for the clit or male genitalia. By adding a little oil it is soothing as a back massager as well!
Pros:
Very powerful!, no odor or taste, water proof, 3 speed, can be used as a massager or clit vibe.
Cons:
Hard to get in and out, too big, controls hit or miss, kinda painful at times.
Best use:
The Dahlia is anything but mundane and black. She is cunning and sleek as well as very powerful! By advertisement, the Dahlia is a G-spot vibrator but she can also be used for intense clitoral stimulation, massage, or male genital arousal. I recommend this toy only for the experienced user because of its material and size, unless you plan on using it only externally.
Material / Texture:

The material of this toy is hard plastic. The plastic is coated to make it feel velvety smooth. It has no odor which is great! It also has no taste. The plastic is semi porous but still a lot safer than other materials like rubber or jelly. Using a condom is highly recommended. With this kind of material, you have to know what size toys you can handle since they have absolutely no give or bend to them. The velvety texture makes it a bit more difficult to insert this toy. Be sure to use plenty of lube. The good thing about plastic is that it won't melt or distort like other materials. I don't think that such a hard material was the best choice for this toy. It needs a little more give to be fully effective.

Material:

Plastic

Material safety

Texture:

Smooth

Safety features:

Food-grade material / Hypo-allergenic / Latex free / Phthalates free

Design / Shape / Size:

The design of this toy is a little weird. It is advertised as a G-spot vibrator which is the reason for the very bulbous head on this toy. It did hit the g-spot as intended. The little nub on the shaft is for clitoral stimulation, but it doesn't quite reach just from being inserted. The toy has to be tilted towards you in order to make contact, and even at this point it barely works. I am fairly certain that this had little to do with my actual anatomy. It wasn't a close match, it was very far off.

The material is so hard, and the head is so large, that it hurt at times getting it into me. The head is 5 1/4 inches in circumference which is slightly larger than the description said. My boyfriend is even larger than this, so I figured I was going to be fine, but I didn't account for the material. It is much easier to get something in you when it has give, the plastic does not. It is a little over 5 inches in length, but has 4 1/2 inches of insertable length. I found it uncomfortable to insert it all of the way. I would think that this would be true for most women, but if you are able to either relax for insertion or you are vaginally wider than I am, this toy would work much better.

I honestly had a hard time getting this toy out of me. I'm not kidding. It was so tight in me that it took a good minute to get it out. I needed the help of my boyfriend for that. I have never had a toy feel like it locked in me. It was uncomfortable and not pleasurable in any way. I probably won't be inserting this toy anymore, external use only.

The light pink color is not very attractive. With such a cool shape, the company should have used a color just as cool. It is fairly discreet since it isn't traditional in shape or crazy in color.

Color:

Pink

Length:

5 3/4"

Insertable length:

4 1/2"

Circumference:

5"

Diameter:

1 5/8"

Weight:

0.3 lb

Functions / Performance / Controls:

This toy is controlled by a very small rubber push button at the base of the toy. This button is used to control the 3 different speeds. It doesn't always change the speed the first time you press it because the button is so small. But oh my goodness! The first speed doesn't prepare you for the second or third in any way. The first speed is pretty low and unimpressive, but the second is a large increment. The third speed is totally insane. I don't think I have any toys as powerful as this. The vibrations are very intense and can be felt throughout the entire length of the toy.

Consequently this toy can get pretty loud, but I've seen worse with less power. On the lowest setting it can barely be heard at all while standing a few feet away. On the third speed you will need more than a closed door to cover it up if you want to be discreet.

The Dahlia can be used with any lubricant and I highly suggest it, considering how hard it can be to insert. This toy is also waterproof and held up to this claim. I used it in the shower and in the tub. Just make sure that you tighten the battery compartment all the way before using it with water.

Functions:

Vibrating

Special Features:

Control type:

Push button

Powered By:

Aaa-2

Care and Maintenance:

Plastic is pretty easy to take care of. A plus is that it doesn't collect any dust. You can use a toy sanitizer to freshen it up or use soap and water to clean it. It cannot be sterilized so be sure to use a condom for maximum safety. I would remove the batteries before storage to avoid leakage and deduction to the inner parts of the toy.

Packaging:

The packaging for this toy is a simple, two sided, snap closure, plastic case. You can remove the cardboard insert if you would like, and use this small case to store the Dahlia. The package is not much larger than the toy which is great, so that it doesn't take up more space than necessary.

Personal comments:

It should be noted that my experience with this toy is based on my own body. You should take my information and apply it to your own knowledge of your body to determine if this toy is suitable for you.

Experience:

As a g-spot vibrator, I was not really thrilled with this. It was too large and hard to be comfortable for g-spot stimulation. I did however love it as a clitoral vibrator. It felt amazing! I also used it with some massage oil to give a vibrating massage. The vibrations felt great on the underside of my boyfriends penis as well as directly on his balls. The look on his face was priceless. He was in pure heaven. If you are looking for a good g-spot vibe, I would look for something else. I have taken the time to find three well rated g-spot vibes. They might be a better choice for this function.

NOTE: Per the guidelines of a description review, I am rating this 4 stars because the most of my complaints about it could be personal problems. Some of the issues are problems regardless of personal anatomy and this is why the Dahlia didn't receive 5 stars. If I were rating it with a more personal subjective opinion, I would give it 3 stars.