Smile Easy - G-spot vibrator from Smile

Product Details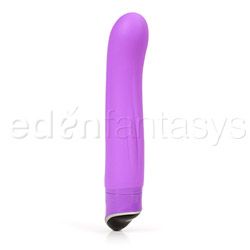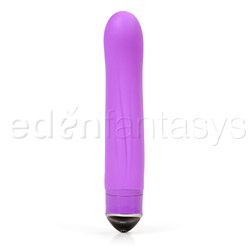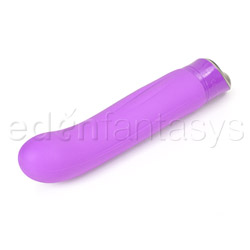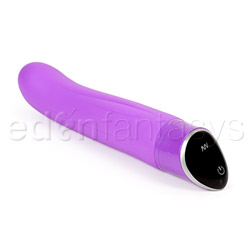 Summary:
The Smile Easy lives up to its name, making you smile easily. This silicone vibrator fills you up without making you feel stretched and, with 7 vibrating functions, there is bound to be one that will tickle your fancy. The G-spot bend works wonders and, when combined with the length of the shaft, it makes it easy to find the right spot every time. With easy controls and quality material, both beginners and advanced players will find enjoyment with this vibrator.
Pros:
Silicone, nice length and girth, G-spot curve, multiple vibration settings.
Cons:
Not firm enough for some.
Best use:
The Smile Easy is a standard style vibrator with a G-Spot bend that hits just the right spot. With his length, he's easy to manipulate, making him great for beginners. But don't underestimate him: he knows how to do his job, and he does it well. You may even want to grab a towel, as this boy may make you squirt like a geyser!

The 7 different vibration settings offer a wide variety of options, and are fairly strong for this style of vibrator. With the soft silicone and flexible shaft, the Smile Easy can be used for erotic massage, and it feels delightful on tight shoulders.

He's super quiet, and while I wouldn't suggest using him while sitting next to your co-workers, he's definitely safe to use with roommates, and might not even wake your partner up if he's sleeping next to you in bed.
Material / Texture:

Made from silicone, the Smile Easy is smooth and nonporous. Its shaft is rather flexible, making penetration comfortable and lowering the risk of hitting your cervix too hard. But there is a downfall to this flexibility: if using the Smile Easy for clitoral stimulation, it may not offer the firmness that some people like and/or need to orgasm.

The shaft is smooth, except for one small ridge which runs halfway up the underside. Although you can see it, it's not noticeable when inserted.

Being made of quality silicone, there is no smell or taste to the material.

Material:

Silicone

Material safety

Texture:

Smooth

Safety features:

Food-grade material / Hypo-allergenic / Latex free / Non-porous / Phthalates free

Design / Shape / Size:

The Smile Easy is a lengthy vibrator with a decent girth. He's not too thick as to be uncomfortable for most users, but thick enough to make sure you know he's in there.

He has a G-spot bend that is subtle, but efficient. The head is slightly bulbous, without being cumbersome. It is by far the best G-spot vibrator I've ever used. It hits the sweet spot every time without fail, and is enjoyable to use with or without the vibrations.

As far as discretion goes, this is an 8 inch purple vibrator, and there is no way to hide that fact. If you've got children or are expecting company, make sure to put him away.

Color:

Violet

Length:

8 1/2"

Insertable length:

6 1/2"

Circumference:

4 3/4"

Diameter:

1 3/4"

Weight:

1.7 oz

Functions / Performance / Controls:

The power controls are found on the bottom of the Smile Easy, which makes it easy to control during play. There is a push button for the power, but it does not turn the vibrations on. When this is pressed, a small red light appears beneath the buttons. To make it vibrate, there is another button right beside the power, that starts the vibrations and allows you to move through the 7 different functions.

The Smile Easy has 7 vibration patterns.

1: A light vibration: zzzzz (2 vrooms)
2: A medium vibration: ZZZZZ (3 vrooms)
3: A strong vibration: ZZZZZ (4 vrooms)
4: An escalating constant buzz: zzZZZZ (3 vrooms)
5: A medium pulse: ZZZ ZZZ ZZZ (3 vrooms)
6: A quick, medium pulse: ZZ ZZ ZZ (3 vrooms)
7: 3 shorts and a long: ZZ ZZ ZZ ZZZZ (3.5 vrooms)

The vibrations are based out of the bottom of the shaft, but travel its length well. For clitoral stimulation, I tend to use the lower end of the vibrator, but if you don't need strong vibrations, then any part of the shaft should be fine.

The toy is quiet given its strength and can not be heard behind a closed door.

Functions:

Vibrating

Special Features:

Control type:

Push button

Powered By:

Aa-2

Care and Maintenance:

The Smile Easy is easy to take care of. Being made of silicone, you can wash it with soap and water or a toy cleaner with ease. With only one ridge and a small seam down the middle, it isn't hard to clean at all. Just make sure to take the batteries out when you get it wet, as it is not waterproof.

If you've had silicone toys before, you probably know that they have a bad habit of collecting dust and hair. The Smile Easy is no different, although it is by far not the worst that I have. Store it in a safe place, and you should only have to wipe it down with a wet cloth before use.

Being made of silicone, make sure you keep it away from your other silicone toys. If they touch, especially for a length of time, they may break down each other's compound, giving you an ugly mess that is no longer sexy at all. On this same note, do not use silicone lubricant, stick with water-based.

Care and cleaning:

Soap and water

Personal comments:

I love this thing. I haven't used an insertable vibrator as my "go-to" toy in years, having long ago fallen in love with my Hitachi. But the Smile Easy is quickly making himself a home at the top of my toy box. He's easy to use and fun to play with. He hits my G-spot every time with no trouble, and often has me squirting in less than 5 minutes. And then it just keeps on happening!

I don't find him effective for clitoral stimulation, as he's not firm enough for my liking, but again, I've been using a Hitachi for years, so it's hard to compare. Overall, a great toy I'd recommend to just about anybody.