Fifty Shades of Grey Insatiable desire - G-spot vibrator

Fifty Shades of Grey Insatiable desire videos
Product Details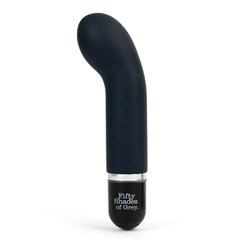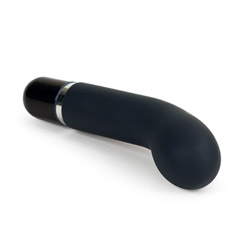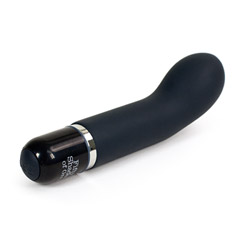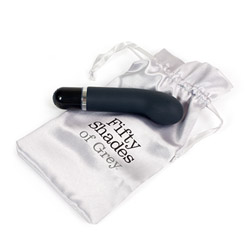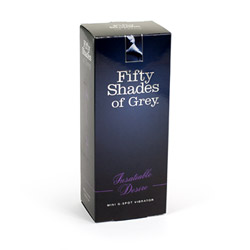 Summary:
The Insatiable Desire can be a great toy for those with average to high sensitivity, those just starting on G-spot stimulation, and fans of the 50 Shades series. However, if you need very solid, stronger vibrations this one won't suit your needs.
Pros:
Silicone, Beginner Friendly, Affordable, Storage Pouch, Good Quality
Cons:
Could be a bit stronger
Best use:
The Fifty Shades of Grey Insatiable Desire is designed to stimulate the G-spot in women. Its curved shape makes it easier to reach and stimulate the G-spot as opposed to more standard shaped vibrators. It is not large in any dimension, so it is beginner friendly. This could be a first vibrator for many women, and it can be a good toy for those starting to explore their G-spot. It can be used externally to tease the erogenous zones or externally on the prostate. It is not safe to use for anal play,

The Insatiable Desire can be an option for those who live with others. The toy is waterproof, so it can be taken into the shower with ease. It is not the strongest toy, so those who need stronger than average vibrations may want something with more power. It should please the average user and it can make a great gift for those who are fans of the 50 Shades of Grey Series.
Material / Texture:

The Insatiable Desire has a silicone coating. Silicone is one of the most body safe materials. It is a great option for those who are more sensitive and want a material with a longer shelf life. The silicone has a small amount of drag and this can be alleviated with a small amount of water based lubricant. In terms of texture the toy is fairly smooth. The sensation from the toy comes from the shape of the G-spot curve.



The seam is smoothed out. Overall the toy is well constructed. It has a small amount of flexibility in the G-spot curve. It can tilt downward slightly. It is firm enough to apply force and not have it move out of the way. There is no overt odor or taste to the Insatiable Desire.



Material:

Silicone

Material safety

Texture:

Smooth

Safety features:

Hypo-allergenic / Latex free / Non-porous / Phthalates free

Design / Shape / Size:

The Insatiable Desire is not large or intimidating in any way. The measurements on the product page are accurate. The head of the toy is a bit thicker than the shaft. It is still manageable for beginners, though. It is classified as a mini vibrator. Those looking for a filling experience may want to look elsewhere.

The size does make the toy easier to travel with. It can go in its pouch and be placed in a purse or suitcase easily enough. The pouch is not discreet, so it should not be left out. If anyone is familiar with the plot of 50 Shades they will be suspicious. The Insatiable Desire is not very loud. It is a solid 2 Bees at its highest. A blanket and closed door should muffle all of the noise. It is more silent when inserted.

Color:

Black / Grey

Length:

5 1/4"

Insertable length:

3 1/2"

Circumference:

4"

Diameter:

1"

Weight:

3.4 oz

Functions / Performance / Controls:

There is a single push button at the base of the Insatiable Desire. It is easy to use. Press it to turn the toy on. It has a total of ten vibrations and patterns. Press the button to cycle through them. The vibrations are more buzzy than rumbly in nature, but some modes are less buzzy than others. The overall strength of the toy should be enough for users with an average to sensitive sensitivity. If you need a solid 4 vrooms this will not do for you. The modes are as follows.

1. High standard vibration: High 3 Vrooms
2. Medium standard vibration: 3 Vrooms
3. Low standard vibration: 2 Vrooms
4. Five fast escalating pulses: ~2 Vrooms
5. Low, fast pulses: 1-2 Vrooms
6. Fast, medium-length pulses: 2-3 Vrooms
7. Fast, short pulses: ~2 Vrooms
8. Slower, medium-length pulses: 1-2 Vrooms
9. More separated pulses: 3 Vrooms
10. Low, rumbly pulses (toys barely feels on): 1 Vroom



Hold the button for a couple of seconds to turn it off. The Insatiable Desire has a bit of a memory to it. When you turn it off, it counts as pressing the button again. For example, if you are on mode one and you turn the toy off you will start on mode 2 when you turn the toy on again. If you like one mode in particular you will have to cycle through all the modes to get back to it.

The Insatiable Desire is waterproof. It has an O-ring near the battery cage. It can be submerged with no issue. It takes a single AA battery that lasts a good amount of time.

Functions:

Vibrating

Special Features:

Multispeed
Powerful
Waterproof

Control type:

Push button

Powered By:

Aa-1

Care and Maintenance:

Soap and water, toy wipes, or toy cleaner can all be used to clean the Insatiable Desire. It is easy to clean since it has a smooth surface and no textures where debris can collect. Being silicone, it does collect some lint and fuzz. You can wipe down the toy with a wet wipe or lint free cloth before use if there is lint on it. Once clean and dry, the Insatiable Desire can be stored in its storage pouch. If it's not going to be used for a while, it is best to remove the batteries from the battery cage.

Only use water based lubricants with the Insatiable Desire.

Care and cleaning:

Soap and water / Toy cleaner

Packaging:

The packaging is exceptional for a toy in this price range. The Insatiable Desire comes in a box similar to the packaging of a small saline solution box. Open the top of the box and you can remove a black plastic tray that has the toy embedded in it. There is an instruction insert in the box describing how the toy operates. The packaging also contain a pouch. The pouch is a silver-grey color with "Fifty Shades of Grey" on the front.



The pouch is made for long term storage. You can use the box, but it takes up more space.

Experience:

When I was up to receive the Insatiable Desire, my interest was piqued. I had wanted to get around to reading the 50 Shades books for the sake of culture and to be able to form my own opinion on them. Also, I wanted to know if a toy similar to this actually stars in the books or not (with the first book almost done, I don't think so. I think its more to capitalize on the books series, which is a smart business venture). Either way, I was curious to see if this would be a solid toy.

If it was a touch stronger, it's be a top toy for me (when comparing other battery operated toys I own). Still, it is not so ridiculously weak that it is a waste for many buyers. It could be a teaser toy for some. The shape is friendly for those starting out with G-spotting and don't want a humongous toy. I'm assuming a G-spot mini-vibe makes it into a 50 Shades collection to give it diversity from just bondage items.

I am happy the toy is silicone though. It is decently made, and it has some uses. You can give it as a gag gift to those who do despise the 50 Shades series. It is bound to start an interesting conversation. Regardless, the one thing I enjoyed about this toy is that it came with a storage pouch. There are 100 dollars plus toys that have no pouches or means of storage. That was done right.