California Exotic First time softee teaser - G-spot and clitoral vibrator from California Exotic

First time softee teaser videos
Product Details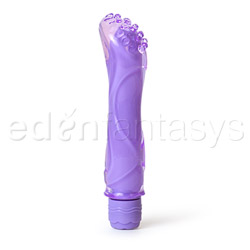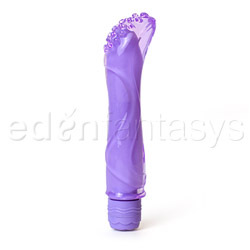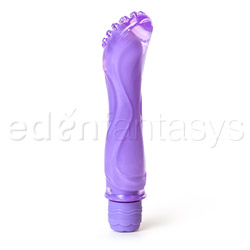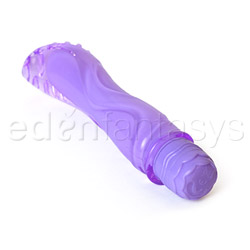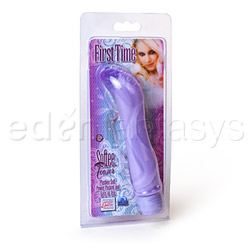 Summary:
Do you want a vibrator you can use in the shower, and again once you've dried off? If you love nubby texture, and strong vibrations this might be what you're looking for. A clit massager with four vibration settings with noticeably different intensities; this vibrator will have you begging for more, and taking three showers a day!
Pros:
Variety of vibration speeds, nubby tip for nice texture, easy to care for, waterproof
Cons:
A bit loud when on it's highest vibration
Best use:
This may be called a "teaser", but it can take you all the way. It has a variety of vibration intensities from a very soft and quiet, to one that's extremely intense and a bit loud. With most vibrators, the sound can be dulled by covering yourself with a pillow or blanket. But if you have the Softee turned all the way up, that probably won't work.

I used it as a clit vibrator, but if you're careful it could also be used internally to massage your g-spot.

It's also waterproof, which is always a great quality in a vibrator. You can bring it with you in the bath or shower, and have an awesome time.

Not only is it great for solo play, but it's also a wonderful feeling when your partner uses a vibrator on you.
Material / Texture:

It's made of TPE (also known as TPR) with a hard plastic center, and control dial. TPE is a rubber polymer blend, that has an interesting jelly-like squishy feeling. The squishy feeling makes it wonderfully flexible. It does have a very interesting smell though. You really can't smell it unless you have it right next to your face, but it does smell kind of like new plastic.

The tip has several little nubs on one side of it, which feel wonderful against your clit. They would also feel wonderful against your g-spot. It also has little raised edges on the side that make kind of an "S" pattern, that's more for design than anything.

The flexibility is also really nice because you can really get as much use of those nubs as possible, by pushing down, or moving it around.

I wouldn't call the texture either beginner or advanced, because texture just really isn't for everyone. Some people have used several vibrators considered "advanced" but might hate nubs, while a beginner may love the nubs more than a smooth vibrator.

Also, a great thing about TPE is that you can use both water based, and silicone based lube with it.

Material:

TPE

Material safety

Texture:

Nubbed

Safety features:

Food-grade material / Hypo-allergenic / Latex free / Phthalates free

Design / Shape / Size:

It's almost shaped like a hockey stick. It has a long handle part, then a little ledge that kind of sticks out, that you can press against your clit. The bottom part of that ledge part is covered in little nubs that feel wonderful.

It has a really gorgeous design. It's pink (also comes in purple) with an "S" shaped sort of design going from the nubs all the way down to where the control knob is.

The control knob is attached to the hard plastic battery compartment inside the TPE. Even the control knob is adorable. It has a wave pattern around the top part of it, and a much more dramatic wave pattern along the bottom that looks almost like a flower.

It's not a huge vibrator. It's actually fairly thin, and probably about 6 inches long. The part that you would press against your clit is about an inch or so.

It's a very non-discreet looking item. Anyone looking at it would know it was a vibrator, but there are always places you can hide it.



Length:

6"

Insertable length:

5"

Circumference:

4"

Diameter:

1"

Weight:

2.5 oz

Functions / Performance / Controls:

It's a wonderful clit vibrator, and can be used as a g-spot vibrator. It may not look like much, but it really packs a punch. It has a great variety of vibration intensities, from a small almost non-noticeable one. To an extremely fast loud one, that may be too intense for some users. There are four noticeable vibration settings, where you can feel the the shift of the vibrations.

The vibrations are controlled by a small twisting knob at the bottom. It's extremely easy to use. Just twist the knob to the right, and you can intensify the vibrations; and twist it to the left to slow it down again.

It's also waterproof, and performs fantastically in the water. You can use it in the bath, shower, or pool.

It takes two triple A batteries. You just put them in the vibrator much like you put them into a flashlight. If you take the batteries out after every use, they tend to last a lot longer, so that's just a nice little suggestion.

Functions:

Vibrating

Special Features:

Multispeed
Powerful
Quiet
Waterproof

Control type:

Dial-base

Powered By:

Aaa-2

Care and Maintenance:

This is extremely easy to care for. It's made of TPE, so it's more porous than silicone. If you share this toy, you and whoever else uses it should use a condom with it. It cannot be sterilized with boiling water like some toys, but can be cleaned using warm water and mild soap or toy cleaner.

You can either keep it in it's package, or store it in a drawer or something like that. It's not silicone, so you don't have to worry about any chemical reactions with other toys either. If you have a toy box, you could keep it in there too.

Care and cleaning:

Soap and water

Packaging:





Personal comments:

I really enjoy this vibrator. It's probably my new favorite, just because of it's wonderful intensity. I also adore waterproof toys, because in my opinion there's nothing like using a vibrator in the shower.