Smile Happy - G-spot vibrator from Smile

Product Details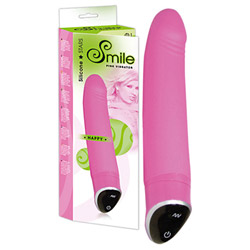 Summary:
Happy is a wonderful vibrator that delivers deep, penetrating vibrations during use. He has a smooth body safe silicone body and he is very quiet. All together a great choice for a traditional vibrator!
Pros:
Deep vibrations, Silicone, Extremely Quiet
Cons:
The base could get slippery when lubed up, collects lint
Best use:
Happy is a wonderful vibrator made of quality materials and it delivers quiet, powerful vibrations. It is great for thrusting and the deep vibrations feel wonderful against the clitoris as well. The shape of the shaft, while generally straight, is slightly curved at the end and I was able to successfully stimulate my g-spot with it. This toy should definitely not be used for anal play as there is no flared base. Happy is super quiet, so he can be used without altering anyone to your deeds based on sound.
Material / Texture:

Happy's body is made of a soft, plushy silicone which feels wonderful to the touch. His base is made out of plastic. There was no noticeable smell at all. The silicone is a lint magnet, but if it is stored properly, it should not pose much of a problem.

The shaft is generally smooth, but there are three slight ridges just below the head that offer slight sensations. I found that I did not notice the sensations when using the toy internally, but they felt lovely as slight texture when using it externally. I don't think that anyone who is texture sensitive will have a problem with the slight texture featured on Happy.

Material:

Silicone

Material safety

Texture:

Ribbed / Velvety

Safety features:

Food-grade material / Hypo-allergenic / Latex free / Non-porous / Phthalates free

Design / Shape / Size:

Happy is a wonderful size which beginners and more experienced toy users alike can enjoy. He is 8 3/4 inches long with 6 1/2 inches insertable. He is 1 1/2 inches in diameter and produces a filling sensation when in use.

Apart from the slight curve of the head and ridges on the top of Happy, he is a straight traditional style vibrator. The head and ridges only appear on one side of the vibrator and the opposite side is completely smooth. He would be easily recognized if someone were to see him lying around, especially if he was lying with his head side facing up.

The middle of the shaft is slightly bendable, although not by much. The head is firm and makes for great pin point stimulation, especially if you like to apply pressure with your toys.

Length:

8 3/4"

Insertable length:

6 1/2"

Circumference:

4 3/4"

Diameter:

1 1/2"

Weight:

10.5 oz

Functions / Performance / Controls:

Happy is run by two AA batteries and the directions are clearly marked inside the battery compartment. The battery compartment swifts and then snaps shut, so it is not easily opened by mistake.

On the plastic base of the vibrator, there are two buttons. The bottom button turns Happy on and off and the top button cycles through the patterns. When you press the power button, Happy's buttons light up, but he does not spring into action until his pattern button is pressed. This feature makes it harder to accidentally turn him when he is not in use. The buttons take a little bit of pressure to turn on, but it is not difficult by any means. If there is lube on the bottom of the vibrator, or if your hands are particularly slick, you may have some difficulty pressing the buttons on the slick plastic. You may want to keep something handy to whip it off if need be.

Happy's vibrations are concentrated in his tip, but can be felt throughout the length of his shaft. The vibrations are deep and penetrating and feel wonderful. Happy has seven speeds which cycle through as you press the button.

1. low
2. medium
3. high
3. starts off low/slow and builds higher
4. slow pulses
5. fast pulses
6. faster pulses
7. short short short long

All of the settings are pretty powerful but may not be not the strongest I've felt. However, it certainly makes up for it in the quality of the deep, rumbly vibrations. Happy is also one of the quietest toys I've owned. You can hear him humming away lightly when next to you but when held at an arms length, he can barely be heard.

It does not mention whether it is specifically waterproof, but there is a tight o ring around the battery compartment and it held up well when I used it in the shower. There was no leakage of water at all.

Functions:

Escalating / Pulsating / Vibrating

Special Features:

Light indicators
Multifunction
Multispeed
Powerful
Quiet
Splashproof

Control type:

Built in control pad

Powered By:

Aa-2

Care and Maintenance:

Since Happy is made out of silicone, he can be sterilized with a 10% bleach solution or just cleaned with soap and water for everyday use. Because he does seem to be a lint magnet, I recommend storing him in a bag to protect him from lint and washing him before and after use.

Water based lubes are recommended for this toy as silicone lubes can cause reactions. If you really want to use your silicone based lube, make sure you do a patch test first to gauge the results.

Care and cleaning:

Soap and water

Packaging:

Happy comes in a cardboard box with a flap that opens to reveal the toy in its packaging. On the box, Happy is featured prominently on the cover, the right side, and the back. Behind him on the front cover is a picture of a topless girl, although it took me a few glances to realize she was not clothed. It is not crude in any way. There is not much information on the packaging, but what little there is is listed in eight different languages.

Happy is nestled inside the box in a plastic insert that while flimsy, could be used for storage. It would not make the best gift box in my opinion.

Experience:

I was very impressed with Happy's performance. He delivered deep vibrations which I loved and were able to bring me to a satisfying rolling orgasm. I found him to be satisfying as both an internal and external toy and I can't decide which one I prefer. Although the g-spot stimulation I receive from Happy is not as pronounced as with other toys, it certainly feels wonderful with a light stroking sensation against it. He is definitely getting used a lot in my sessions. I absolutely love the rumble of Happy's vibrations!

Happy was also a wonderful toy for the boyfriend to use on me. Several of my other toys are too textured or angled in ways that make it difficult for someone else to use on me. Happy was perfect for him to thrust into me without worry that he would hurt me. He also enjoyed the deep vibrations against his balls for the short time he tried.