Pipedream Icicles No. 4 - G-spot vibrator from Pipedream

Product Details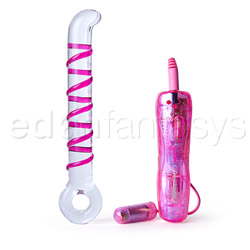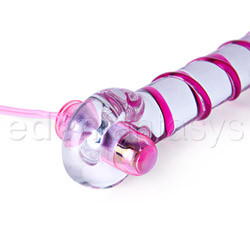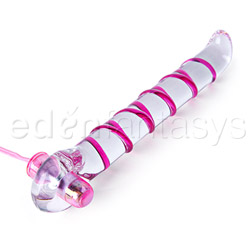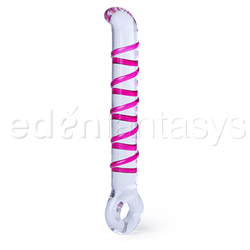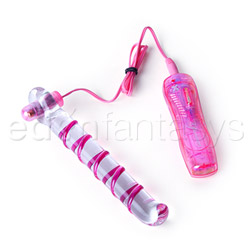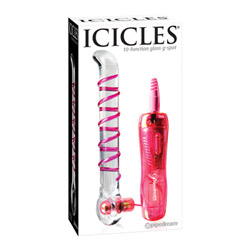 Summary:
With a different twist on a vibrating glass toy, the Icicles No.4 from Pipedream will have you begging for more. Body safe material and sized great for everyone from beginners to advanced. When you add 10 different vibration patterns with a removable bullet and a curved tip for G or P-spotting, No.4 has what you need. Hand crafted from hypoallergenic Pyrex glass with special attention to detail, this toy shines with the beauty and elegance that hand formed glass can deliver.
Pros:
Ten vibration settings, beautiful glass, stimulating texture.
Cons:
Care must be used due to hard material, bullet can be hard to get back out.
Best use:
The Icicles No.4 is a new twist on a vibrating glass toy. The pin point G-spot curve and swirled shaft can be used for stimulation for the clitoris, labia, or any other erogenous zone. Due to the loop style handle, it can also be used for anal play and is suitable for prostate stimulation as well. Add in the 10 function corded bullet that fits snugly in the handle for some goosebumps-inducing stimulation. You can also use the bullet by hand for simultaneous clit/G-spot play.

The small size and light texture is great for beginners: of course, that does not mean that advanced users will not enjoy it. With the vibration settings of the bullet, everyone should be able to find something about this toy to enjoy.

One of the best things about glass toys is the ability to safely hold temperatures. Place it in a bowl of warm water to heat things up or place it in a bowl of ice water to really make the goosebumps rise.
Material / Texture:

No.4 is made out of one of the best non-porous, body safe materials available, Pyrex glass. Most know of the cookware used in kitchens around the world - this toy is made out of the same material. This means that during the manufacturing process, boron is added to reduce any stress that may try to happen during temperature changes. 'IF' it breaks it will only break into chunks, not shatter like a glass window will. What does all this mean? It means that this toy will last for a long time with just a little care. It also means that the surface is non-porous, has no smell or taste and it will take less lube and stay slick longer than softer materials.

The controller and bullet are made of clear plastic and the color has been matched to the swirls on the shaft. Over all it is a nice looking package.

Material:

Borosilicate glass

Material safety

Texture:

Swirled

Safety features:

Anti-bacterial property / Food-grade material / Hypo-allergenic / Latex free / Non-porous / Phthalates free

Design / Shape / Size:

Pipedream has hand crafted this toy, so as a result each one will be slightly different in dimensions. On average the No.4 will be 7" overall with 5" of that being insertable. Diameter comes in at 3/4" (2" circumference). It is fairly light at 6 oz. so it is effortless to use and easy to thrust.

The tip of the toy is curved and comes to a blunt point that makes it easy to insert. It is also perfect for hitting most G/P-spots. Starting about an inch down from the tip is a hot pink bead of glass that twists around the length of the shaft. It is an 1/8 of an inch tall and seamlessly molded into the crystal clear shaft. At the base is a 1 3/8" diameter circle of glass that functions as a handle and home for the bullet vibrator. The ring is 3/8" thick.

The micro bullet is half an inch wide and an inch and a half long and has a 23" long cord. Pipedream had the great idea to make the cord removable from the controller. So nice of them, eh? The controller has a slight ergonomic shape and fits well in the hand. The controller comes in at 4 1/4" long and 1 1/4" at the widest part. To insert the batteries you slide off the cover and put in three AAA batteries as shown on the molded in diagram. There is a toggle switch to turn it on/off and cycle through the vibration settings.

Color:

Clear / Pink

Length:

7"

Insertable length:

5"

Circumference:

2"

Diameter:

3/4"

Weight:

6 oz

Functions / Performance / Controls:

Icicles No.4 comes with a vast variety of vibration settings for you enjoyment. In hand, the vibes are strong and may numb your fingers. When used in the toy the intensity is slightly less. The glass does a wonderful job of transferring the vibes to the tip of the toy and everywhere in between.

Setting for the vibrations are as follows:
1) Low
2) Medium
3) High
All steady
4) Pulsing
5) A long pulse followed by three short pulses
6) A roller coaster from low to high and back again
7) Short pulse, short pulse, long pulse, repeat
8) Long pulse repeating
9) High pulsing
10) Fast pulse on high setting.

Used out of the glass the vibes will not be heard through a closed door. In the glass the noise is higher so it may be heard if someone is standing outside the door. It may be better to turn on some music or only play when no one is around.

I have used it five times averaging about twenty minutes each and it has shown no signs of losing power. I would have to say that the batteries will last a good long time.

Functions:

Escalating / Pulsating / Vibrating

Special Features:

Handmade
Light indicators
Multifunction
Multispeed
Removable bullet

Control type:

Control pack

Powered By:

Aaa-3

Care and Maintenance:

Glass is also one of the easiest materials to clean and can be sanitized when needed. You can: boil it, bleach it using a 10% solution, use a toy cleaner or even put it on the top rack of the dishwasher (no soap).

The controller and bullet are not waterproof so it is best to just wipe them down with a damp cloth. If needed isopropyl alcohol can be used to disinfect.

Use any lube you like.

For storage you can use the package that the No.4 comes in or use a bag or pouch. Since the bullet can be removed from the controller, it can be stored in a small space.

Care and cleaning:

Bleachable / Boilable / Dishwasher safe / Microwave safe

Packaging:

The box that the No.4 comes in is not that discreet but serves to protect the toy very nicely. Inside the box is a form fitting foam insert to keep it safe. There is also a place for the controller and bullet.

Experience:

The No.4 did not do as good as I hoped for me. While it was fun to have a vibrating glass toy, the tip was a little too pointy for prostate stimulation. The texture was nice for thrusting and coupled with the vibrations was pleasant to use as a warm up toy.

I feel this would be a great introduction to glass toys for most users. The texture could be a bit too much for fast thrusting, unless you like that, but with slow fluid movements I think a lot of users will like it. Since you can add the bullet to the toy or use it separately, I would recommend this to everyone.