California Exotic Lulu satin scoop - Clitoral vibrator from California Exotic

Product Details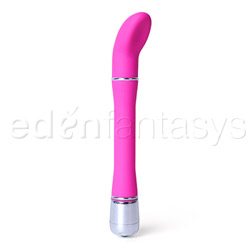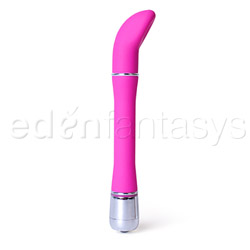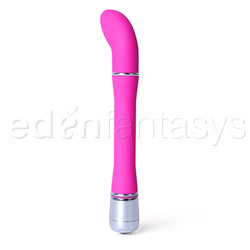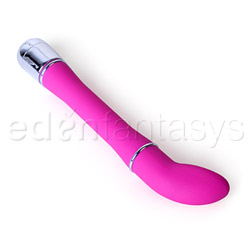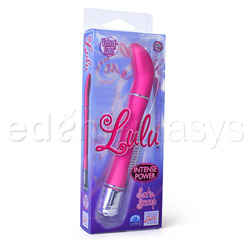 Summary:
I do love the Lulu, despite her downfalls. Lulu is small, but mighty. I love how quiet it is, easy to clean and take care of. Traveling with Lulu is super easy, she will fit in your pocket. Lulu's a great vibrator and stimulator. Don't let Lulu sit around while you take a shower either, take her in for a ride.
Pros:
Quiet, easy to travel with, waterproof
Best use:
This little vibe has exactly what it take to get you, okay me going. It was so much smaller then I expected, but it really has so much going for it. Small, meaning, take where ever you want and it's so small someone would almost mistake it for a magic marker. It will be a perfect travel toy for going on vacations and even through the airport scanners no one would really even know your real plans. The "Lulu" (as called on the package and from here on out) is great for external stimulation and for the g spot. As tiny as it is, it really stands up to the larger counterparts. This toy would be great for couples and for all the single ladies out there. Great for masturbating, foreplay, or just plain having fun.The Lulu is so great for a beginner who is a little shy. She is small cute, pink, smooth and not intrusive. No one will be afraid to try her out. I do love that Lulu's waterproof, Yes, waterproof. Lulu gives the invitation "take me in the shower" and yes I did. So please, please, try Lulu in the shower, it's soooooo good.
Material / Texture:

The Lulu is PU coated plastic, in a super cute hot pink or fuschia color. When I opened the box there was no smell, or weird taste to it, although I did not stick it in my mouth much. Lulu is super smooth and firm. No soft realistic feel, so if you like the realistic feeling toys, this is not for you. I do prefer something a little softer so I was disappointed. The texture does not offer any extra stimulation. Although you don't need much more with the vibrations from this toy. This is a toy for everyone, beginners to advanced. Anyone can find a fun way to use Lulu, so many situations for Lulu to come out and play.

Material:

PU coated plastic

Material safety

Texture:

Velvety

Safety features:

Phthalates free

Design / Shape / Size:

Lulu is a nice sleek, smooth design with a small curve to the head. In my opinion the size is suitable for play, and g spot stimulation but if you were looking for a BIG O, you may want something a little bigger. Not huge, but the Lulu is on the TINY side. The Lulu is perfect for travel but for everyday use I may find something a little bigger to satisfy my needs. The Lulu can fit in your pocket without anyone ever wondering what you have in there as well as easily hidden while traveling. Think of all the exotic places Lulu could travel to.This is perfect for the beginner just getting into the naughty side of life. More advanced users may like the travel feature but, might prefer a heftier toy to quench their appetite.

Length:

6"

Insertable length:

5"

Circumference:

2 1/2"

Diameter:

3/4"

Weight:

1.1 oz

Functions / Performance / Controls:

With the touch of a button, located at the base, Lulu is on. You need Only 2 AAA batteries and Lulu is off and running. There are 2 speeds to Lulu, all you need to do is press the button again to get the next speed going. It is really idiot proof. The Lulu is super easy to use, and easy to replace the batteries. There are 2 settings low and high, and they are pretty stong. They are nice and deep, I don't need the higher speed much. All you have to do is press the button to turn on low and press again for high. The waterproof factor is great. I love to take Lulu in the shower with me for a little relaxation. Lulu doesn't skip a beat in the shower, she works just as good as in bed. My hubby really liked testing it out with me. Lulu is pretty quiet overall, just a soft hum. More like a bullet stimulator then a vibrator. Lulu also does pretty well on those AAA batteries, I have not had to change the batteries yet and she gets a lot of use. So, a great little money saver at around $20.

Functions:

Vibrating

Special Features:

Multispeed
Powerful
Travel
Waterproof

Control type:

Push button

Powered By:

Aaa-2

Care and Maintenance:

Lulu is a toy for all, so easy you can't forget to clean her.
The PU coating is one of the easier to care for materials toys are made of. Here is what the manufacturer recommends: Wash with warm water and soap or toy cleaner. How easy is that, just wash and go. I keep it in the small package it came in. Although a small make up case would do as well. Be sure to use water based lube or silicone based lube for best care of Lulu. She wants to last you a good long time! Don't forget to take the batteries out as well, which is what the manufacturer recommends.

Packaging:

Lulu comes in a small plastic box with a small set of instructions. How much instruction do you need really,not too much, it's pretty self explanatory. Just pop in the batteries and press go. I use the box for storage because it is so small and doesn't take up much space at all. If you have kids who look through drawers, there is nothing bad on the packaging. For all they know it could be candy box.

Personal comments:

I would love to have the manufacturer's think about having a little flat spot on the scoop side. It is so little that when playing you can't remember where the scoop is. This would make it much easier for solo play. Who really wants to stop in the middle of a good time and check which way the head is pointed. Not me and my hubby had to look a couple of times.

Lastly, Lulu did turn off on it's own a couple of times for no reason. Not sure what happened, I had to turn her on and off a few times to get her going again.

Experience:

My hubby and I had a fantastic time testing out Lulu and she really does a great job with foreplay. I was primed and ready in no time, lucky for my husband. Little did he know what he was in for. Thanks, Lulu