California Exotic Playful curve - G-spot vibrator from California Exotic

Product Details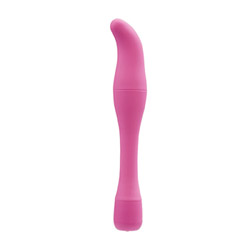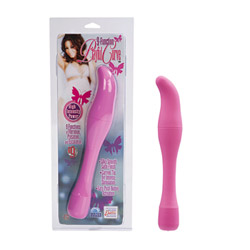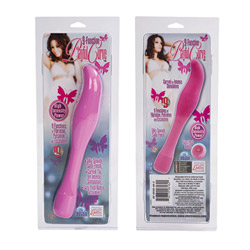 Summary:
This is a fairly nice toy, might be too powerful for some so if you're uncertain about how high of vibrations you can handle, you might want to get something different. It's slim enough for tighter people but still good for others. I enjoy using this toy a lot as a clitoral stimulator and love how the different types of pulsations feel. None of them have failed to give me an orgasm and I'll definitely be keeping this toy handy for a long time.
Pros:
Fairly slim, smooth/slides easily, curved tip, good for beginners and advanced users
Cons:
Extremely loud, have to go through all vibration cycles by pushing button to turn off
Best use:
The 9 Function playful curve is a nice vibrator. It didn't blow me out of the water but it's successful in what it sets out to do and gets the job done. You can use this toy as a clitoral stimulator or a g-spot stimulator or even as a regular dildo when turned off, so it has a nice variety of uses. It could potentially also be in the anus but as it doesn't have a base I wouldn't recommend trying it alone and to use caution, though it is fairly slim and probably wouldn't get stuck. For someone with sensitive nipples, the strong vibrations would also feel great on the nipples and breasts. It could also be run over other areas of the body as well. For me, personally, I believe the toy is best used as a clitoral stimulator as the vibrations were on the verge of being too strong and almost hurting slightly when I had it turned on inside of me. However, as a regular dildo, turned off, it worked great as that for me as well. For someone who likes vibrations inside of them for g-spot stimulation, it would most definitely work for them. You can use this toy alone of with a partner, it would work great either way. I only got to use it on my own but I'm looking forward to eventually using it with my girlfriend and seeing how much she enjoys the pulsating settings and how much she likes the smoothness of it inside of her.
Material / Texture:

This toy is made of PU coated plastic and is latex free, phthalates free, and hypo-allergenic. I cannot smell any sort of odor coming off of the toy which is very nice and a great change from the smell of some past toys that I have bought/used. It is so smooth! That's probably my favorite aspect of the toy. It feels almost silky and there aren't any sort of nicks or bumps when you run your hands over it. This makes it pretty easy for insertion, so easy that I personally didn't require any lube to insert it after using it to stimulate my clit for a short time to get my juice flowing. It just slid right in with barely any effort with my own "natural" lubrication. For someone tighter than me (I can take 2 fingers easily, sometimes 3, from the start after being turned on, so for someone who can only take 1) then lube would probably be needed. The texture doesn't add anything extra stimulation wise since there's no bumps or ridges added on it but it's nice to just be able to use it fairly effortlessly so cleanup is faster. The texture definitely makes it great for beginners since it's so smooth and has no bumps or ridges to get past and is fairly slim anyway.

Material:

PU coated plastic

Material safety

Texture:

Smooth

Safety features:

Hypo-allergenic / Latex free / Phthalates free

Design / Shape / Size:

I enjoy the design of the 9 Function playful curve. It can definitely hit your g-spot with the curved tip and the curve also makes it nice to press right over top of your clit. It's fairly slim, being only 1 1/8" in diameter, 1 1/2" in width, and 4" in circumference at the biggest part. It was easy for me to insert and use and easy to use for clitoral stimulation as well. It's a good shape and size for beginners and would be a nice toy for more advanced user looking for a simply shaped and sized toy as well. It's 8" long so it's not terribly hard to hide and would probably be okay for travel.

Length:

8"

Insertable length:

6 1/2"

Circumference:

4"

Diameter:

1 1/4"

Weight:

2.5 oz

Functions / Performance / Controls:

This toy is very noisy! That's really my biggest issue with it. You can hear it easily through covers and definitely through a door over covers, probably under, too. There really isn't a low setting. The vibrations start out a bit above mid-range and increase through the next two standard vibe settings and stay the same level as the last regular vibe setting through the pulsing ones. It can be a bit intense for a beginner unless they aren't as sensitive and would need the higher power right off the bat. It's an extremely easy vibe to operate, just one button to turn it on, transition through the different modes/levels of vibration, and turn it off again, and that makes it rather appealing. The different modes/levels of vibration are nice as well because you get standard vibrations as well as different lengths of pulsating vibrations as well. It does get a bit frustrating to go through all the cycles to turn it off but it's not hard to do and can be done quickly so it's not a huge issue. The toy is waterproof and works well in water, pretty much the same as it works out of water. The water can dull the sound a little bit but if you have a bathroom with good acoustics, like me, it can still sound pretty dang loud! I enjoyed all of the settings, particularly a couple of the pulsating ones where there were pauses between sets of pulses. It was a nice variety and change from regular, continuous vibration settings. Each one is great in its own way and was able to give me a clitoral orgasm quite easily though. I personally enjoyed the feel of it as a regular dildo inside of me without turning it on as the level of vibration was almost too intense for me just to have inside, not even on my g-spot. But other people might enjoy it a lot, it's just a matter of personal likes and dislikes.

Functions:

Escalating / Pulsating / Vibrating

Special Features:

Multifunction
Multispeed
Powerful
Waterproof

Control type:

Push button

Powered By:

Aaa-2

Care and Maintenance:

This toy can be used with water based and silicone based lubricants but with it's already smooth texture, you may not need them. Use your own judgement and be careful no matter what. I personally didn't use any lubricants when I inserted the toy in myself because I produce a lot of "natural" lubricant but others may need to use some. This toy is easy to clean and you can clean it using either warm water and soap or a standard toy cleaner.

Care and cleaning:

Soap and water / Toy cleaner