Eden Toys Suction cup silicone vibrator - G-spot vibrator from Eden Toys

Product Details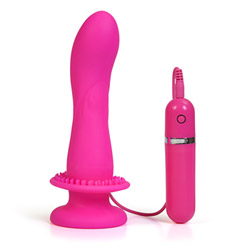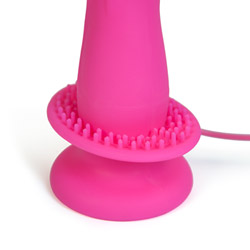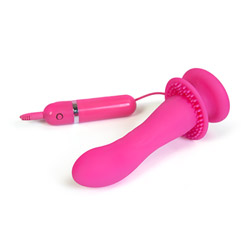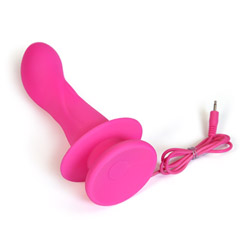 Summary:
No toy, I repeat no toy, feels as real as the Playtime Wand. Once inserted, it is almost impossible to discern the wand from a real penis. Of course, the vibration adds a little something! So come on, have some solo fun that feels like the real thing!
Pros:
Feels like the real thing, tickling nubs
Cons:
Suction cup does not work for long
Best use:
The Playtime Wand is the closest thing to the "real thing" that I have found. When inserted, it feels exactly like a penis. It's soft on the outside and hard on the inside. It has enough give but is firm enough to be easy to insert. Plus, it vibrates! If that doesn't tickle your fancy enough it also has a suction cup that you can stick to smooth surfaces and get moving (dogie style anyone?)! Perfect for solo or even couple play.
Material / Texture:

This toy is silicone, therefore it is hypoallergenic. To sterilize, simply rub with rubbing alcohol. Do not boil or put in the dishwasher as the motor will be destroyed.

The shaft is silky smooth with a slight velvety feel.There is just the right amount of friction.Small nubs, on the base, tickle the clit when the shaft is pushed all the way in and moved a little upward. This is a nice sensation but nothing you can climax to.

The toy has no smell or taste. It is pleasurable to suck.

The hand unit is smooth, hard plastic.

Material:

Silicone

Material safety

Texture:

Noduled / Smooth

Safety features:

Hypo-allergenic / Latex free / Non-porous / Phthalates free

Design / Shape / Size:

The shaft is slightly curved upward, however it does not noticeably hit the g spot. The entire toy is about seven inches long with four and a half of those inches being insertable length. The shaft is about half an inch in girth. The cord is a good 21 inches long.

The shaft has a few grooves, however these are not really noticeable during play. What is noticeable are the tickling nubs at the base which number over 50!

This toy is not discreet so you will need to hide it. However, it is suitable for travel.

Color:

Pink

Length:

7 1/2"

Insertable length:

5 1/2"

Circumference:

4 1/2"

Diameter:

1 3/8"

Functions / Performance / Controls:

The unit takes 3 AAA batteries. Plug it in and hit the button. The button lights up with the function theme.

1: Pulsation
2: Quick pulsation
3: Slow pulsation
4: Slow strong burst
5: Quick pulsation
6: Steady strong vibe
7: Medium steady vibe
8: Low steady vibe
9: Roller coaster
10:Quick pulsation

Hold the button down to turn off. The unit will remember the setting it was last on and turn on at that setting.

Vibrations are centered in the tip but carry throughout the toy. The nubs vibrate just enough for tickling.

The suction cup is meant to stick to smooth surfaces only. It will not stick to a wall.

The sound is normal and cannot be heard from behind a closed door.

Functions:

10 vibration patterns / Escalating / Pulsating / Vibrating

Special Features:

Flexible
Light indicators
Multifunction
Premium
Pulsating
Suction cup

Control type:

Control pack

Powered By:

Aaa-3

Care and Maintenance:

Wash before and after each use but be careful not to get the wiring or control unit wet. Use only water-based lube, never silicone or oil. Store away from silicone toys.

Care and cleaning:

Toy cleaner

Packaging:

The toy comes in a black, cardboard box adorned in bubbles. The box talks about a "wipe". I have no idea what it is referring to as wipes are not included. Anyhow, instructions are included and the box is perfect for storage and gifting!

Experience:

I'm always game for a suction cup toy. There is just something about being hands-free that excites me. However, this unit does not stick to walls. It does stick to bathtubs and floors for a while. It is a heavier unit and slips a bit. So, the suction cup was great for a while, but in the end, I was handling it myself. After one toe curling climax I had another. The toy truly feels like the real thing and I was able to forget that I was solo.