Wolwin GmbH SinFive Akmeo silicone - G-spot vibrator from Wolwin GmbH

SinFive Akmeo silicone videos
Product Details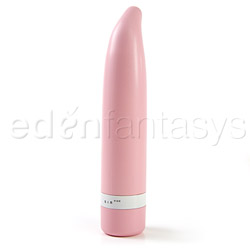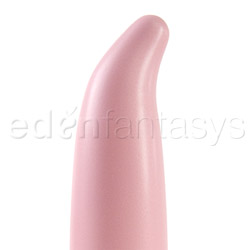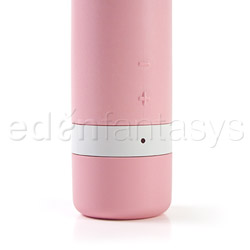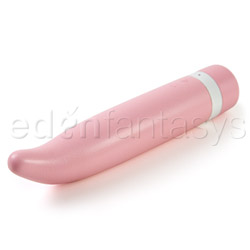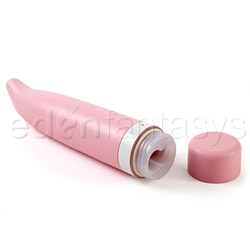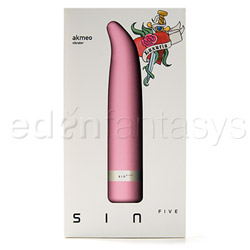 Summary:
This is an updated version of a powerful, high-quality, and reliable vibe backed by a German five-year warranty. The fact that the new version is in silicone makes the vibe near-perfect.
Pros:
Silicone, strong and diverse vibration patters.
Best use:
I reviewed
the non-silicone version of this vibe
previously, and my main complaint was that it was not silicone. The satiny smooth silicone of this new version of an already-great vibe helps take it to the next level. Besides the silicone, everything else about this vibe is the same as before.
The Silicone Akmeo looks exactly like the the original, which is made of WTP. They're both essentially the same exact color, but a slight difference in texture means that the silicone looks slightly different, a little less glossy but equally beautiful.
Material / Texture:

The Silicone Akmeo can be sterilized, which means it won't harbor bacteria and can be shared if cleaned before hand (see techniques described below in "Care and Maintenance." It's completely odorless and smooth to the touch. The silicone finish is satiny and opaque.

Like the original, the Silicone Akmeo is relatively flexible and can be slightly curved if held in position.

Most interestingly, the instructions contain an insert describing the antimicrobial additive in this silicone, which is not supposed to affect vaginal flora and is not harmful. I can't smell or feel any trace of this microbial additive, which is said to be "firmly rooted in the product material and cannot be released."

Material:

Silicone

Material safety

Texture:

Velvety

Safety features:

Anti-bacterial property / Food-grade material / Hypo-allergenic / Latex free / Non-porous / Phthalates free

Design / Shape / Size:

This is what I said before: "The SinFive Akmeo is an attractive dildo vibrator with a curved tip to stimulate the g-spot. Mine came in a unique fuchsia pink color and got me off several times---in a row! I used it for both external clitoral stimulation and internal stimulation. Shaped or curved dildos usually fit different people differently, but the slightly curved tip of the Akmeo felt divine as I thrust it in and out. You might liken it to a slight bend in a finger aimed at your special spot. I did manage a g-spot ejaculation when I used it internally, so I believe the claim that it's a g-spot vibrator."

This is still true for me, and it's one of my favorite vibes to keep at my desk or to travel with because of the shape and strength of the vibes. Because this one is silicone, it gives me more peace of mind, and seems worth a higher price.

Length:

8"

Insertable length:

6 1/2"

Circumference:

5"

Diameter:

1 1/2"

Weight:

1 lb

Functions / Performance / Controls:

This is what I said before, which holds true: "I was pleased to find that the instructions tell you how to turn it on (holding the "plus" button down for a few seconds) and cycling through the order of the different vibe modes (i.e. you press "plus" and "minus" to travel through 6 different levels of vibration; if you hit the "plus" when it's on the sixth vibration power, it will switch to a range of three pulsation patterns that you can cycle through with the "plus" button; press "minus" to return to levels 1-6 of steady vibration, and hold "minus" to turn off.) The steady vibration at level six is unusually strong for a battery-operated toy, and the strength has not noticeably decreased after about a total hour of it being on at high or near-high. It produces deep, rich vibes that really got me off."

"One great aspect about the two buttons that operate the Akmeo is that they do no tend to turn on/off when you don't want them to. They're well-placed and well-designed so that if your hands graze them while you play, they won't register it. On the other hand, the buttons are also easy to press and use in the ways you want to."

I still love the controls, especially the way it cycles through the different speeds and patterns, and I love the fact that you can hold down the minus key to quickly turn it off at any point.

It's really rather strong, and the silicone material transmits the vibes perfectly. They're concentrated at the center and the tip. It packs a surprising punch for using only two AA batteries.

It has a good seal around the battery pack, like the original, and can be used in the shower or tub, with the appropriate caution. Leaving it under water for a long time is probably not a good idea, and the instructions don't claim it's waterproof, but you can probably get is splashed, as the instructions recommend washing it under running water.

It's not super loud, a little louder than a vibrating cell phone.

Functions:

Pulsating / Rollercoaster / Vibrating

Special Features:

Anti-microbial
Batteries included
Multifunction
Multispeed
Powerful
Quiet
Waterproof

Control type:

Built in control pad

Powered By:

Aa-2

Care and Maintenance:

This is what I said before about using it in water: "I wouldn't immerse any toy underwater for an extended period, but this one has a solid-looking seal and definitely seems splash-proof. I don't usually enjoy toys while I'm bathing, but I would feel comfortable taking this one into the shower."

To sterilize this toy, spray with a 10% bleach and water solution, wash with soap and water, rinse, and dry. Because it has a motor, you cannot boil the whole toy or stick it in the dishwasher.

Care and cleaning:

Bleachable

Packaging:

"It does come in impressive packaging with a clean, minimalist aesthetic and a five-year warranty. I haven't tried it, but I assume they'd replace the toy if you make a claim in writing and have proof of purchase. The motor is wonderfully strong as noted above and seems like it will last far longer than a motor on a cheapie vibe."

I don't remember if the original came with the same detailed instructions, but they're wonderful; the warranty also inspires faith. I can't remember if the packaging is exactly the same, but it's attractive and informative, and meant to be disposed of.

It's battery operated and takes two AA batteries. You can make it a rechargeable toy by purchasing four rechargeable batteries, and a charger. When one pair is drained, you can pop in freshly charged ones and put the used ones to charge.